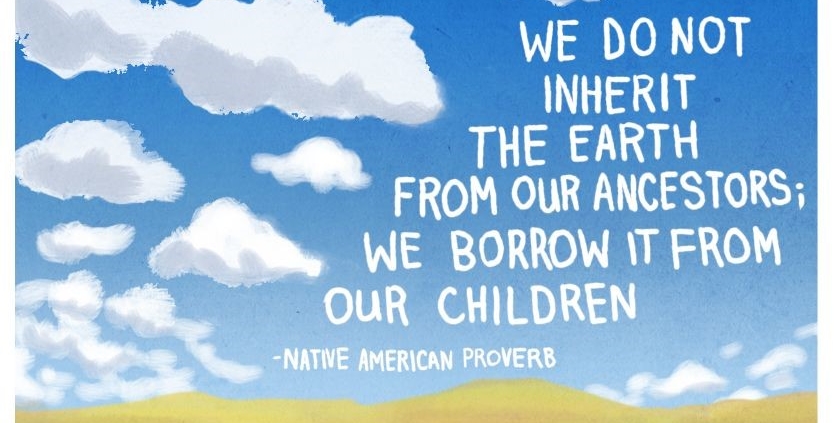 Holiday Quarterly Newsletter – December 2018
Teaching Peace in Schools 2018 Highlights
As the year 2018 closes, we would like to give a BIG shout out to several peace education programs and organizations that we have been fortunate enough to learn more about, engage with and promote. Starting from the early childhood and all through the higher education, these programs and organizations are approaching teaching peace in a unique way and impacting lives of many students nationally and internationally.
Teaching Peace in Schools Lead
Peace Is the Essential Pre-requisite…
For 13 consecutive days in November, the greater San Francisco Bay and Sacramento areas were choked with debilitating and unbreathable air due to the huge Camp Fire many miles away in Paradise, CA.  The air was declared "unhealthy" and "very unhealthy" and Northern CA  briefly earned the dubious distinction of having the worst air quality in the world.  Meanwhile, fires raged in Southern CA, including the Woolsey Fire which began on or near the Santa Susana Field Laboratory, where years of rocket testing, nuclear reactor testing, and liquid metal research have left the site  "significantly contaminated."
No area of this country will be untouched by the effects of climate change, from droughts and fires in the West, to the rising sea levels in Alaska and other coastal regions, to crop damage in the Midwest, to saltwater-tainted drinking water in Puerto Rico and the Virgin Islands, to poverty for millions of people, according to recent UN and US government reports.  These are just some of the ramifications of climate change.
The November 2018 National Climate Assessment Report emphasizes that the outcomes depend on how swiftly and decisively the United States and other countries take action to mitigate global warming.
– Native American Proverb
Department of Peacebuilding Council Lead
Restorative Justice – Not an Oxymoron
Crime happens. All of us in our "civilized" societies are fully aware of this shared reality. Victims of crime suffer – and experience a range of emotions – anywhere from mere annoyance to sheer terror. How do these individuals find "justice?" How do victims heal? Is it possible for offenders to admit to accountability in the presence of those who have been harmed by their actions?
In the American justice system, victims are dis-empowered – they generally have little or no say in our legal system. The voice of the victims is represented by District Attorneys as representatives of "The State." It is a newsworthy event when a victim is granted permission by a judge to directly address an offender.
identifying and taking steps to repair harm, (ensuring accountability), involving all stakeholders (victims, offenders and community), and by transforming the traditional relationship between communities and their governments in responding to crime.
"Restorative justice is a value-based approach to conflict and harm. These values are often identified as inclusion, democracy, responsibility, reparation, safety, healing and reintegration. But one value is more essential than any other—Respect." (Suffolk University)
Restorative Justice has the unique power to transform lives, and reduce recidivism and the high cost of crime and incarceration. The benefits of Restorative Justice include giving victims a voice in the justice process, enabling offenders to understand the impact of their actions on a victim, as well as the community, and providing opportunities for offenders to repair the harm and to help ensure positive future choices.
Restorative Justice saves taxpayer money.  The cost of incarcerating one youth for one year in a detention center or prison is $24,000 to $50,000+.
The cost of deferring a youth post-crime to Restorative Justice programs: Approximately $150, and dedicated volunteer hours.
Pretty much price-less.
Humanizing The Justice System Lead
Cultivating Personal Peace
Autumn arrived and covered the terrain of life with a vibrant invitation to remember to be thankful for the gift of life and for me the gift of cultivating personal peace as a daily practice and way of living.
Cultivating Personal Peace Lead
Promoting Peace By Phone & Podcasts
September's guest speaker was Jill McManigal, founder and Director of Kids for Peace.  With Jill's guidance, our Monthly Action was to join her global kid-led initiative and take a series of daily actions for peace from the personal to the political.

October

's guest speaker was Sylvia Boorstein, joined by Peace Alliance Board Member Emily Wikman.  The topic was Cultivating Common Understandings Across Political Divides, and our Monthly Action was to sin and share the Civil Dialogue Pledge.  We also had a report from DoP Committee regarding the highly effective Lobby Days in Washington DC in September. To further the Civil Dialogue campaign, we featured additional calls with Chic Dambach and John Wood Jr.
November and December focused on the same set of actions regarding promoting Truth and Reconciliation processes, inspired by the new Peace and Justice Memorial and Legacy Museum in Montgomery, Alabama.  November's guest speaker was powerful coach and author Joe Weston, and  December's guest speaker was pioneering Alachua County Commissioner Robert Karl "Hutch" Hutchinson.  Alachua County is at the forefront of a nationwide movement to bring awareness and healing to our history of racial violence and oppression.   The actions to promote this process are threefold:  research the issue, initiate conversations (including with local representatives), and write and submit an op-ed piece to your local paper.
Solidarity, Love, and Peace to you all!!
National Field Coordinator
Thank You Sister Mary Alice O'Connor
Mary Alice O'Connor, a shining presence in our Peace Alliance community, passed away on December 3, 2018.  We already miss her.
On Behalf of the Beloved Peace Alliance/ Department of Peacebuilding Community
Update from TPA's Dedicated Board of Directors
In partnership for non-violence and peace,  
The Peace Alliance empowers civic action toward a culture of peace.
We are an alliance of organizers and advocates taking the work of
peacebuilding from the margins of society into the
center of national discourse and policy priorities.
We champion a comprehensive, collaborative approach
to peace and peacebuilding.
https://peacealliance.org/wp-content/uploads/2018/12/NA-borrow.jpg
834
834
Terry Mason
Terry Mason
2018-12-22 13:18:47
2018-12-22 17:09:57
Holiday Quarterly Newsletter – December 2018