Ongoing Yearly Initiatives:
"Spread the word" resources
Download Press Release to send to local press agencies
Download this Press Release to share your story with the Department of Peacebuilding bill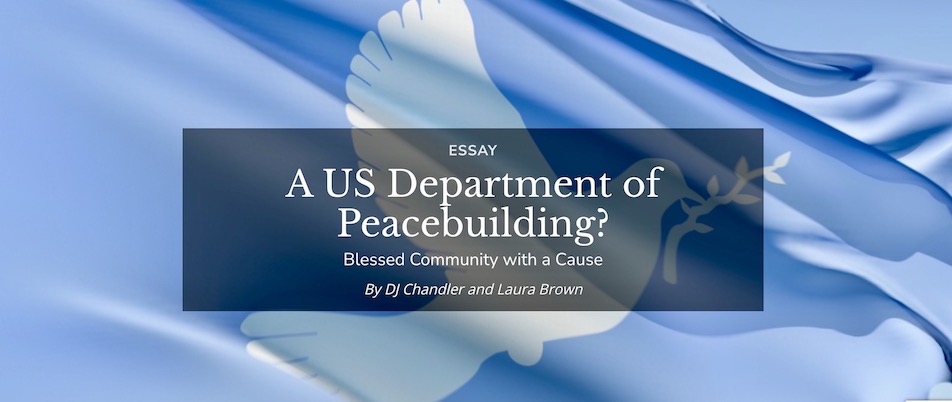 Thank you to Peace Alliance Department of Peacebuilding committee members Laura Brown and DJ Chandler for writing this beautiful article for Kosmos Journal about blessed community with a cause. Read Here
These individuals have endorsed
a US Department of Peacebuilding!
Join them by adding your name to this prestigious list today!
Paula Abdul

Alex Abossein

Sharon Abreu

Patty A. Allen

Fernando Andrade

Wakita Anthony

James Baraz

Rev./Dr. Michael Bernard Beckwith

Charles Betterton

Barb Briscoe

Camille Brouillard

Laura Brown

Hong Dang (Rose) Bui

Lynnea Bylund

Jose Caballero

Dominic Catalano

DJ Chandler

AJ Cho

Deepak Chopra

Ambassador Anwarul K. Chowdhury, Former Under-Secretary General of the U.N.

Cierra Cloud

Myrtle Cole, San Diego City Council President, Fourth Council District

Tracy Cole

Dr. Marcia Ann Mims Coppertino

Anne Creter

Walter Cronkite

Mary Ann Dailey

His Holiness the 14th Dalai Lama

Tyne Daly

Eve Decker

Charlie Dennis

Laura Dern

Stephen Dinan

Patricia Duncan

Suzanne Duzen

Achuo Resco Fang

Linda Faste

Rowena F. Finn

Frances Fisher

Flea (of the Red Hot Chili Peppers)

Cameron Gharabiklou

Cynthia Gilliam

Todd Gloria, Mayor of San Diego, CA

Kathleen Harmon

Chad Hayes

Hollis Higgins

Joan Hollingswort

Daniel Horton, So-Poli-Cal

Dolores Huerta

Tiffany Hunsinger

Lan Jefferson, All In San Diego Advocacy Group

Karen Johnson

Aster Keleta

Azim Khamisa

Kathy Kidd

Joel Kimmel

Judy Kimmel

Robert C. Koehler

Margaret Koren

Jack Kornfield

Brandon Kozak

Former Rep. Dennis Kucinich

Elisabeth Kucinich

Julie Lillie

Jim Loveland

Krystal Lucado

Jill Manigal, Co-Founder Kids for Peace

Im Manu

Dot Maver

Joyce McBryde

Lisa Earle McCloud

Timothy McClurer

Ambassador John McDonald

Bishop George D. McKinney, Jurisdiction Prelate of the Church of God in Christ, Inc.

Nancy Merritt

Teri Miller

Kendra Mon

Alan Mytty

Michael Nagler

Willie Nelson

Kelly O'Brien

Abbey Ogunwale

Yoko Ono

Abby Parker

Lisa Parsons

Joaquin Phoenix

Debra Poss

Christine Puglisi

Gustavo Ramirez

Tim Raupp

Terry Riddick

Josh Roebuck

Laurie Russo

Edward Sacco

Marlena Santoyo

Betty Jane Schlachter

Margaret Seebach

Pat Simon

Sue Simone

Amy Smart

Kathleen Smith-Wenning

Norman Solomon

Jerilyn Stapleton

Sharon Stone

Rivera Sun

David Swanson, Author, Nobel Peace Prize Nominee 2015

Annie Sweetnam

Diane Tate

Stephanie Thomas

Patricia Torn

Archbishop Desmond Tutu

Steven Tyler

Christopher Walker

Joseph Wanjala

Janna Weiss

Roosevelt Williams, III

Marianne Williamson

James Wimberly

Howard Zinn
Sustained goodwill creates friendship.
Sustained friendship creates trust.
Sustained trust creates empathy.
Sustained empathy creates compassion.
Sustained compassion creates peace.
–Azim Khamisa
A Community for Peace (Citrus Heights, CA)

All In San Diego Advocacy Group

American Ethical Union

American Muslim Voice

American Psychiatric Nurses Association

American Voices Abroad

Amnesty International

A North Georgia Community Mediation Center

Angelspeakers, Inc.

Anger Management Solutions

Another Mother for Peace

Arcana Workshops

Asociacion Civil Casa de la Pax Cultura (Argentina)

Association for Global New Thought

Bay Area Friends of Tibet (San Francisco, CA)

Begun Center for Violence Prevention and Education

Benedictine Sisters Mother of God Monastery

Berkeley Ecumenical Chaplaincy for the Homeless

Berkeley Fellowship of Unitarian Universalists (CA)

Best Kept Secret Stop the Violence (VA)

BIKEALOT

Black Lives Matter (Memphis, TN)

Brahma Kumaris

Buddhist Peace Fellowship

Building Bridges for Peace

BUNGOMA International City of Peace Initiative

California Democratic Party

Campaign for a Department of Peacebuilding

Campaign Nonviolence NC

Canadian Peace Initiative

Caodai Overseas

Catalyst House

Center for Global Nonkilling (HI)

Center for Global Nonkilling (India)

Center for Nonviolent Communication

Change For Peace

Children and Young People Living for Peace (Nigeria)

Citizens for Global Solutions (MN Chapter)

Citizens for Global Solutions (Twin Cities)

Code Pink

Communities of Peace

Communities of Peace Foundation

Compassionate ARTS in Action

Compassionate California

Conscious Talk Radio

Coppertino and Associates Consulting Group

Create Peace Project

CrossLeft

Democratic Club of Kern River Valley

E Epiphany

Environmentalists Against War

Faith Lutheran Church (Chico, CA)

Fellowship of Reconciliation

Florida Peace and Justice Alliance

Foundation for Conscious Evolution

FusionStorm

GEI Global Leaders

Global AIDS Alliance

Global Alliance for Ministries & Infrastructures of Peace (GAMIP)

Global Exchange

Global Family

Global Peace Partners

Global Youth Action Network

Friends Meeting (Quakers, San Francisco)

Heart Centered Wellness

Hip Hop Caucus

Hip Hop 4 Peace

Humanity In Unity

Imagine Peace

Inheritance Home Care LLC

InnerG Cooperative

Insight Meditation Community of Berkeley

Institute for Multi-Track Diplomacy

Institute of Noetic Sciences (Los Angeles)

Iranian-American Muslim Association of North America

Irthlingz Arts-Based Environmental Education

Joint Assistance Center Inc.

Kids for Peace, South East San Diego, CA

Kimmel and Company Consulting

La Plata Youth Services (Durango, CO)

Long Beach (CA)/Sochi (Russia) Sister City Association

Lutheran Peace Fellowship

Make Art with Purpose

Maryland United for Peace and Justice

Patrick McCollum Foundation for Peace

Meditation Groups, Inc. (Meditation Mount)

Meiklejohn Civil Liberties Institute (Berkeley, CA)

Middle East Peace Congress

Mt. Diablo (CA) Peace & Justice Center

Musicians and Fine Artists for World Peace

NAACP- Wicomico County (MD) Branch #7028

National Association of School Psychologists

National Peace Academy

National Women's Studies Association

New Jersey State Democratic Committee Progressive Caucus

New Mexico Department of Peace Initiative

N.O.W.- National Organization for Women

Omni Center for Peace, Justice & Ecology (AK)

One Common Unity

One Earth Future

Orange County (CA) Peace Coalition

Order of International Co-Freemasonry, Le Droit Humain

Pace e Bene

Pathways to Peace

Pax Christi Metro New York

Pax Christi USA

Peace Action

Peace & Justice Center of Nevada County (CA)

Peace & Justice Center of Sonoma County (CA)

Peace and Justice Studies Association

Peace is Every Step

Peace Journey

Peace Now

Peace On Earth Mission International

Peace Poles for Schools

Peace Through Unity Charitable Trust

Peacebuilding Spirit, Inc.

People's Environmental Network

Physicians for Social Responsibility

Planet Blessed

Posts for Peace and Justice

Progressive Democrats of America

Progressive Democrats of the East Bay (CA)

Rainbow Solutions, Inc.

Rasur Foundation International

Restorative Solutions

Reject Raytheon Asheville

River Phoenix Center for Peacebuilding

Sagehorse Umbrella Non-Profit

Saint Paulus Lutheran Church (San Francisco, CA)

Saint Stephen's Lutheran Church (El Dorado Hills, CA)

Salute Integrity

San Diegans for Gun Violence Prevention

School Mediation Center

September Eleventh Families for Peaceful Tomorrows

Service Employees International Union Local 1021

Share International

Sierra Interfaith Action for Peace (Reno, NV)

Sierra Pacific Synod, Evangelical Lutheran Church in America

Singing Tree Project

Sisters of the Presentation of the Blessed Virgin Mary

Social Justice Center of Marin County, CA

Social Welfare Action Alliance

SocioEnergetics Foundation

South Florida People of Color

Southeastern North Carolina Grandmothers for Peace

Spiritual and Religious Alliance for Hope

Spokane Veterans for Peace

Step It Up

Stop the Violence Akron (OH) Movement

Sustained Dialogue Institute

Tariq Khamisa Foundation

Themis Law

The Attitudinal Healing Connection of Oakland (CA)

The Bridge Thinktank

The Dutchess Peace Coalition

The Echo Chamber

The Institute for Progressive Christianity

The International Center for Attitudinal Healing

The Junkyard Dance Crew

The Louis D. Brown Peace Institute

The Metta Center for Nonviolence (Petaluma, CA)

The Million Youth Peace March International

The National Service Conference of the American Ethical Union

The Network of Spiritual Progressives

The Peace & Justice Center (VT)

The Peace Alliance

The Peace Company

The Peace Pad

The Peace Pentagon

The Shift Network

The United Methodist Church- General Board of Church and Society

The World Peace Prayer Society

Tikkun

TRANSCEND USA Steering Committee

Traprock Peace Center USA

Unitarian Universalist Association of Congregations

United African American Ministerial Action Council (San Diego, CA)

United Nations Association (Orange County, CA)

United Religions Initiative

Unity Center, San Diego (CA)

Unity of San Luis Obispo (CA)

Veterans For Peace

Veterans For Peace, Spokane Chapter #35

Veterans For Peace, Chapter 067 (Long Beach, CA)

Veterans For Peace, Chapter 71 (Sonoma, CA)

Violence Prevention Coalition of Greater Los Angeles (CA)

Watchman Relief Association Global (Cameroon)

We

We Are One Southeast Chicago

Whole Children, Whole Planet

Wholistic Peace Institute

WorldWide Peace Organization

Work Collaboratively

Women's International League for Peace and Freedom

World Beyond War

World Centers of Compassion for Children International

World Wall for Peace

Yakini Consultants (NC)

YES! - Youth for Environmental Sanity

Young Black & N' Business
What you can do TODAY:
Help us add co-sponsors to the Department of Peacebuilding legislation by taking this ONE-CLICK action.
Join our monthly Department of Peacebuilding Campaign calls on the 3rd Wednesday of each month at 5pm PT / 8pm ET. CLICK HERE to join the zoom call at the assigned time or call-in information is 1-929-436-2866 or 1-669-900-6833, meeting ID 464 735 321.
Email

[email protected]

for more info and to receive monthly email updates and reminders the week before each call or for general inquiries about the campaign — better yet, let her know you're ready to get to work for more peacebuilding and one of us will speak with you more.
Participate in our initiatives and actions, including: 1) Season for Nonviolence; 2) Mother's Day "Peace-Wants-A-Piece-of-the-Federal-Budget-Pie" meetings with members of Congress; 3) Annual Department of Peacebuilding Advocacy Days in Washington, DC; 4) Follow-up to Advocacy Days; and 5) Holidays 4 Peace.
Help us gain additional organization and prominent individual endorsements of the Department of Peacebuilding legislation. Contact

[email protected]

for more information.
Help us add to our list of city, county and tribal entity endorsers of the Department of Peacebuilding and connect on other city-related peacebuilding efforts. Contact

[email protected]

for more information.
Take Action!  Tell Congress to get behind H.R. 1111, legislation to establish a U.S. Dept. of Peacebuilding. If you call, email or otherwise contact your representative in support of a U.S. Department of Peacebuilding, please record your action!
Donate to The Peace Alliance in support of Department of Peacebuilding Campaign efforts here.
Thank you to all who participated in Connecting with Congress.  We have additional co-sponsors as a direct result of
an Advocacy Days Zoom meeting.
The Peace Alliance has championed efforts to support the adoption of legislation to establish a cabinet-level US Department of Peacebuilding in our federal government.

Department of Peacebuilding Act of 2023 was  INTRODUCED by Congresswoman Barbara Lee (CA-13) on February 21, 2023!
Systemic racism is a significant driver of violence and a key obstacle to peace in the United States.
– Department of Peacebuilding Act of 2023
This historic and transformative legislation calls for a cabinet-level Department of Peacebuilding to make peace a much-needed national and ongoing focus. It addresses the interconnection of all life and the intersectionality of peace, justice, equality, planetary survival and other aspects of life.
DoP 2023 is about creating a nonviolent and Beloved Community.
To learn more about this legislation, PLEASE CLICK HERE.
Other One-Step Legislative Action Opportunities –  See the Legislative Priorities Page
Other Two-Step Legislative Action Opportunities
Take a two-step action to call and write your member of Congress.
Call the DC office of your Congressperson, ask for the email address of the Legislative Director.
Call that Representative- Congressional Switchboard: 202-224-3121
Provide much-needed assistance to efforts by city, county, and state governments in coordinating existing programs; as well as develop new programs based on best practices nationally
Teach violence prevention and mediation to America's school children
Effectively treat and dismantle gang psychology
Rehabilitate the prison population
Build peace-making efforts among conflicting cultures both here and abroad
Support our military with complementary approaches to peacebuilding.
Create and administer a U.S. Peace Academy, acting as a sister organization to the U.S. Military Academy.
And more …
Historical Perspective
There is a bill before the U.S. House of Representatives to establish a Department of Peacebuilding. This historic measure will augment our current problem-solving options, providing practical, nonviolent solutions to the problems of domestic and international conflict. The legislation will pass from bill to law under one condition: that a wave of citizen interest rises up from the American people and makes itself heard in the halls of Congress. During the 20th century, over 100 million people lost their lives to war, most of whom were non-combatants. Now, in the 21st century, the extent and current speed of nuclear proliferation makes the achievement of nonviolent alternatives to war the most urgent need of the human race.
Watch Dot Maver's speech to congress for a Department of Peacebuilding and
Support for the Department of Peacebuilding Bill H.R. 1111 below
"It isn't enough to talk about peace.  One must believe in it.  And it isn't enough to believe in it.  One must work for it."

~ Eleanor Roosevelt.
Archived Event Links
The Building Bridges, Not Walls – A Day of Inspirational Speakers – "Peace In" segments from Sunday, September 20, 2020, are on our YouTube Channel here.  Speaker bios are here.
The United Nations Declaration and Programme of Action on a Culture of Peace, offered in Segment #3, is here.