Hello beautiful friends! I am Liz Gannon Graydon Board Chair of The Peace Alliance and I am embarking on a special Mother's Day journey that I wish to share with you. I have 3 threads of inspiration and 3 ways for you to join me.
"Mother's Day [in the US] began as a call to action to improve the lives of families through health and peace. Ann Jarvis of Appalachia founded Mother's Day in 1858 to promote sanitation in response to high infant mortality. After the Civil War, abolitionist Julia Ward Howe made Mother's Day a call to women to protest the carnage of war." (Zinn Education Project)

In 2020, I had planned to walk the Camino de Santiago de Compostela in Spain. It is still my intention for 2024 but now I have an additional goal.

I have been involved with The Peace Alliance since 2004. Since 2019 I have been on the board and since January I have been board chair. Our mission is to educate, advocate and mobilize people into action to transform systems and public policy toward a culture of peace.
Lately I have been moved by two urgent lines of thinking: levels of interpersonal and societal violence seem to be escalating AND we have the tools to do something about it.
We have been receiving requests from people seeking our partnership in peacebuilding initiatives. Our immediate goal is to expand our capacity to meet the needs of this moment.
In honor of mothers everywhere I will spend the month of May walking the equivalent of the 500 miles of the Camino here in NY. Each day I will pick a route that is meaningful on my personal journey towards peace and I will share the journey daily with you.
I invite you to participate in any of 3 ways:
If you have a special place you would like me to visit within a 16-ish mile radius of West Hempstead, NY, please let me know and will add it to my journey. 

Share your own video/story of steps you take to make your community a more peaceful community. 

Please donate to The Peace Alliance so that we can expand our ability to respond to what is being asked of all of us in this moment. We have matching funds of $5000 to double your donations!
Please send any stories, questions, and videos to [email protected]. You can also share them on all our socials, tag The Peace Alliance and use hashtag #PeaceInEveryStep.
I look forward to walking peace into every step of 500 miles and seeing what emerges by June.
It's never been more important to create lasting change in support of peace.
A definition of PEACE!
What is your definition of peace?
Email us at [email protected] and tell us!
Content and language warning
video produced by Eleven Films
We are in a preventable crisis.
Let's prevent it.
The time is NOW to keep our children and communities safe!

Tell your Senators and Representatives to act NOW to reduce and prevent gun violence.

Call… write…
call again… write again…
H.R. 698/ S. 25 (The Assault Weapons Ban Act of 2023 to ban the sale, transfer, manufacture and importation of military-style assault weapons and high-capacity ammunition magazines.)
THANK YOU!
We asked for your partnership and you responded. There is still time to become a Peace Partner.
DONATE TODAY!
Watch these bars GROW as
your community of peace builders
EXPANDS!
THANK YOU FOR YOUR SUPPORT!
The Blueprint for Peace is a major initiative to make peace and nonviolence an essential and effective organizing principle in federal, state and local government policy.
Sign the petition 

today

! Let your elected officials know you want them to support these policy priorities.
The Peace Alliance has championed efforts to support the adoption of legislation to establish a cabinet-level US Department of Peacebuilding in our federal government.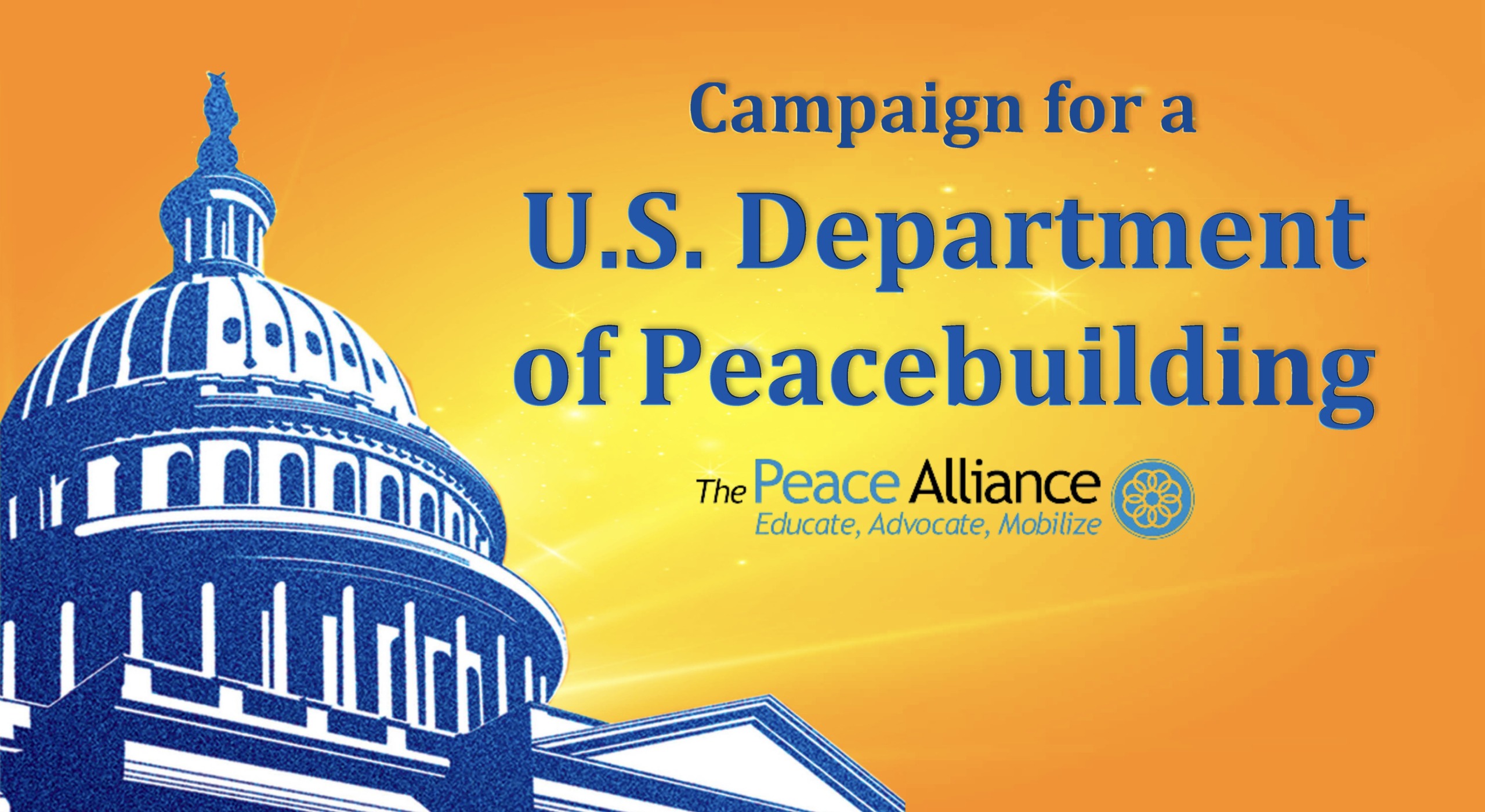 Systemic racism is a significant driver of violence and a key obstacle to peace in the United States. – Department of Peacebuilding Act of 2021
THE DEPARTMENT OF PEACEBUILDING ACT OF 2023
(DoP 2023/ HR 1111) WAS INTRODUCED by Congresswoman Barbara Lee (CA-13).  This historic and transformative legislation calls for a cabinet-level Department of Peacebuilding to make peace a much-needed national and ongoing focus. It addresses the interconnection of all life and the intersectionality of peace, justice, equality, planetary survival and other aspects of life.
What better way to make the Season for Nonviolence EVERYDAY than to establish a Department of Peacebuilding?  We know there are root causes of violence and root conditions of peace.  We know that violence prevention saves lives and money and raises the quality of life for all.
DoP 2023 is about creating a nonviolent community where ALL are able to thrive.
To learn more about this legislation, PLEASE CLICK HERE.
What is Peacebuilding?  
Peacebuilding isn't just the absence of conflict… it is a conscious action toward solving systemic issues that create that conflict.
Join Us to actively work toward building peace for everyone.
Donate by Check
Some of our generous supporters prefer to mail checks to our office to donate to the work of The Peace Alliance. We are so grateful for all of your support. 
If you prefer your donation be tax deductible and you want your donation to focus on the educational side of this work, please make checks payable to The Peace Alliance Educational Institute– the 501(c)(3) arm of The Peace Alliance.  We will send you a letter for your taxes.
If you prefer your donation to be unrestricted in how it is applied, be it to educational programs, operational costs, or advocacy work and do not need it to be tax deductible, please make checks payable to The Peace Alliance. Thank you!
Mailing Address:
PO Box 320651
Fairfield, CT 06825