It's never been more important to create lasting change in support of peace.
Ask your elected officials to support the Eric Garner Excessive Force Prevention Act
Ask your elected officials to support a US Department of Peacebuilding
Ask your elected officials to support the George Floyd Justice in Policing Act
Content and language warning
video produced by Eleven Films
We are in a preventable crisis.
Let's prevent it.
The time is NOW to keep our children and communities safe!

Tell your Senators and Representatives to act NOW to reduce and prevent gun violence.

Call… write…
call again… write again…
H.R. 1808/ S. 736 (The Assault Weapons Ban to ban the sale, transfer, manufacture and importation of military-style assault weapons and high-capacity ammunition magazines.)
THANK YOU!
We asked for your partnership and you responded. There is still time to become a Peace Partner.
DONATE TODAY!
Watch these bars GROW as
your community of peace builders
EXPANDS!
THANK YOU FOR YOUR SUPPORT!
The Blueprint for Peace is a major initiative to make peace and nonviolence an essential and effective organizing principle in federal, state and local government policy.
Sign the petition 

today

! Let your elected officials know you want them to support these policy priorities.
The Peace Alliance has championed efforts to support the adoption of legislation to establish a cabinet-level US Department of Peacebuilding in our federal government.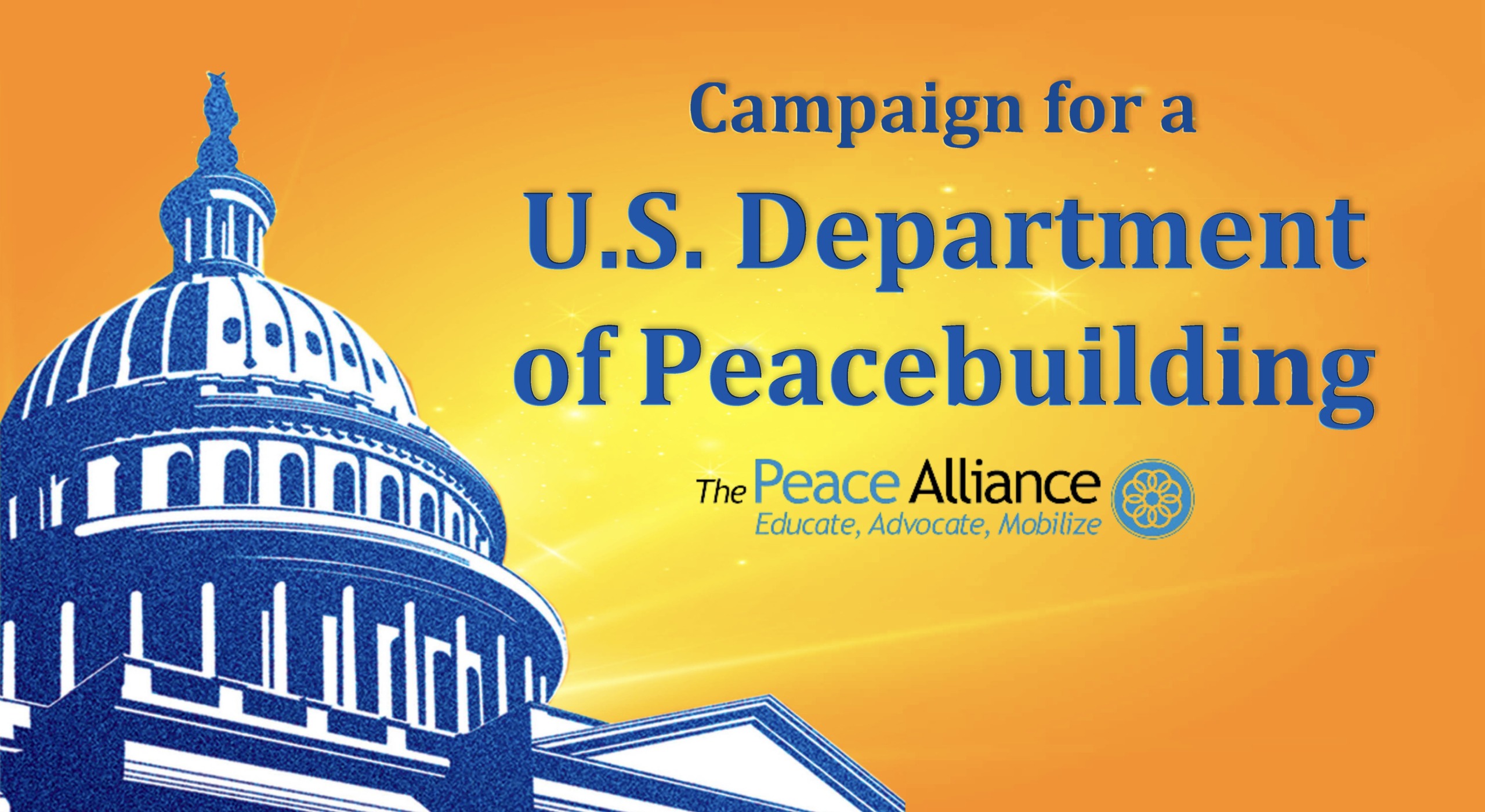 Systemic racism is a significant driver of violence and a key obstacle to peace in the United States. – Department of Peacebuilding Act of 2021
THE DEPARTMENT OF PEACEBUILDING ACT OF 2023
(DoP 2023/ HR 1111) WAS INTRODUCED by Congresswoman Barbara Lee (CA-13).  This historic and transformative legislation calls for a cabinet-level Department of Peacebuilding to make peace a much-needed national and ongoing focus. It addresses the interconnection of all life and the intersectionality of peace, justice, equality, planetary survival and other aspects of life.
What better way to make the Season for Nonviolence EVERYDAY than to establish a Department of Peacebuilding?  We know there are root causes of violence and root conditions of peace.  We know that violence prevention saves lives and money and raises the quality of life for all.
DoP 2023 is about creating a nonviolent community where ALL are able to thrive.
To learn more about this legislation, PLEASE CLICK HERE.
What is Peacebuilding?  
Peacebuilding isn't just the absence of conflict… it is a conscious action toward solving systemic issues that create that conflict.
Join Us to actively work toward building peace for everyone.
Donate by Check
Some of our generous supporters prefer to mail checks to our office to donate to the work of The Peace Alliance. We are so grateful for all of your support. 
If you prefer your donation be tax deductible and you want your donation to focus on the educational side of this work, please make checks payable to The Peace Alliance Educational Institute– the 501(c)(3) arm of The Peace Alliance.  We will send you a letter for your taxes.
If you prefer your donation to be unrestricted in how it is applied, be it to educational programs, operational costs, or advocacy work and do not need it to be tax deductible, please make checks payable to The Peace Alliance. Thank you!
Mailing Address:
PO Box 320651
Fairfield, CT 06825