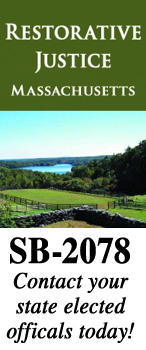 Action Tool: Support SB 2078: An Act Promoting Restorative Justice! (MA)
Your participation and action is integral to the passage of this important bill!

ACTION TOOL : ►CLICK HERE to write your Senators and Representatives urging them to support SB-2078! Even if you cannot make the Town Hall, your voice can and will make a difference by taking 2 minutes or less to sign this automated letter!
GO DIRECT TO SUPPORT THE BILL: Write or Call Senator Brewer, Chair of Senate Ways & Means and let him know you urge he and his Committee to approve and move the bill:
Phone:

617-722-1540

Fax:

617-722-1078

Email:

[email protected]
PDF COPY OF BILL: ►S.2078 An Act Promoting RJ Practices Committee Version 5.5.14
PDF COPY OF FACT SHEET & SUPPORTERS : SB 2078 Summary_Supporters_Factsheet

LISTEN TO THE AUDIO FROM THE TOWN HALL (6/18/14)
LISTEN TO THE RECAP interview with Erin Freeborn of JCRJD and Jennifer Larson-Sawin of C4RJ
Last year, The Peace Alliance and Restorative Justice on The Rise played a role in supporting a successful passage in Colorado of the Restorative Justice Pilot Project (now law)!Once again, we are working steadfastly to support a similar effort in Massachussetts, with SB-2078: An Act Promoting Restorative Justice Practices. We think providing open platforms for dialogue, education, and community discussion is a key way to make change happen. That's why we are co-hosting another "Virtual Town Hall" to talk about the bill and the power of restorative justice. We'll also be doing a "Call to Action" where your participation will have direct affects on helping pass this bill into law.
FEATURED SPEAKERS FROM THE TOWN HALL (Held 6/18/14): Sen. Jamie Eldridge (D-Acton) (WEBSITE), Middlesex County D.A. Marian Ryan (FULL BIO), Hon. John Cratsley (ret. Superior Court and District Court) & Professor of Law, Harvard University (MORE INFO) and Chief Robert Bongiorno, Bedford Police Department (MORE INFO/BIO). Facilitator/Host for the dialogue: Molly Rowan Leach, Producer, Restorative Justice on The Rise and RJ Fellow, The Peace Alliance.
DID YOU KNOW THAT IN MA:
There are higher satisfaction rates for victim

s vs. to those proceeding through traditional court (89% vs. 57%)
Reduced recidivism

for offenders (16% vs. 39%)
Cost savings is six times that of traditional methods

(a University of Massachusetts study in 2012 demonstrated that restorative justice is nearly six times more cost-effective than traditional justice methods).
Thank you for joining us and adding your voice to the dialogue! Don't forget to sign-up here to let us know you are participating.
EVENT CO-HOSTS
The RESTORATIVE JUSTICE COALITION OF MASSACHUSETTS, a state-wide coalition of concerned citizens who practice or support restorative justice in various capacities throughout the Commonwealth.

~AND~
Communities for Restorative Justice c4rj.com
Juvenile Court Restorative Justice Diversion restorativejusticediversion.com
Restorative Justice on The Rise, a public telecast dialogue series Co-Sponsored by The Peace Alliance restorativejusticeontherise.com
https://peacealliance.org/wp-content/uploads/2014/06/SB-2078-MA.jpg
350
146
Allison
Allison
2014-06-12 15:59:46
2014-07-08 13:23:14
Action Tool: Support SB 2078: An Act Promoting Restorative Justice! (MA)