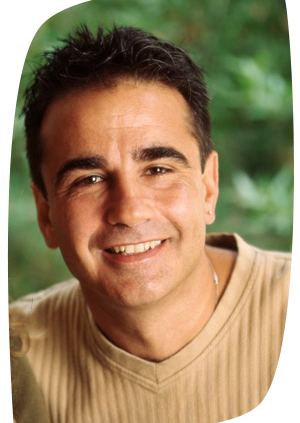 My Name is Rich Dutra-St John. After growing up in an emotionally volatile and physically violent home while being bullied throughout middle school and beyond, I have committed my entire life to making a positive difference in the lives of others. I am the Face of Peace.
In 1987 my wife Yvonne and I co-founded the Challenge Day organization with a vision to create a world where EVERY child feels safe, loved and celebrated. We imagine a world where – EVERY parent, before they say or do anything to their child first stops and asks the question; is what I am about to say going to leave my child feeling safe loved and celebrated? We hold the vision that every teacher, every administrator, custodian, student and community member will someday ask the same question. We hold hope that some day every politician, every government official and world leaders will learn to pause before they make a decision or implement any policy and to ask themselves the question, is the decision I am about to make or the policy I am about to Implement going to leave the people of this world feeling safe loved and celebrated.
We believe PEACE comes from the inside out and it takes three steps…
Step One – Loving ourselves inside and out from head to toe.

Step Two – Looking through eyes of compassion, acceptance and respect for others

Step Three – Living our lives in service
Working in schools for most of my adult life I feel completely hopeful that peace on earth is possible. I have witnessed countless miracles, unbelievable healings and I am a firm believer that young people have the power to change the world. I am proud to say that as an organization Challenge Day has now touched the hearts and lives young people and adults all over the US, Canada and other parts of the world including Germany, Australia, Japan and most notably the Netherlands where a series of trainings and documentaries on our work are now helping to break down the walls of separation for people of all ages.
We have co-authored our first book entitled Be the Hero You've Been Waiting For and are proud to say our organizations workshops, television appearances, documentaries, assemblies and keynotes have now helped to transform the hearts and lives of millions of youth and adults. Currently we are working to expand the worldwide Be the Change Movement where every participant commits to completing at least one intentional positive act of change each day as a service to themselves and the world around them.  I hope you will join us. For more information visit our website at www.challengeday.org.
https://peacealliance.org/wp-content/uploads/2013/05/rich-dutra-st-john.jpg
450
300
Allison
Allison
2013-06-12 20:36:04
2013-07-26 00:21:24
Rich Dutra-St John