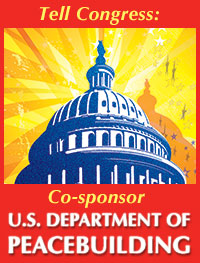 U.S. Dept. of Peacebuilding Legislation Re-introduced!
"When I try to envision the future of our country, I see a nation where peace,
and the conditions that are necessary for peace, are top priorities."
~ U.S. Rep. Barbara Lee
The 114th Congress has come into full session and it's that time again. Legislation calling for the establishment of a cabinet-level U.S. Department of Peacebuilding (HR 1111) was re-introduced Friday in the U.S. House of Representatives by Rep. Barbara Lee (CA-13).  Let's show our support.
Tell Congress today that you want them to co-sponsor the Dept. of Peacebuilding and make peace one of our nation's top priorities!
Imagine: a nation where peacebuilding has a voice and a choice in the U.S. cabinet — where key policy decisions are discussed and prioritized.
Join us as we urge our elected officials to make peacebuilding initiatives a central part of our national agenda and our Federal Government.  It is an opportunity to educate our elected officials on new and more innovative ways to deal with conflict and violence, both domestically and internationally.
Four Key Reasons why you should take action:
Secretary of Peacebuilding positioned at the highest level of government.
Peacebuilding is cost effective: By promoting effective violence prevention policies and programs, we help decrease the federal deficit and channel funds toward positive change.
Root Cause: This bill addresses and corrects the underlying, systemic causes of violence and cultivates conditions for peace.
Violence is costly.  A recent report from the Institute for Economics and Peace estimates that in the U.S., annual violence containment costs over $2 trillion dollars, money that could go to schools, and myriad social justice initiatives.
Before his passing, Walter Cronkite said about the legislation and our work: "It's not just a matter of getting another Department in government; you are speaking of an entire philosophical revolution… This is a great start."  It may take awhile to enact, but your support will advance the organizing principles and vision within the legislation, making them a priority and helping us continue to implement policies and legislation that will move us toward this powerful vision of a peaceful world.
Show your support by taking action today!

https://peacealliance.org/wp-content/uploads/2013/12/DoP_logo_tall_vs2_tellcongress.jpg
263
200
Matthew
Matthew
2015-03-01 12:20:08
2017-05-22 00:12:36
U.S. Dept. of Peacebuilding Legislation Re-introduced!