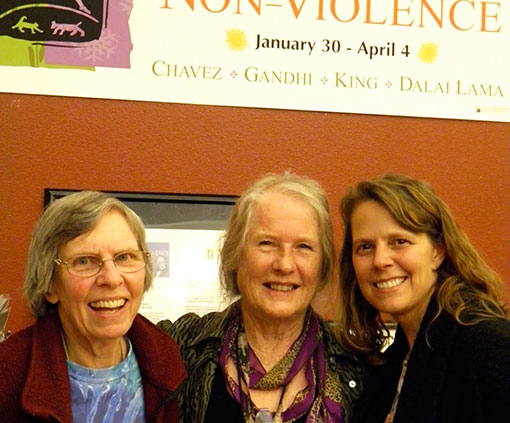 Sonoma County, CA Peace Alliance Season for Nonviolence Report
Sonoma County Peace Alliance members Kendra Mon and Maggi Koren were chosen to receive the Community Organization Award to the Peace Alliance and Season for Nonviolence from the Peace & Justice Center of Sonoma County. It says: "For your continuous dedication to peace and justice in Sonoma County, nationally and globally; For passionately working to protect and defend human rights and dignity; For being an inspiration and strength to all of us as we struggle to keep the movement for human rights and peace and justice present and visible; For nonviolently speaking truth to power; For tirelessly working to promote understanding by helping the unlock the power of people." Congratulations Maggi and Kendra!

Report from Maggi and Kendra:
Five years ago Peace Alliance members of Sonoma County invited other non profit peacebuilding organizations to work on a joint project and the Season for Nonviolence Coalition was founded. They formed a coalition to promote the many programs and practices they offered which help to prevent violence in their community. They were very excited about this year's kick off event when they were able to obtain the venue at a local school – Piner High School, where restorative practices were recently introduced.
This year's intention was to introduce people to the healing power of the circle through dialogue, and was titled "Community Healing Through Dialogue." It was important to address the unnecessary death of a local 13 year old at the hands of an experienced sheriff. There had been a number of community conversations in Santa Rosa in response to the Andy Lopez shooting 16 months ago. Extensive community involvement including the Board of Supervisors and the local police have been drafting proposals for change and the work is ongoing. Because of this circumstance, many people in Sonoma County from all walks of life, were more exposed to the problems surrounding the story and the preventive measures that are available – which  helped to better resolve a crisis and curtail further violence.
During the last two years with the help of one of the SNV nonprofit – Restorative Resources, Santa Rosa Schools set up an 12 week Restorative Justice, accountability program for high risk secondary students who have committed serious violations of school discipline codes potentially resulting in suspensions, expulsions and transfers to other schools or Juvenile Hall. The offending students are given a chance to learn about the consequences of their misguided actions and given the opportunity to right the wrongs they had made to their victims and the community. Andy Lopez was in this program.
The kick-off event therefore had to address this sad incidence in some way during the program introductions. Those gathered were delighted to take part and experience a taste of the dialogue process. Many locally trained facilitators, who have multiplied considerably to help in the schools offered their services at the kick-off event and stepped up to the plate to help foster the deep listening and heart centered dialogue that allows participants to communicate more deeply and respectfully.
The occasion was made extra special because of the Lifetime Peace Award presentation to Professor Michael Nagler by two of his most recent students from the Metta Center for Nonviolence, another SNV nonprofit organization, which he founded in Petaluma after retiring from a very prolific life at UC Berkeley. He continues to write and teach through TED talks, local radio shows, and circle gatherings in the county.
It is hoped that with continued SNV celebrations the programs will create more opportunities for people to become more involved with the knowledge of the transformational impact restorative practices in nonviolence is having on our kids, their families and teachers, the community, and society. The good news is that this semester Santa Rosa City School District has expanded the restorative practices to the elementary schools with the help of another SNV nonprofit org. Center of Restorative Practices.
Now the important work of the coalition is to help find the funding to support this life saving cost effective work.
Submitted by Kendra Mon and Maggi Koren on behalf of the SNV Coalition of Sonoma County
https://peacealliance.org/wp-content/uploads/2015/02/SNVSonoma-KendraMaggiJeana-A-EM506201-30-15_thmbnl.jpg
680
510
Matthew
Matthew
2015-02-28 14:28:50
2015-03-07 12:17:15
Sonoma County, CA Peace Alliance Season for Nonviolence Report