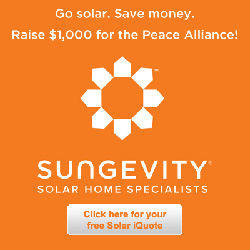 Go Solar. Support Sustainable Green Energy. Generate $1,000 for The Peace Alliance!

The Peace Alliance is excited to join innovative home solar company Sungevity to offer a great way to GO SOLAR while earning $1,000 for The Peace Alliance.  Sungevity operates in the following states: CA, AZ, NY, NJ, CO, MD, DE & MA. If you don't live in one of these states, please share it with anyone you know that does.
We know that energy and oil use are a leading cause of war and violence around the planet. You can be a part of changing that by making your roof-top a small green-energy generator!
Here's how it works:
Sungevity, an award-winning home-solar installer, puts solar panels on your house for $0 down when you sign up to lease them.
You pay Sungevity on a monthly basis for your home solar lease. The average Sungevity Solar Lease customer saves 15% on their electricity costs from day one.
The combined cost of your lease payment plus the cost of your new electricity bill will likely be less than the cost of your old electricity bill.
Click http://sungevity.org/peace-alliance to request a free solar iQuote. In 24 hours Sungevity's remote solar designers will send you an email with all the details of how much you could save and what your solar home lease would look like.
In the end, you could end up having home solar power for even less than what you were paying for electricity before. It's a win-win-win situation: a win for you (you save money), a win for The Peace Alliance ($1,000), and a win for the environment!
I just got my iQuote and my energy savings should be over $12,000 in the next 15 years.  Can't wait to be a source of clean energy and save money. PLEASE SPREAD THE WORD.
In Peace,
Matthew Albracht
The Peace Alliance
https://peacealliance.org/wp-content/uploads/2013/05/sungevity-promo.jpg
250
250
Allison
Allison
2013-05-16 12:11:46
2013-05-20 14:18:04
Go Solar. Support Sustainable Green Energy. Generate $1,000 for The Peace Alliance!