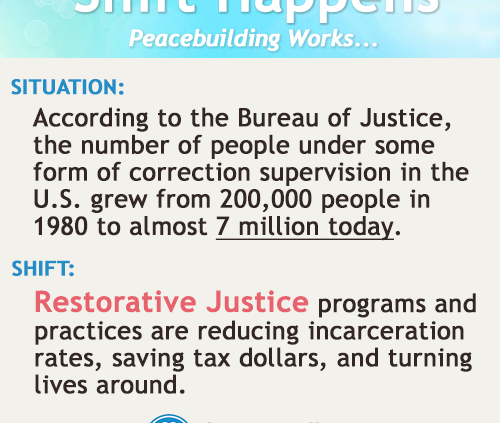 Shift Happens! Peacebuilding Works…
With your help we can research, promote and enhance peacebuilding:
SITUATION:
Since the massacre of 20 children and 6 adult staff members in Newtown, CT, in December 2012, there have been at least 43 school shootings in the U.S., and nearly 8 children and teens are shot and killed every day.
SHIFT:
Schools and communities are responding to bullying and harassment by implementing nonviolent conflict resolution education, student peer mediation councils and Restorative Justice that reduce violence, reduce suspensions and expulsions and save money.
SITUATION:
For most of our nation's history, we have been at war with other nations or engaged in civil wars against Native Americans or secessionist states.
SHIFT:
In recent years U.S. military leaders and State Department officials have underscored the importance of conflict-prevention and peacebuilding policies for securing the peace.  In addition, non-profit organizations, such as Nonviolent Peace Force, have  proven that trained unarmed peacekeepers can foster dialogue and broker peace among parties in conflict around the world while providing protection for threatened civilians.
SITUATION:
The Bureau of Justice reported in 2010 that 25% of women have experienced domestic violence and 6 million children witness domestic violence annually.
SHIFT:
The overall rate of intimate partner violence declined by 64% from 1994 to 2010, which has been attributed to 30 years of citizen advocacy about the issue, legal and other services for victims, the Violence Against Women Act, and improvements in women's economic status.
https://peacealliance.org/wp-content/uploads/2014/02/rj-and-prisons.png
520
500
Matthew
Matthew
2014-02-25 17:04:34
2014-02-26 16:33:35
Shift Happens! Peacebuilding Works…