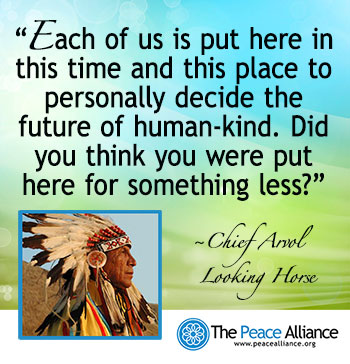 A Season for Nonviolence & Department of Peacebuilding Action
February 25th marks the day the Department of Peacebuilding (DoP) legislation was re-introduced last year by Congresswoman Barbara Lee (originally by Congressman Dennis Kucinich in 2001). We are also in the midst of the Season for Nonviolence, the 64-day period from January 30th to April 4th memorializing the dates Mahatma Gandhi and Martin Luther King, Jr. were assassinated.  In honor of these two notable moments, we are urging Congress to support the DoP legislation.
► Take action now! Urge your Members of Congress to co-sponsor the Department of Peacebuilding legislation.
Not long ago, peacebuilding wasn't even a word, and now it's widely used to indicate that peace is an on-going process, addressing root causes of both peace and violence.  Last year, Congresswoman Barbara Lee wrote this to Members of Congress as she lead in re-introducing the bill: "It is past time to establish a Department of Peacebuilding [H.R.808] to reduce suffering on a national and global scale while saving billions of dollars through violence reduction and increased economic productivity."
This legislation will create a cabinet-level Secretary and Department of Peacebuilding, focused on research, promotion and implementation of effective violence prevention/reduction programs and policies and will provide strong structural support for those already implemented by communities around the nation to help our nation and all Americans live more peaceful lives. Whether or not we ultimately get a Department, we must move towards national infrastructure at this scale.


SHARE ON FACEBOOK
"Each of us is put here in this time and this place to personally decide the future of human-kind. Did you think you were put here for something less?"
~ Chief Arvol Looking Horse
https://peacealliance.org/wp-content/uploads/2014/02/avorol_lookinghorse_sm.jpg
364
350
Matthew
Matthew
2014-02-24 15:47:43
2014-02-24 15:49:36
A Season for Nonviolence & Department of Peacebuilding Action