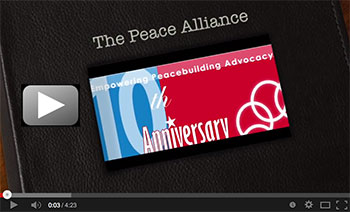 Peace Alliance 10th Anniversary!
Dear Peace Alliance Friends and Supporters,
March 31st marks a very special moment for The Peace Alliance. It was ten years ago, in 2004, that we were legally incorporated.   We look back with great pride on our remarkable journey, and look forward enthusiastically to our continued actions and the expansion of peacebuilding in our nation and world.
When we started this work, aiming to help establish a U.S. Department of Peace and to move our nation and world towards more robust peacebuilding infrastructure generally, little was understood in our culture about the art and science of nonviolence and peacebuilding. It has been remarkable to see the evolution of the peacebuilding conversation since then, increasingly addressing issues of disharmony, violence, crime and war by identifying their underlying causes and implementing nonviolent solutions that build an infrastructure for sustainable peace.
Early on when our grassroots teams were visiting with Members of Congress and their staff, working to educate the media and build greater awareness in the public, the prevalent feedback was that these ideas were foreign to most. Few knew of all the innovative, effective and often transformative works of peacebuilding. Yet now there is a greater and more vibrant listening for peacebuilding priorities, and better understanding of the need to shift towards these new modalities.
A number of factors continue to play into why this shift has happened. There are other wonderful organizations, practitioners and experts who've been effectively advocating for these concepts, many with whom we ally. And importantly, the thousands of activists and organizers we have trained and partnered with, like you, certainly played a critical part in this evolution.
We couldn't be more proud to have been a collaborative part in assisting so many folks to blossom from passionate, peace caring people — many who'd never been engaged in civic activism — into empowered and effective advocates for this worldview.  All of us on the staff and board learned so much from our grassroots teams, together advocating for this worldview, trying our best to embody the values of peace with each other along the way, and generating a real beloved community.
On this path, we've had many wise and committed leaders who deserve special note, from Marianne Williamson, one of our key founders, to Lynn McMullen and Dot Maver, two early Executive Directors — there were so many others along the way that deserve mention, but the list would simply be too long.
Of course the real heart and soul of the organization, beyond our crucial mission, were all of you, people who created the fabric of our engaged District Teams, State Coordinators and now our Action Teams. Each of you, our partners, have committed individually and as groups in many ways, your time, energy and financial support to help make this a mighty legacy. Together, we have made a real difference to our communities, nation and world. Thank You!
To amplify our vision and voices, our staff has created a special anniversary comments section on Facebook.  Please visit and share your favorite memories and appreciations.  We'd love to hear what this organization, work and mission have meant to you.
Please do watch our special short video celebrating these past 10 years (if you want to see even more, you can watch the longer version here).
There is much to look forward to in the coming years, we can't do it without each of you. Thank you for carrying the torch of peace with us.
With profound gratitude,

Judy Kimmel,
Board Chair
The Peace Alliance

Heart Phoenix,
Board Chair
Peace Alliance Educational Institute

Bob Baskin,
President
.

Matthew Albracht,
Executive Vice President
https://peacealliance.org/wp-content/uploads/2014/03/you_tube.jpg
212
350
Matthew
Matthew
2014-03-31 13:21:12
2014-03-31 14:18:27
Peace Alliance 10th Anniversary!