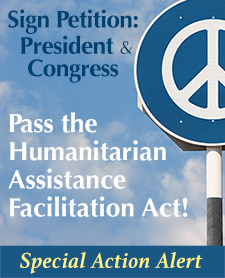 Tell the President and Congress to Protect Peacebuilders from Being Targeted by Counter-Terrorism Laws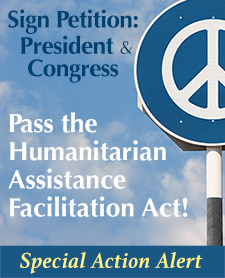 Dear friends,
Are you aware that some aspects of U.S. counter-terrorism laws have had the unintended consequence of discouraging, delaying and obstructing life-saving peacebuilding and humanitarian assistance to men, women and children in great need who have the misfortune of living in areas where terrorist groups operate? It also limits the capacity to demobilize armed fighters.
"Currently, organizations can easily run afoul of laws which restrict 'material support for terrorism' simply by paying a road tax, or by feeding communities in areas controlled by 'listed' groups. Organizations engaged in active conflict resolution are at great risk given their necessary contact with all parties."
Thankfully the Humanitarian Access Facilitation Act (HAFA)(H.R. 3526) was recently introduced to rectify the situation.
Sign the HAFA support petition to Congress and the President today.
HAFA expresses the sense of Congress that humanitarian organizations acting in good faith and with the appropriate restrictions and controls in place should not be prevented from providing aid to civilian populations before or early on in humanitarian crises, such as in the famine in al-Shabaab-controlled areas of Somalia.
This bill strengthens national security by helping civilian populations become less dependent on terrorist entities and provides a counterpoint to terrorist propaganda by demonstrating the good will of the American government and people.
Please sign our HAFA petition today.  It will send a message to your Members of Congress and the President.
You can learn more about this issue and bill here.
Sincerely,


Bob Baskin
President, The Peace Alliance
https://peacealliance.org/wp-content/uploads/2014/03/hafa_action_logo.png
278
225
Matthew
Matthew
2014-03-27 14:43:20
2014-03-28 12:01:39
Tell the President and Congress to Protect Peacebuilders from Being Targeted by Counter-Terrorism Laws