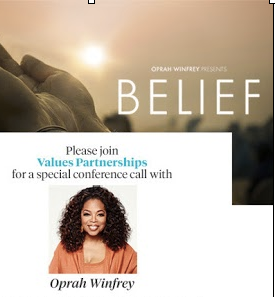 Join Us Tonight with Oprah
Live Conference Call ::: 5:30pmPST/8:30pmEST

Oprah Winfrey presents "Belief," a groundbreaking television event exploring humankind's ongoing search to connect with something greater than ourselves. This original, seven-part series allows viewers to witness some of the world's most fascinating beliefs through the eyes of the believer.
Journeying to the far reaches of world, and inside places cameras have rarely been, the real stars of this special are the seven billion people here on earth whose ability to believe in things they can not see. Read more: http://www.oprah.com/app/belief.html#ixzz3fD8Zv1cp 
Hi Everyone,
I want each of you to know that The Peace Alliance is excited to partner with Values Partnerships and OWN: The Oprah Winfrey Network, on a groundbreaking new documentary called Belief.
Set to air this October, Belief is a seven-night television event exploring the power of faith, cultural traditions and connection to the world community. We know that peacebuilding and the work we do are very much related to the values and beliefs that this documentary series hopes to convey.  Because of that, we look forward to engaging in community dialogues around the themes of the power of belief and the impact of cultural connections leading up to the series.
As a first step, we are extending an invitation for you to join us for a discussion with Oprah Winfrey, TONIGHT: Tuesday, 7/7 at 8:30pm EST – 9:30pm EST/ 7:30pm – 8:30pm CST/ 5:30pm – 6:30 PST.
Please feel free to share this broadly with your networks. 

Space is Limited for tonight's call so RSVP Here
Conference line: (518) 530-1840 or (855) 212-0212
Meeting ID: 320-374-623
For a sneak peek at the series, click here: http://qlnk.io/ql/558ca278e4b0822433fe8003
If you are unable to join the call and wish to connect further with the initiative, sign up here: http://www.oprah.com/app/belief.html
We will also be following up with additional opportunities to engage in deeper dialogue around this movement. Please NOTE: **This is an off-the-record event and is not for press purposes.
Sincerely,

Bob Baskin
President, Peace Alliance
---
https://peacealliance.org/wp-content/uploads/2015/07/Screen-Shot-2015-07-07-at-7.59.27-AM.png
297
275
Allison
Allison
2015-07-07 10:02:39
2015-07-07 14:04:19
Join Us Tonight with Oprah