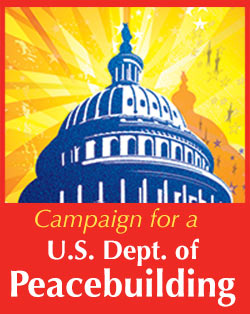 U.S. Dept. of Peacebuilding 14th Anniversary
Paving the way for peace…
Dear Friends,
We know that research has indicated that investing early to prevent conflicts from escalating into violent crises is, on average, 60 times more cost effective than intervening after violence erupts.
On July 11, 2001 — exactly two months before 9/11 — Congressman Dennis Kucinich (OH) introduced legislation to create a cabinet-level U.S. Department of Peace, which embodied the knowledge that violence prevention and peacebuilding are cost effective, save lives and improve quality of life, both domestically and internationally.  Congresswoman Barbara Lee (CA) introduced the current Department of Peacebuilding Act (H.R. 1111) in Congress on February 26, 2015.
As we approach the bill's upcoming 14th anniversary on July 11, we appreciate its continued evolution which reflects the progress made in the fields of peacebuilding and restorative justice.  President Obama read the legislation, as a Senator of Illinois, and, according to his legislative aide in 2007, had "no objections to anything in it."  He has always said he cannot effect the change we wish to see alone; that we, the people, must communicate clearly and persistently to our representatives, including him as President, to cause them to do the work we wish to see done.  Now, we have to give him, and our Members of Congress, a reason to move H.R. 1111 — and the principles of peacebuilding within it — forward.  Use this link to see key highlights of H.R. 1111.
In honor of its anniversary, please ask your Members of Congress and President Obama to support H.R. 1111. Please also spread this far and wide on your social media channels. As we make our crumbling physical infrastructure a priority in America, we must also pave the road with peacebuilding technologies toward increased domestic tranquility. It's time for peacebuilding to have a home in our government. Within the structure for a cabinet-level Department of Peacebuilding are all of the Peace Alliance's cornerstones of peacebuilding – Cultivating Personal Peace, Teaching Peace in Schools, Empowering Community Peacebuilding, Humanizing Justice Systems and Fostering International Peace.
If you are inspired to do more, you can work with the Peace Alliance National Grassroots Department of Peacebuilding Committee on any Department of Peacebuilding 15th Anniversary initiatives for 2016, by sending your contact information to [email protected].  This committee was formed in 2010 and has been working primarily behind the scenes to keep H.R. 1111 advocacy going.  Together, working locally and lobbying for legislation addressing one or more of the five cornerstones of peacebuilding, we are Being the Movement.
Thank you,
National Grassroots Department of Peacebuilding Committee,
Anne Creter, Karen Johnson, Nancy Merritt, Kendra Mon, Debra Poss, Pat Simon and Jerilyn Stapleton
---
https://peacealliance.org/wp-content/uploads/2015/04/DoP_logo_tall_2015.jpg
314
250
Matthew
Matthew
2015-07-07 16:37:47
2017-05-22 00:11:28
U.S. Dept. of Peacebuilding 14th Anniversary