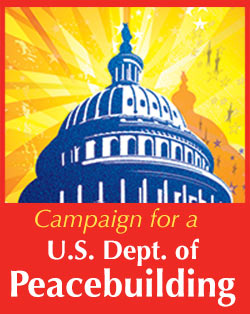 Department of Peacebuilding Campaign Mid-Year 2015 Report
July 30, 2015
DEPARTMENT OF PEACEBUILDING Act of 2015
In supporting the vision of an overarching peacebuilding structure, we recognize the Department of Peacebuilding (DoP) legislation in its principles and structures encompasses all 5 of the Peace Alliance's peacebuilding cornerstones.  This bill was re-introduced as H.R. 1111 on February 26, 2015 by Rep. Barbara Lee (CA-13) with input from TPA's National Grassroots Department of Peacebuilding Committee and other DoP supporters.  Read about the history and works of the Committee at https://peacealliance.kontribune.com/.
The DoP Committee coordinates with Rep. Lee's office in a continuing effort, generating thousands of phone calls, emails, and letters from around the country, many of the latter hand-delivered on the Hill.  During this year's Season for Nonviolence, efforts were initiated to secure 25 co-sponsors (and counting).  The DoP Committee and CA supporters are following up on endorsement by the CA statewide Democratic Party (CDP) of DoP 2013, and, to date, the CDP Veterans Caucus and CDP organizations from throughout CA support DoP 2015.  As part of its campaign to generate additional support, the Committee is continuing to obtain organizational endorsements of the bill. For a list of current organizational endorsers, such as Amnesty International and many others, see www.peacealliance.org/issue-advocacy/department-of-peace/.
In addition to these lobbying efforts, Committee members have been instrumental in giving talks, tabling and participating in peacebuilding events, publishing articles and letters, organizing workshops, and hosting phone calls with noted speakers on root causes of violence, such as former Congressman and sponsor of Dop legislation from 2001 – 2012 Dennis Kucinich and sociologist and author Allan Johnson.
Other groups and individuals are also dedicated to creating a home for peace within the federal government and/or state governments.  A group of Amherst, MA women initiated a MoveOn petition to President Obama and the Congress in support of a DoP.  Waltham, MA Mayor, Jeannette McCarthy issued a Proclamation in support of a DoP.  New Mexico citizens introduced legislation that would create an Office of Peacebuilding within the government of the State of New Mexico.
To sign petitions to the President and Members of Congress calling for a U.S. Dept. of Peacebuilding, go to https://peacealliance.org/u-s-dept-of-peacebuilding-14th-anniversary/.  To be one of the first billion people on the planet calling for building infrastructures of peace by all U.N. member nations go to www.peacenow.com.  The DoP Committee members look forward to meeting everyone at the Peace Alliance Conference.
https://peacealliance.org/wp-content/uploads/2015/04/DoP_logo_tall_2015.jpg
314
250
Matthew
Matthew
2015-08-03 09:05:09
2017-05-22 00:10:49
Department of Peacebuilding Campaign Mid-Year 2015 Report