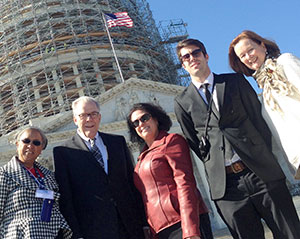 DC Conference Report: Photos and Videos
We are so very pleased by what we accomplished together in Washington DC this past October. A powerful few days. 
A remarkable group of people gathered from around our nation (and a few from other parts of the globe). 
All together, we visited over 100 Congressional offices, many included in-depth meetings on our primary peacebuilding legislation: The Youth PROMISE Act, Genocide and Atrocities Prevention Act and some for a U.S. Dept. of Peacebuilding.
And thanks to many of you, our national network generated over 7000 emails to Congress (and untold phone calls) for this legislation — amplifying our on-the-ground efforts.
It's been over six years since our last conference in Washington, and this was a great kick-off for this next phase of championing our Five Cornerstones of Peacebuilding to our nation's leaders. Thanks to everyone who joined us and to all of you who supported from afar.
We are posting many of the videos of our time together on our YouTube Channel. Over the coming weeks, we hope to have much of it online.  Check out the incredible conversations!
If you feel inspired by this work, please help us continue to make an impact by making a DONATION today.
Sincerely,
Bob Baskin,
President, Peace Alliance
https://peacealliance.org/wp-content/uploads/2015/10/Capitol-people-drop.jpg
239
300
Matthew
Matthew
2015-10-27 13:12:24
2015-10-27 13:12:34
DC Conference Report: Photos and Videos