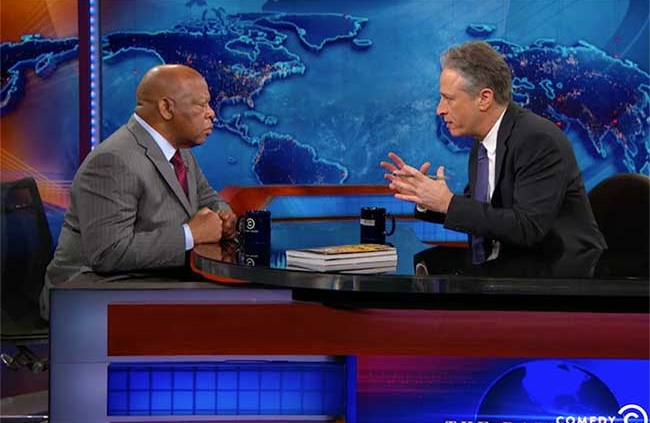 Congressman John Lewis is an Inspiration
March 13, 2015
From the Desk of President Bob Baskin
Friends,
Earlier this week, I was listening to Jon Stewart's Daily Show with his guest U.S. Rep. John Lewis.  It was on the eve of the 50th Anniversary of Bloody Sunday at the Edmund Pettus Bridge in Selma Alabama and the 1965 Civil Rights March to Montgomery.  Mr. Lewis was asked by Jon Stewart to explain his feelings on that terrible, but landmark day.
Stewart then said he'd like to show Mr. Lewis some images from that day that so many of us have seen over the years.  The first image was when the marchers had crossed the Bridge and were confronted by about 100 State Troopers.  The image showed Mr. Lewis and Hosea Williams at the front of the column.  Stewart commented that Lewis, standing there, and just 25 years old at the time, was leading the March.  Significantly, another image showed Mr. Lewis on the ground being brutally beaten by a State Trooper.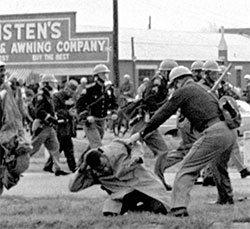 Stewart, somewhat surprisingly, noted that Mr. Lewis actually had his hands in his pockets while being beaten.  He asked if there was some kind of message with that.  Mr. Lewis indicated that the marchers were so quiet and so peaceful.  He and the marchers were deeply committed to Martin Luther King's philosophy of Nonviolence and he was not going to do anything that could be construed as attempting to fight back.  That day Mr. Lewis suffered a fractured skull, was sent to the hospital, and could have died.  I shuttered at the images and his story.
It struck me how strong, courageous, and committed he was (and is) to the cause of civil rights.  And, as he related his story, I felt truly inspired – and still do.  I thought about our grassroots network of peacebuilding advocates, and of our Action Team Leaders and Members.  I thought about the strength, courage, and commitment they show every day to transform the way individuals, communities, and nations respond to conflict and violence.
It makes me proud to be associated with our folks who live peace themselves and work so hard to share their commitment with friends, families, neighbors, and even policy makers and the media. We at The Peace Alliance draw from our grassroots and share their commitment.
.
Bob Baskin,
President
https://peacealliance.org/wp-content/uploads/2015/03/jon-stewart_lg.jpg
431
650
Matthew
Matthew
2015-03-14 10:36:00
2015-03-16 14:30:47
Congressman John Lewis is an Inspiration