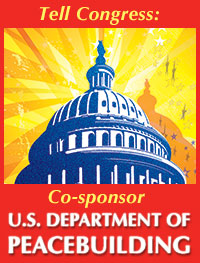 Sign Petition! Legislation to establish a U.S. Department of Peacebuilding (H.R. 808) was introduced in the U.S. House of Representatives by California Congresswoman Barbara Lee In February 2013 (originally Rep. Dennis Kucinich in 2001). This legislation calls for collaboration in the public and private sectors to research and address the root causes of violence and to promote and sustain cost effective and proven peacebuilding programs and policies.
https://peacealliance.org/wp-content/uploads/2013/12/DoP_logo_tall_vs2_tellcongress.jpg
263
200
Matthew
Matthew
2013-12-16 12:29:19
2014-02-28 16:03:48
It's Time for a U.S. Department of Peacebuilding! Petition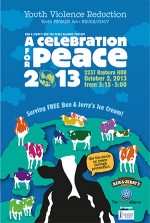 On October 2nd, we again partnered with Ben & Jerry's for our big annual "Celebration for Peace 2013" ice cream scooping event at the nation's capitol. As we celebrate the work of peacebuilding and the incredible opportunities it holds for our nation, we call upon our nation's leaders to invest in and prioritize peacebuilding. Join us today and sign our petition. Help build on the excitement and buzz we will all be creating at the Capitol by adding your voice!
https://peacealliance.org/wp-content/uploads/2013/10/ben-jerrys-scooping-2013-e1383952894508.jpg
223
150
Matthew
Matthew
2013-10-01 15:17:29
2014-01-29 17:29:05
► Sign the Peace Celebration Petition

As the budget debate plays out around our national debt, one item that can make a tremendous impact has not been getting the attention it deserves -- Pentagon spending. Not only do we spend more on defense than any other nation in the world, we spend almost as much as the entire world combined. In short-sided thinking, most of the debate is around cutting social services.
Tell Congress and the President that you do not want devastating cuts to critical prevention and intervention programs.
https://peacealliance.org/wp-content/uploads/2013/05/cut_pentagon_thmnl.jpg
50
75
Allison
Allison
2013-05-16 04:16:19
2013-06-04 14:34:35
Action: Urge Congress and President to cut Pentagon spending, protect peacebuilding