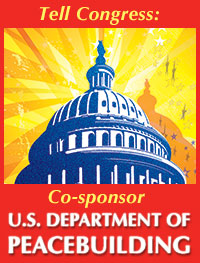 It's Time for a U.S. Department of Peacebuilding! Petition
Tell Congress
► Sign Petition Today!
Legislation to establish a U.S. Department of Peacebuilding (H.R. 808) was introduced in the U.S. House of Representatives by California Congresswoman Barbara Lee In February 2013 (originally Rep. Dennis Kucinich in 2001).  This legislation calls for collaboration in the public and private sectors to research and address the root causes of violence and to promote and sustain cost effective and proven peacebuilding programs and policies.
► Tell Congress to co-sponsor legislation for a U.S. Dept. of Peacebuilding
Domestically, the Department of Peacebuilding will develop policies and allocate resources to effectively reduce the levels of domestic and gang violence, child abuse, and various other forms of societal discord.
Internationally, the Department will advise the President and Congress on the most sophisticated ideas and techniques regarding peace-creation among nations.
More specifically, the U.S. Department of Peacebuilding Act would:
Provide for public education programs that promote tolerance and diversity
Create school and community cultures where students and staff are free from bullying and harassment by implementing curricula in nonviolent conflict resolution education for teachers, students, parents, and the local community
Establish a U.S. Peace Academy will research and teach the most cutting-edge techniques for the reduction of violence both domestically and globally
Assist in creating strong healthy families, including support for mental health service, domestic violence prevention, gang prevention, anti-bullying programs, substance abuse prevention, and parenting skills
Provide restorative justice programs in the criminal justice system to bring together offenders, victims, and community members to repair harm through accountability and rehabilitation
Assist in re-entry of incarcerated individuals by including training in anger management and peacebuilding capacities, education and life/job skills
Work to engage all stakeholders in international conflict situations in nonviolent problem solving and conflict resolution.
Whether in a Cabinet-Level Department or some other large-scale platform(s), we need to make significant shifts in how we organize ourselves as a society – working with and through our government to shape a more peaceful future for ourselves, our children and generations to come. Join us and take action today.
https://peacealliance.org/wp-content/uploads/2013/12/DoP_logo_tall_vs2_tellcongress.jpg
263
200
Matthew
Matthew
2013-12-16 12:29:19
2014-02-28 16:03:48
It's Time for a U.S. Department of Peacebuilding! Petition