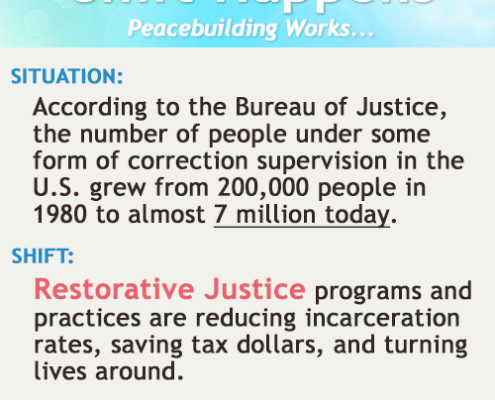 This is a new series, highlighting the challenges we face with violence and innovative peacebuilding solutions that are already making a difference. Shift does indeed happen!
https://peacealliance.org/wp-content/uploads/2014/02/rj-and-prisons.png
520
500
Matthew
Matthew
2014-02-25 17:04:34
2014-02-26 16:33:35
Shift Happens! Peacebuilding Works…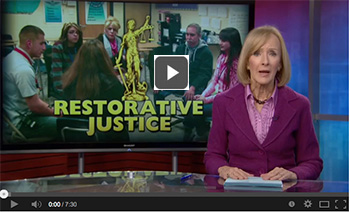 An important story was featured on PBS NewsHour yesterday, focusing on Resotorative Justice "talking circles" in a Colorado High School. Colorado is a national leader in pivoting away from the more punitive or punishment oriented models to the more restorative -- focusing on how to heal the harm and restore relationships.
https://peacealliance.org/wp-content/uploads/2014/02/RJ_colorado_pbs.jpg
212
350
Matthew
Matthew
2014-02-21 14:59:26
2014-02-21 15:02:34
Restorative Justice "Talking Circles" featured on PBS NewsHour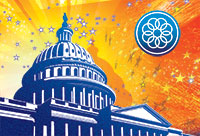 We received our full requested ask for Conflict Stabilization Operation Bureau, bringing it up to $45.2 million (up from $27m in 2013), Complex Crises Fund received the full $40m (up from $36m in 2013) and there was also an additional $6,016,000 for U.S. Institute of Peace, bringing their total up to $37m (that's still short of our $41m ask, but a healthy increase from last year). You can learn more about these three agencies here.
https://peacealliance.org/wp-content/uploads/2014/01/captiol-rays-coin-200.jpg
136
200
Matthew
Matthew
2014-02-02 15:51:18
2014-02-03 13:44:05
Big Victory for International Peacebuilding Work!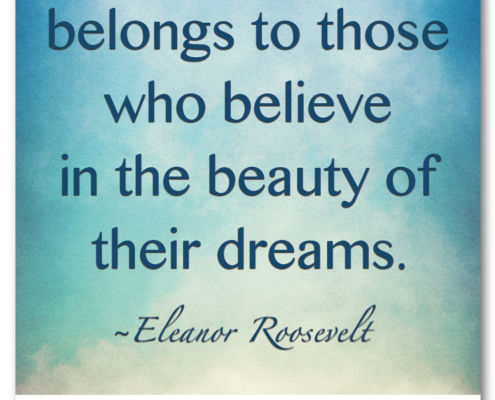 During the Season for Nonviolence we will focus on peacebuilding by seeking additional cosponsors of the Department of Peacebuilding Act (HR 808), which was introduced by Congresswoman Barbara Lee (CA-13) on February 25, 2014. The Season for Nonviolence is the 64-day period from January 30th to April 4th memorializing the dates Mahatma Gandhi and Martin Luther King, Jr., were assassinated by focusing on their legacy of nonviolence.
0
0
Matthew
Matthew
2014-01-25 16:39:50
2014-02-20 14:08:46
Season for Nonviolence/ DoP Cosponsor Action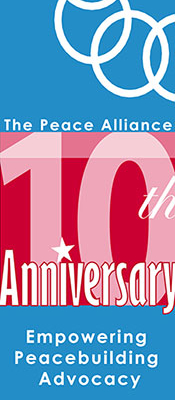 2014 marks our 10th anniversary year (March 31st). We are excited and humbled to have gotten this far. It was in partnership with so many of you that we achieved this milestone. And we've done a lot of good over this past decade, so much to be proud of! We are planning for this to be a landmark year for peace, and we will be doing a lot of fun activities to celebrate as we go.
https://peacealliance.org/wp-content/uploads/2014/01/10-yr-2_crop.jpg
408
175
Matthew
Matthew
2014-01-09 19:39:22
2014-02-19 18:53:19
Celebrating our 10th Anniversary in 2014!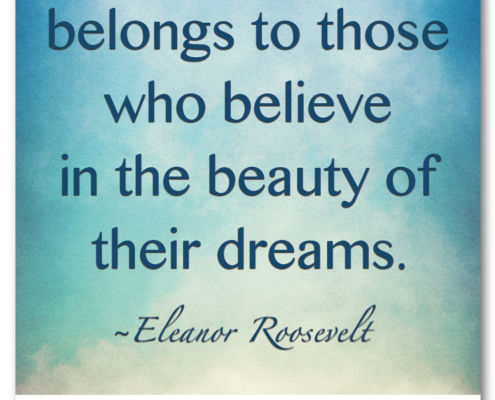 We are excited to launch our beautiful new Inspirational & Peace Quote Magnets. They are a great way to spread a peaceful message -- on the fridge, at home, at work or anywhere -- and help raise funds for our advocacy work. They also make great stocking stuffers for the holiday.
https://peacealliance.org/wp-content/uploads/2013/11/Roosevelt_magnet_xlg.jpg
1264
959
Matthew
Matthew
2013-11-19 20:15:53
2013-12-11 15:00:33
New Inspirational Peace Quote Magnets!