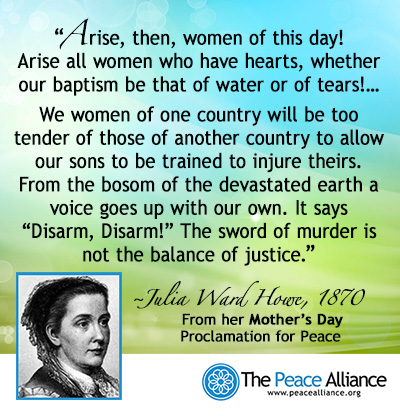 Mother's Day Peace Action Alert
"Arise, then, women of this day! Arise all women who have hearts, whether our baptism be that of water or of tears! We women of one country will be too tender of those of another country to allow our sons to be trained to injure theirs."
~ Julia Ward Howe, 1870
Mother's Day Proclamation for Peace
Many are not aware of the long history of Mother's Day. One of the key early advocates was Julia Ward Howe in the 1800's (writer, Battle Hymn of the Republic).  She started a movement urging it as a day of peace in response to the carnage she witnessed as a nurse during the civil war (read her Mother's Day Proclamation below).
It is with this spirit of intent that we have held our annual "Peace Deserves a Piece of the Pie" Mother's Day campaign for the past 10 years.
This week we are doing it again. Grassroots advocates around the nation are visiting local congressional offices urging support for the Youth PROMISE Act and other peacebuilding policy priorities.
► Please amplify their efforts by calling and writing your Members of Congress today, urging them to support the Youth PROMISE Act. 
Sadly, far too many of our youth around the nation are getting left behind, living in conditions of violence and despair that should be intolerable. Many speak of the cradle to prison pipeline as a great broken promise to the our youth.
Julia Ward Howe wrote of the carnage on our own soil during the civil war. Many of our own streets in communities across the nation could be called modern day war zones. This legislation will be a positive step forward to address these great challenges.
We are calling forth the mothering instincts in all of us to be a voice for the kind of support these kids need to live happy, productive and fulfilling lives.
Do you part today.  Two quick options for support:
1. Call your electeds: Use our handy and simple script below.  You can find your Members of the House and Senate and their phone numbers by clicking here.  Many offices make it as simple as leaving a message.  Please target Republican Senators first (if any).
2. Write your electeds: Use our simple online tool.
Sample Phone Script:
My name is _______.
I am a constituent calling today to urge the Representative/Senator to co-sponsor the Youth PROMISE Act, (Senate: S. 1307, House of Reps: H.R. 1317).
The Youth Promise Act is an approach to addressing Youth Violence that uses preventive strategies chosen by local communities.
It saves money and saves lives, and would only fund approaches that have already been proven to work.
For these reasons, I think the Representative/Senator should sign on as a Co-sponsor of the Youth PROMISE Act.
Thank you for your support. It will help.
Sincerely,

Bob Baskin
President, The Peace Alliance
.
MOTHER'S DAY PROCLAMATION

"Arise, then, women of this day! Arise all women who have hearts, whether our baptism be that of water or of tears!
Say firmly: "We will not have great questions decided by irrelevant agencies. Our husbands shall not come to us, reeking with carnage, for caresses and applause. Our sons shall not be taken from us to unlearn all that we have been able to teach them of charity, mercy and patience.
We women of one country will be too tender of those of another country to allow our sons to be trained to injure theirs. From the bosom of the devastated earth a voice goes up with our own. It says "Disarm, Disarm! The sword of murder is not the balance of justice."
Blood does not wipe our dishonor nor violence indicate possession. As men have often forsaken the plow and the anvil at the summons of war, let women now leave all that may be left of home for a great and earnest day of counsel. Let them meet first, as women, to bewail and commemorate the dead.
Let them then solemnly take counsel with each other as to the means whereby the great human family can live in peace, each bearing after their own time the sacred impress, not of Caesar, but of God.
In the name of womanhood and of humanity, I earnestly ask that a general congress of women without limit of nationality may be appointed and held at some place deemed most convenient and at the earliest period consistent with its objects, to promote the alliance of the different nationalities, the amicable settlement of international questions, the great and general interests of peace."
~ Julia Ward Howe
Read more about this history or Mother's Day here.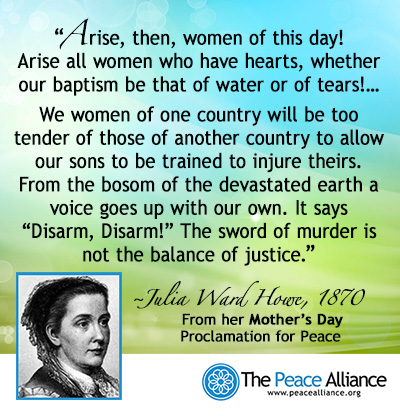 https://peacealliance.org/wp-content/uploads/2014/05/julia_ward_howe_sm.jpg
416
400
Matthew
Matthew
2014-05-09 11:50:41
2014-05-09 11:53:59
Mother's Day Peace Action Alert