Be the Movement! Take a Step for Peace Marin Event:
The Peace Alliance has created an intimate opportunity for you to
meet and dialogue with several of our nation's leading peacebuilders!
In this lovely home setting, we will discuss how we build peace in ourselves, our homes, our communities and the world. Please join The Peace Alliance for an informative and inspiring conversation, and learn how you can be a part of Building a Million Strong for Peace!
Sylvia Boorstein

Peter Dale Scott
Patricia Ellsberg
Barbara Marx Hubbard
Bob


Baskin
September 12, 2015
Novato, CA
11am – 2pm
Space is limited, please rsvp early
56 Bahama Reef, Novato, CA 94949
At the home of Emily and Johan Wikman in Bel Marin Keys
Light refreshments served.
Presentation and Panel Discussion begins promptly at 11:30.
Learn more about this accelerating peace movement and how you can contribute.
Following the event, we welcome you to hang out on our beach, dangle your feet in the water, or even take a boat ride on the lagoon with us.
From our homes, communities, nation and the world, in spite of what we hear and see from mainstream media, Peacebuilders across the globe are making a difference, and so can you!
Please join Sylvia Boorstein, Peter Dale Scott, Patricia Ellsberg, Barbara Marx Hubbard, Bob Baskin, President of The Peace Alliance, for an enlightening and inspiring discussion on tangible ways we can build peace in our homes, communities, schools, country and world! Key legislation focusing on Peacebuilding is currently in the pipeline, and with your financial support, we can help move them along and turn them into action.
These wonderful speakers are joining together to help us raise awareness and contributions that will enhance our outreach capacity.
Together we make the difference.
Sylvia Boorstein is a founding teacher of Spirit Rock Meditation Center where she created the class, "Informed Citizenship as Spiritual Practice." She is the author of several books on Buddhism and Mindfulness Meditation.
Peter Dale Scott is an author, meditator, poet, former Canadian diplomat and Professor of English at the University of California, Berkeley, where he helped found the Peace and Conflict Studies program.
Patricia Ellsberg has been a long time peace activist. Early in her career she had her own nationally syndicated radio program, and In 1971 she helped her husband, Daniel Ellsberg, release the Pentagon Papers to the press. Both Dan and Patricia were inspired by Gandhi's concept of the Truth-Force.
Barbara Marx Hubbard has been called "the voice for conscious evolution of our time" by Deepak Chopra. A prolific author, visionary, social innovator, evolutionary thinker and educator, she is co-founder and president of the Foundation for Conscious Evolution. She is the producer and narrator of the award-winning documentary series entitled Humanity Ascending: A New Way through Together.
Bob Baskin is the President of The Peace Alliance.
For more information, please contact Emily at [email protected]
If you can't make it to the event, but would like to make a donation, click here.
---
 More about The Peace Alliance…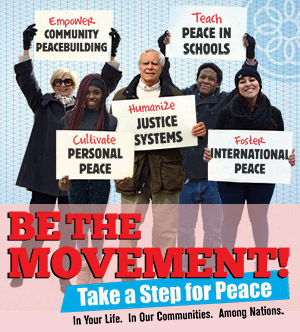 The Peace Alliance is committed to growing a movement of a million strong for peace. Together, we will create a critical mass necessary for peacebuilding to be our societal norm.
We are a grassroots educational and advocacy organization focused on transforming how individuals, communities, and nations respond to conflict and violence. The prevention and intervention solutions we promote have proven effective in saving lives and dollars while enhancing cooperation skills and increasing social resilience.
Peacebuilding, Our Next Frontier.
We champion evidence-based peacebuilding legislation and policies by encouraging policy-makers, the media, and the public to support these conflict and violence reduction approaches.
Five Cornerstones of Peacebuilding
The Peace Alliance specifically prioritizes the following areas:

 

Empowering Community Peacebuilding:

 Supporting comprehensive activities and strategies in communities working to address such challenges as crime, violence, and gangs. Effective programs may include hands-on street outreach and intervention, mental health services, out-of-school programs, police/community relations, and arts-based practices. Learn more!

---

 
Teaching Peace in Schools: Bringing into our schools conflict resolution curricula with tools such as social-emotional learning, communication techniques, restorative processes, mindfulness and other proven peacebuilding skills to increase graduation rates and transform violence, bullying, truancy, and other challenges facing youth. Learn more!

---

 
Humanizing Justice Systems: Moving away from overly punitive policies,  toward healing-oriented criminal and juvenile justice approaches. Restorative justice, diversion/alternative incarceration programs, trauma-informed systems, and prisoner rehabilitation & re-entry programs are among the most promising solutions. Learn more!


.

---

 
Cultivating Personal Peace: Integrating peace in our own lives, with our children, in our relationships, in the workplace, and in our approach to activism, through such methods as compassionate communication, mindfulness, empathy, and stress reduction. Learn more!


.

---

 
Fostering International Peace: Championing peacebuilding approaches to international conflict and atrocity prevention in hotspots through mediation, diplomacy, and effective on-the-ground programs. Important components may involve development, post-conflict justice, humanitarian aid, mediation and support for frameworks necessary for democratic processes. Learn more!

---
We recognize the powerful complementary work of millions of peacebuilders doing this conflict resolution work around the globe. We aspire to create a unifying platform, to strengthen and expand a vibrant peace movement that brings effective solutions to bear on the challenges we face in our personal lives, our communities, and across our planet.
0
0
Matthew
Matthew
2015-08-11 10:48:10
2015-08-19 15:59:04
Be the Movement! Take a Step for Peace Marin Event: