Be the Movement! Conference Speakers Roster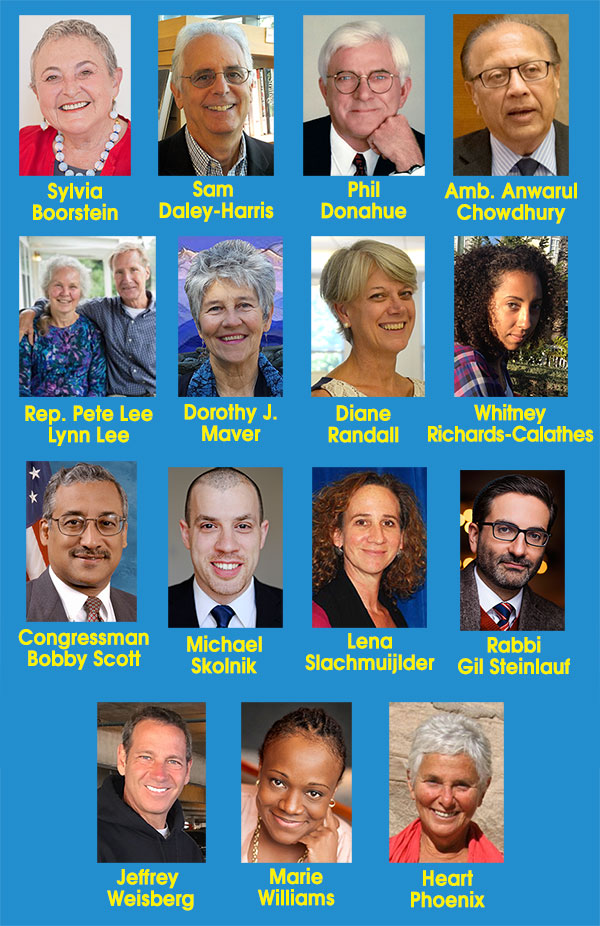 Many more speakers to be announced soon! 
It will be a diverse and inspiring group of speakers
Learn more about our October conference in DC and register today!
Sylvia Boorstein Ph.D, LCSW, is a co-founding teacher of Spirit Rock meditation Center in Woodacre, CA, and teaches there regularly. She is also a psychotherapist. She credits her lifelong commitment to social advocacy as being a legacy from her mother whose own dedication to equality for all members of society made her and informed voice for democratic principles and an ardent political campaigner.
Sylvia is the author of five books on mindfulness meditation and Buddhism the most recent of which is Happiness Is An Inside Job: Practicing for a Joyful Life. In addition to teaching Buddhist principles to psychotherapists, Sylvia is widely known to be active in translating the theory and practice of mindfulness into other disciplines, especially in the Jewish community where she has been part of meditation training programs for Jewish professionals. She has often been a guest speaker at university Psychology departments nationally and was Scholar-in-Residence at the Smith College School of Social Work.  Sylvia has four adult children and seven nearly all adult grandchildren.
Ambassador Anwarul K. Chowdhury has devoted many years as an inspirational champion for sustainable peace and development and ardently advancing the cause of the global movement for the culture of peace that has energized civil society all over the world.
As a career diplomat, Permanent Representative to United Nations, President of the UN Security Council, President of UNICEF Board, UN Under-Secretary-General, the Senior Special Advisor to the UN General Assembly President, and recipient of the U Thant Peace Award, UNESCO Gandhi Gold Medal for Culture of Peace, Spirit of the UN Award and University of Massachusetts Boston Chancellor's Medal for Global Leadership for Peace, Ambassador Chowdhury has a wealth of experience in the critical issues of our time – peace, sustainable development, and human rights.
Ambassador Chowdhury's legacy and leadership in advancing the best interest of the global community are boldly imprinted in his pioneering initiative in March 2000 as the President of the Security Council that achieved the political and conceptual breakthrough leading to the adoption of the groundbreaking UN Security Council Resolution 1325 in which the Council recognized for the first time the role and contribution of women in the area of peace and security.
Equally pioneering are his initiatives at the United Nations General Assembly in 1999 for adoption of the landmark Declaration and Programme of Action on a Culture of Peace and in 1998 for the proclamation of the "International Decade for Culture of Peace and Nonviolence for the Children of the World (2001-2010)".
He served as Ambassador and Permanent Representative of Bangladesh to the United Nations in New York from 1996 to 2001 and as the Under-Secretary-General and High Representative of the United Nations, responsible for the most vulnerable countries of the world from 2002 to 2007.
He has been the Chair of the International Drafting Committee on the Human Right to Peace; an initiative coordinated from Geneva and was a founding member of the Board of Trustees of the New York City Peace Museum.
Ambassador Chowdhury is the Founder of the New York-based the Global Movement for The Culture of Peace.
Sam Daley-Harris is the founder of RESULTS. Since 1980, RESULTS has identified and advocated for effective solutions to the causes of poverty and worked successfully to increase political will and funding for these solutions through powerful citizen action.
In 1995 Daley-Harris co-founded the Microcredit Summit Campaign, which surpassed its initial goal of reaching 100 million of the world's poorest families with microloans in 2007. Nobel Peace Prize Laureate Muhammad Yunus said: "…no other organization has been as critical a partner in seeing to it that microcredit is used as a tool to eradicate poverty and empower women than RESULTS and the Microcredit Summit Campaign."
Daley-Harris is author of Reclaiming Our Democracy: Healing the Break Between People and Government, which, according to President Jimmy Carter "provides a road map for global involvement in planning a better future."
In 2012 Daley-Harris launched the Center for Citizen Empowerment and Transformation to help organizations more deeply engage their supporters and create champions in Congress and the media for their cause. According to Ashoka founder Bill Drayton, "Sam Daley-Harris is one of the certified great social entrepreneurs of the last decades."
Phil Donahue is the creator and host of The Phil Donahue Show, which ran from 1967 to 1996, the longest running syndicated talk show in U.S. television history.  More recently he hosted a show called Donahue on MSNBC.  His books include Donahue: My Own Story and The Human Animal. Mr. Donahue was awarded nine Emmy Awards during his broadcasting career, and was inducted into the Academy of Television Arts & Sciences Hall of Fame in 1993.  In May of 2002 ~  TV Guide named "DONAHUE" as one of the Fifty Greatest TV Shows of all time. 
Most recently, Mr. Donahue served as executive producer and co-director for the feature documentary film, entitled, "Body of War" — an intimate and transformational feature film he co-directed about the true face of war today. The film follows Tomas Young, 25 years old, paralyzed from a bullet to his spine – wounded after serving in Iraq for less than a week. Body of War is Tomas' coming home story as he evolves into a new person, coming to terms with his disability and finding his own unique and passionate voice against the war.
Rep. Pete Lee is the State Representative for Colorado House District 18. He has been a lawyer, a small business owner, and an executive at a NYSE listed corporation. He and his wife Lynn live in Cheyenne Canyon and have been in Colorado Springs for 40 years.
He has sponsored legislation to transform our criminal justice system from one of retribution to one of restoration and rehabilitation; to grow our economy and support small business workforce development; and to expand access to capital in small stock offerings.

Lynn Lee has been working in Restorative Justice for the past 14 years as a community volunteer, victim advocate, facilitator, trainer and director.  She is a retired special education teacher and holds a masters degree in education administration.  Lynn has been the chair of the Pikes Peak Restorative Justice Council since its inception in 2007 and is also the co-chair of the Manitou Springs Restorative Justice Project.  She has successfully facilitated over 500 restorative justice conferences and has worked with the courts, schools, Colorado Dept. of Corrections and Colorado Youth Corrections in implementing and facilitating restorative justice.  She is a recipient of the 2013 Pikes Peak Restorative Justice Leadership Award.  Lynn facilitated the first high risk victim offender dialogue in Colorado Dept. of Corrections and was appointed to the Colorado State Restorative Justice Council in 2013.
Dorothy J. Maver, Ph.D. is an educator and peacebuilder whose keynote is inspiring cooperation on behalf of the common good. Dot is Project Director with Kosmos Associates, a Founding Trustee of the National Peace Academy USA, and is a founder and board member of the Global Alliance for Ministries and Infrastructures of Peace, and the River Phoenix Center for Peacebuilding. Her work in education, politics and grassroots community organizing is focused on applied peacebuilding utilizing a shared responsibility and shared leadership model. From 2005 – 2007 Dot served as Executive Director of The Peace Alliance and Campaign for a US Department of Peace, and prior to that she was the National Campaign Manager for Kucinich for President 2004. In the world of fast-pitch softball Dr. Dot is known for her revolutionary fast-pitch hitting technique, The Maver Method: Secrets of Hitting Success; she is co-author of the book Conscious Education: The Bridge to Freedom; is a Fellow with the World Business Academy, and serves on the board of the Nicholas Roerich Museum in NYC. Dot also serves on the United Nations International Day of Peace NGO Education Peace Team, the International Cities of Peace Advisory Council, the Summer of Peace Wisdom Council, and is an advisor to the Compassion Games.
Diane Randall is the Executive Secretary of the Friends Committee on National Legislation (FCNL). Diane leads FCNL's staff to effectively educate and lobby for the policies and legislative priorities established by FCNL's General Committee, which include: peacebuilding and the peaceful prevention and resolution of violent conflict; reducing military spending and militarized responses to global and domestic situations; promoting nuclear disarmament and non-proliferation; supporting solutions to mitigate and adapt to climate disruption; reducing the influence of money in politics; addressing poverty, and promoting economic justice; advancing policies that reduce mass incarceration.  FCNL fields a team of 16 registered lobbyists along with a strategic advocacy team that engages a national network of committed advocates in our non-partisan lobbying. 
Since joining FCNL in March, 2011 as the fourth Executive Secretary, Diane has led FCNL's program expansion to build organizational capacity for FCNL. Diane travels widely on behalf of FCNL and represents a voice for Quaker advocacy in Washington on the Hill, within the faith community, in media, and throughout the United States.
Before coming to FCNL, Diane was Executive Director of Partnership for Strong Communities, a Connecticut-based non-profit organization providing leadership, advocacy, and policy development on solutions to homelessness, affordable housing and community development. Her engagement in the peace movement began in the early 1980s, when she directed the Omaha Nuclear Freeze Campaign. Diane relocated to Connecticut in 1986 where she directed the state Network to Abolish the Death Penalty and worked for the Office of Urban Affairs of the Archdiocese of Hartford, launching a twenty-year career lobbying the state legislature. During that time, Diane became the first Executive Director of the Connecticut AIDS Residence Coalition, dedicated to advocacy and effective delivery of housing and services for people living with HIV/AIDS.
Whitney Richards-Calathes has worked in youth development, youth leadership, and on the issue of mass incarceration for over ten years in NYC and LA.  Currently she works with the Youth Justice Coalition in South Central Los Angeles, an organization dedicated to ending the mass incarceration of Black and brown youth.  In NYC, she works to support community-based organizations in participatory action research focused on juvenile injustice issues and ending the school-to-prison pipeline.  She is a PhD candidate at the Graduate Center, through the City University of New York, and her research is on transformative justice.  Most importantly, she is from the Bronx.
Congressman Bobby Scott is currently serving his twelfth term in Congress from  the 3rd district in Virginia. Congressman Scott currently serves as the Ranking Member on the Committee on Education and the Workforce, a committee he has served on since his arrival to Congress in 1993. In his capacity as the most senior Democrat on the Committee, he is leading the fight for access to quality early, secondary and higher education for all of America's children with an emphasis on solving the growing problem of student debt, closing the achievement gap and dismantling the School-to-Prison Pipeline, among many other issues on which he has been a leader and champion.
From the beginning of his tenure in Congress, Congressman Scott has led efforts to pass comprehensive juvenile justice reform and crime prevention legislation. Towards that end, he has introduced the Youth PROMISE Act, which would provide resources to state and local governments for evidenced-based strategies and programs to prevent juvenile crime.

Michael Skolnik is a businessman and a 21st century Civil Rights organizer. Michael is the President of GlobalGrind.com, a multi-million dollar news website founded by hip-hop impresario, Russell Simmons, that attracts over 8 million people a month.  This platform has given Michael a leadership role in the new social justice movement, where he has led national conversations about America's relationship with race, the death of Trayvon Martin, Mike Brown and Eric Garner, the Boston Marathon bombings, the rise of violence in Chicago and the Obama presidency, amongst many other topics. A trailblazer of social media with 185,000 followers, Michael regularly discusses the aforementioned topics, current events, and how they affect his generation on CNN, MSNBC, Fox News, NPR and HLN, to name a few media outlets.
Along with Michael's work at GlobalGrind, Michael has created a new company that creates and implements national social impact strategies for large non-profits and corporations. Among his main clients is The California Endowment's Sons and Brothers, the parallel communications campaign to President Obama's My Brother's Keeper Initiative, which aims to empower our nation's young men of color.
In addition, Michael and his team envisioned and executed a celebrity driven project in support of immigration reform that was created for Welcome.US, an organization co-founded by Mark Zuckerberg.  Other clients include: Amnesty International USA, Voto Latino, Kellogg Foundation, RUSH Card, Argyle Culture, Headcount, Youth Speaks, Californians For Safety and Justice, Tribeca Film Festival, among many others.
He is a graduate of UCLA and the proud father of Mateo Ali.
Lena Slachmuijlder is on the Executive Team and serves as Vice President of Programs at Search for Common Ground. Search for Common Ground believes that conflict and differences are inevitable. Violence is not. They partner with people around the world to ignite shared solutions to destructive conflicts. They work at all levels of society to build sustainable peace through three main avenues: Dialogue+, Media+, and Community+.
Lena brings 25 years of experience working for peace and social change in Africa, Asia and the Middle East. Before joining the Washington, DC headquarters of Search, she lived and worked in Africa for 21 years as a journalist, editor, human rights defender, director, producer, performing artist, cultural facilitator, trainer, and project manager.
Lena graduated from Stanford University before heading to South Africa in 1990 and working as a journalist and human rights defender during the transition to democracy. She joined Search for Common Ground in Burundi in 2001, heading the 'Studio Ijambo' radio production studio, while supporting regional media efforts. In 2005, she was appointed Country Director in DR Congo, growing it to become Search's largest program, with seven offices around the country working on repatriation, sexual violence, governance, elections, security sector reform, and regional cohesion. In the DRC, Lena pioneered tools such as participatory theatre, a reality TV show, and innovative approaches to army and police reform. She has trained journalists, artists and peace builders on all continents, has published numerous articles, and wrote and produced a documentary film about Burundi's 'Heroes.'
She now oversees all of Search's Regional Directors and supports their programs across Asia, Africa and the Middle East.
Rabbi Gil Steinlauf joined Adas Israel Congregation as senior rabbi in 2008. He is widely respected for his success in re-envisioning the nature of our histroic synagogue. Upon joining Adas Israel in 2008, Rabbi Steinlauf pioneered a paradigm shift that lifts up innovative modes of study and exploration of meaning as central in synagogue life. Rabbi Steinlauf is the first senior rabbi of a large, historic, conservative congregation to come out as openly gay, and through his honesty, has sought to create an atmosphere of constructive dialogue on the issues facing modern culture and Judaism.  He had previously been the rabbi of Temple Israel in New Jersey (since 2001). He is a summa cum laude graduate of Princeton University, and also studied at the Pardes Institute in Jerusalem, earned an MHL from the University of Judaism, and received rabbinic ordination and an MA at JTS.
Currently, Rabbi Steinlauf is on the boards of the Washington Chapter of the American Jewish Committee and the Jewish Federation of Greater Washington. He sits on the Human Rights Campaign's Religion Council.  He also sits on the Chancellor's Advisory Committee of JTS. He is an alumnus of the Institute for Jewish Spirituality, and a member of the Center for Jewish Learning and Leadership's Rabbis Without Borders program. Along with Adas clergy and staff, Rabbi Steinlauf co-founded three nationally recognized projects now operating out of Adas Israel: [email protected] for Jewish Young Professionals, MakomDC for 21st century experiential learning, and the Jewish Mindfulness Center of Washington for meditation, yoga, and contemplative Jewish practices. 
Heart Phoenix is Chair of the Peace Alliance Educational Institute and the President of the Board of Directors of the River Phoenix Center for Peacebuilding, a non-profit whose mission is to provide and promote the best practices and principles of peacebuilding and global sustainability. This organization is guided by the life, inspiration and activism of her son, River.  Heart co-founded and served as President of The Peace Alliance from its founding until 2008.
As a mother, grandmother and vegan for almost 35 years, her commitment to nonviolence to earth and all sentient beings has been the center point of her life and activism.  She is an international facilitator of workshops focusing on communication skill building, gender healing, youth empowerment, personal growth, breathwork and deep ecology.
Jeffrey Weisberg is the Executive Director of the River Phoenix Center for Peacebuilding and has designed, developed and implemented a wide range of programs and services in Gainesville, Florida and throughout the United States.  His work with youth includes law enforcement/youth dialogues, peer mediation, juvenile diversion programs, youth empowerment and coming of age programs.  Jeffrey serves on numerous boards and is a Florida Certified State Mediator and mediates cases involving juvenile offenders, family disputes and small business conflicts.  In addition, Jeffrey is using Restorative Practices to support the Department of Juvenile Justice, the court system, schools and communities to bolster alternatives to the punishment model.  He is a founding member of The Peace Alliance and served on their Board for 8 years. He believes that by training and empowering both youth and adults to learn and practice vital communication skills, we not only create greater connections with others but we can de-escalate conflict for a safer and more productive outcome.  He welcomes the challenge to contribute to the field of peacebuilding by creating a comprehensive community model that can be translated to communities around the world.
Marie Williams is Executive Director at the Coalition for Juvenile Justice (CJJ) where she is responsible for developing, managing and implementing nationwide initiatives in juvenile justice leadership and reform with CJJ's members and partners. Ms. Williams is primarily responsible for the execution of CJJ's strategy to support robust appropriations for the federal Juvenile Justice and Delinquency Prevention Act's funding streams, for CJJ's work to align the state and federal strategy for reauthorization of the Act, and for continued federal and state support to sustain optimal juvenile justice and delinquency prevention systems and practices.
She has over fifteen years experience as a public policy advocate, including acting as a senior lobbyist for NARAL Pro-Choice America, working as a strategist and director of policy at a boutique Washington DC consulting firm, and as a senior policy associate at the U.S. Chamber of Commerce. Ms. Williams received her B.A. in Urban Studies and Sociology from Vassar College, and her J.D. from George Washington University's National Law Center. She is active in a number of volunteer efforts, including acting as a Court Appointed Special Advocate for abused and neglected children in the District of Colombia and a volunteer mediator in Prince George's County, Maryland.
Learn more about our October conference in DC and register today!
0
0
Matthew
Matthew
2015-08-11 18:54:03
2017-05-22 00:10:31
Be the Movement! Conference Speakers Roster