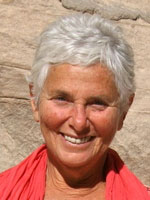 A Special Message from Heart Phoenix
Greetings Peace Alliance Friends,
As September rolls in bringing the autumn leaves and technicolor changes, I get excited. Part of it is because of this amazing expanding, beautiful and resilient universe we live in and another part is because we here at the River Phoenix Center for Peacebuilding in Gainesville, FL, get to celebrate October as Community Peacebuilding Month. During October we offer many different samples of our peacebuilding trainings and modalities as well as community events, movies and dialogues.
But this year is extra special because the Peace Alliance is having it's "Be the Movement: Take a Step for Peace Conference in Washington, DC, October 16 -20, 2015 and we will be there!  I sincerely hope you can join us. Learn more and register today.
As you may know, I am one of the co-founders and Board Member of the Peace Alliance as well as the President of the Peace Alliance Educational Institute.  My work and volunteer efforts over these years with TPA has infused my soul, body and mind with a depth and width of possible solutions that are helping to transform many of the challenges we are experiencing in ourselves, our families, communities, cities and beyond.
So…maybe you can't quite see it…but through my mind's eye, I am on that airplane heading for Washington, DC to get yet another dose of inspiration, community, celebration, collaboration, mutual learning and to touch into the very heart of peacebuilding – YOU!
Peacebuilding, Our Next Frontier
I can still remember the early days when I went to our first conference and the excitement I felt about the learning, the caring, the sharing – and about making a difference with our elected leaders.  At the same time, I was so nervous about lobbying and meeting my Senators and/or Congresspeople.  I want to assure you…that this is an experience you do not want to miss and the simple fact is that this conference will prepare you well for such meetings.  It was empowering to be able to actually "educate" and advocate to my reps and to feel their appreciation…no matter what party they represented.
I really don't want to give too much more away about what you might experience when you join us but remember, it's been my experience that anytime a group of people gather with the intention of benefiting others, incredible things happen!  
I hope that you come along for the ride (there's still seats on the plane), register today, and join us for this unique experience. Give yourself this gift of using your voice in UNITY with others yearning for PEACE on EARTH.
Lovingly,
Heart Phoenix
https://peacealliance.org/wp-content/uploads/2013/05/heart.jpg
200
150
Matthew
Matthew
2015-09-09 13:26:15
2017-05-22 00:11:01
A Special Message from Heart Phoenix