San Diego Event – 9/11 Peace Rally
9/11 Peace Rally at Morse High School on September 11th. 
We you can attend this historic event in our community and show your support of our students and the community.
Here are the updated details:
* Date:  Friday, September 11, 2015
* Time:  11:00 a.m. to 12:00 p.m. (note time change) — please arrive by 10:45 a.m.
* Location:  Morse High School – 6905 Skyline Drive, San Diego 92114
* Check-in:  Front Gate of school campus
* Parking:  Reserved Visitor parking (you will be directed from the front gate)
* Assembly:  Morse High School Outdoor Amphitheatre
There will be music and performances by the students from Morse High School and Kids for Peace.  Our featured Guest Speakers will include San Diego Police Chief Shelley Zimmerman and Bob Baskin, President of The Peace Alliance in Washington, D.C.
On behalf of Morse Principal Harry Shelton, The Peace Alliance and this community, we will be honored to have you attend.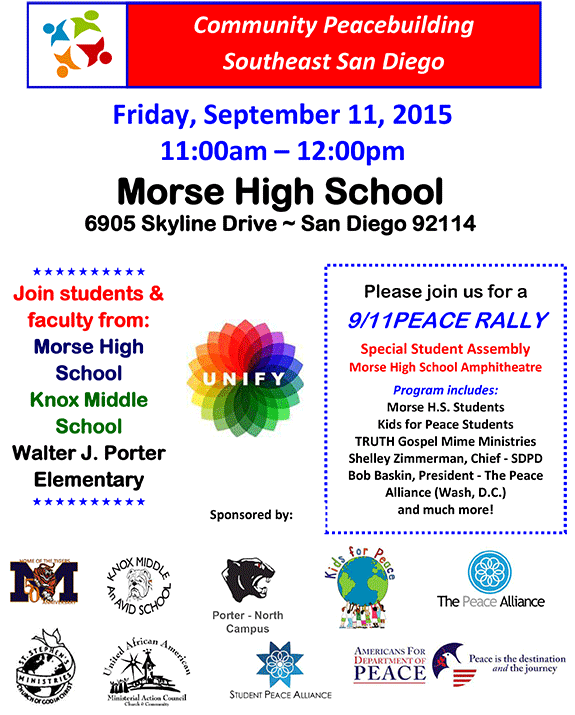 0
0
Matthew
Matthew
2015-09-03 16:23:28
2015-09-04 11:59:27
San Diego Event – 9/11 Peace Rally