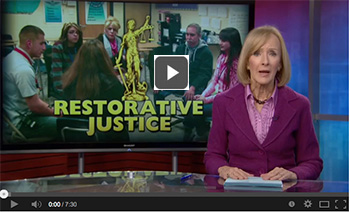 Restorative Justice "Talking Circles" featured on PBS NewsHour
An important story was featured on PBS NewsHour yesterday, focusing on Restorative Justice "talking circles" in a Colorado High School.  Colorado is a national leader in pivoting away from the more punitive or punishment oriented models to the more restorative — focusing on how to heal the harm and restore relationships.
We couldn't be more excited to see this tide sweeping across the nation.  You may recall we participated in our first ever state focused lobbying push in Colorado last year to pass legislation to make Restorative Justice more available for youth there.  The bill passed and was signed into law!
This kind of work has been greatly aided by the Obama administrations push early this year for schools to move away from ineffective "zero tolerance" policies.
We look forward to growing our involvement in this issue in the coming months and years.  Check out the video below, and see for yourself how this can work.
https://peacealliance.org/wp-content/uploads/2014/02/RJ_colorado_pbs.jpg
212
350
Matthew
Matthew
2014-02-21 14:59:26
2014-02-21 15:02:34
Restorative Justice "Talking Circles" featured on PBS NewsHour