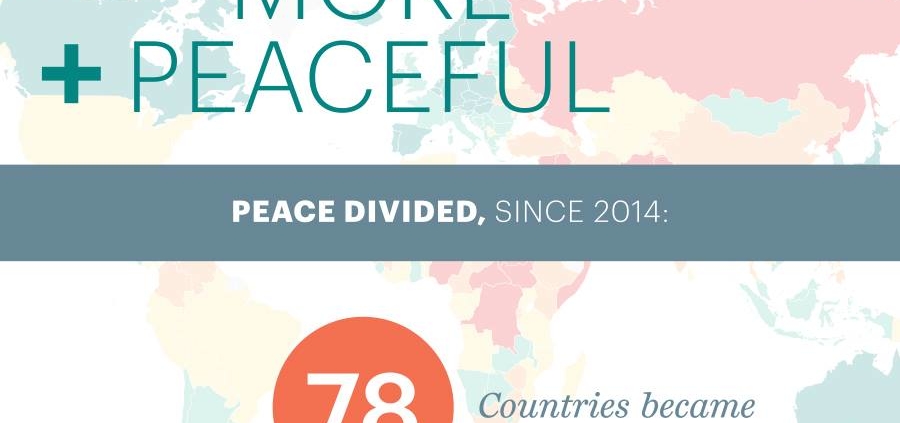 US ranks 94th in the 2015 Global Peace Index
Friends, ranked alongside 162 nations worldwide the United States recently came in 94th for peacefulness at the recent unveiling of the 2015 Global Peace Index. Not surprisingly, Iceland ranked at number one and Syria came in last at 162.
Findings highlighted the economic cost of violence citing that 13.4% of the world's entire GDP is spent on violence. If global spending on violence were reduced by even 10%, $1.43 trillion could be saved. What could we do with $1.43 trillion?
And an even better question is why we invest so little in prevention and intervention peacebuilding efforts? Investing early to prevent conflicts from escalating into violent crises is, on average, 60 times more cost effective than intervening after violence erupts.
This is why we are advocating for our five Peacebuilding Cornerstones to our policy-makers. It's time we invest our limited resources more wisely – saving lives and dollars. Sign and share the Peacebuilding Cornerstones petition to Congress and the President today.
Findings: the haves and the have nots, the economic cost of violence & positive peace
– The world is less peaceful today than it was in 2008. The indicators that have deteriorated the most are the number of refugees and IDPs, the number of deaths from internal conflict and the impact of terrorism. Last year alone it is estimated that 20,000 people were killed in terrorist attacks up from an average of 2,000 a year only 10 years ago. This despite $trillions spent and countless lives lost in the "war on terror."
– Changes in global peace since 2014 show that 81 nations have experienced increased peacefulness while the state of peace in 78 others has deteriorated, indicating a stable global level of country peacefulness. However, less than half a billion people live in the world's 20 most peaceful countries while more than two billion live in the 20 least peaceful countries — an ever growing gap between the haves and the have nots.
– Many countries in Europe, the world's most peaceful region, have reached historically high levels of peace. 15 of the 20 most peaceful countries are in Europe.
– Due to an increase in civil unrest and terrorist activity, the Middle East and North Africa is now the world's least peaceful region for the first time since the Index began.
– Globally the intensity of internal armed conflict has increased dramatically, with the number of people killed in conflicts rising over 3.5 times from 49,000 in 2010 to 180,000 in 2014.
– The study also developed the concept of Positive Peace, a model that focuses on building and understanding "the attitudes, institutes, and structures which create and sustain peaceful societies", as opposed to Negative Peace that understands peace as the absence of violence.
You can download the full report on the Global Peace Index website. 
In Peace,

Matthew Albracht
Executive Vice President, Peace Alliance
---
https://peacealliance.org/wp-content/uploads/2015/06/GPI_image_2015.jpg
900
900
Matthew
Matthew
2015-06-26 16:35:08
2015-06-26 16:35:08
US ranks 94th in the 2015 Global Peace Index