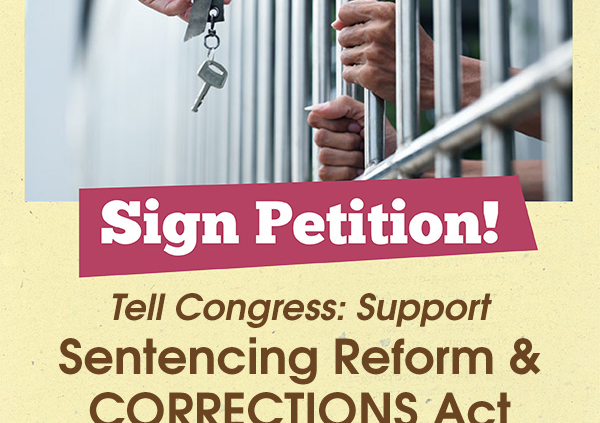 Sign Petition: Sentencing Reform and CORRECTIONS Act
Friends major Sentencing Reform Legislation is advancing in the Senate, with a bipartisan bill, the Sentencing Reform and CORRECTIONS Act, S. 2123.
While it is a compromise, it contains many very positive elements, and we want your help passing it.
If Congress passes this bill, it would be by far the biggest shift in Criminal Justice policy in decades. And for once, it would be a substantial change for the better.
The United States has 25% of the world's prisoners with only 5% of its population, in large part due to lengthy mandatory minimum sentences for nonviolent drug offenders. The Sentencing Reform and CORRECTIONS Act helps to fix this by shortening most mandatory minimums, and by creating and expanding exemptions to the minimums for low level offenders. Even better, it makes many of its reforms retroactive, allowing those in prison now to apply for resentencing under the new laws.
But the bill does more. It provides a system for juveniles charged as adults to seal and expunge their records. It effectively ends juvenile life sentences in the federal system, and bans most uses of solitary confinement on youth. It provides for more proven recidivism reduction programs in federal prison, and reduces sentences for prisoners who complete those programs successfully.
Let your Representatives know that you want the Sentencing Reform and CORRECTIONS Act passed today!
Regards,
Jeff Pudlo
Legislative Director
https://peacealliance.org/wp-content/uploads/2015/11/Sentencing-reform-logo-600.jpg
752
600
Matthew
Matthew
2015-11-17 14:28:05
2017-05-22 00:03:05
Sign Petition: Sentencing Reform and CORRECTIONS Act