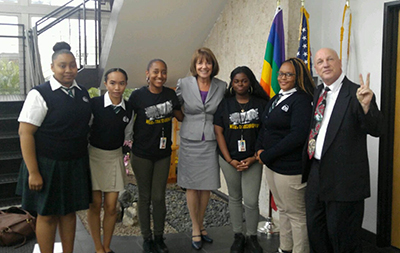 Peacebuilding and Pie Go Together
This Land is Our Land:
Mother's Day Pie Meetings from CA to MA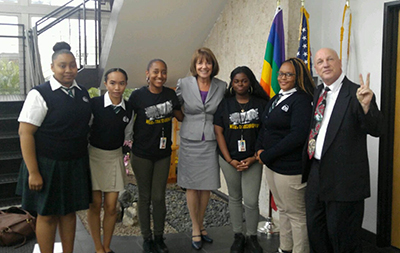 Mother's Day was originally a call for a day of peace by Julia Ward Howe after she nursed and tended the wounded during the American civil war and worked with the widows and orphans of soldiers on both side of the war.  The Peace Alliance (TPA) made Mother's Day a call for our nation to prioritize peacebuilding by establishing a U.S. Department of Peacebuilding and by practicing peace in our personal lives, the community, schools, a more humane justice system, and internationally.  This is a long-time and favorite TPA action which many legislative staffers welcome.
During an extended 2017 Mother's Day celebration, we advocated for a U.S. Department of Peacebuilding (HR 1111) and other peacebuilding initiatives with legislators throughout the country with Mother's Day "Peace wants a piece of the federal budget pie" meetings, letters and pie drop-offs with members of Congress and Senators in at least CA, GA, IL, MA, ME and OH. 
DoP and peacebuilding advocates, and partner groups such as San Diego Kids for Peace, a middle school principal, and affiliates of the Metta Center for Nonviolence in Petaluma, CA, met with the staffs and/or the legislators:
CA advocates met in Oakland, San Diego, San Luis Obispo and Sonoma with the offices of Rep. Salud Carbajal (D), in-person meeting with Rep. Susan Davis (D), Sen. Kamala Harris (D), Rep. Jared Huffman (D), Rep. Barbara Lee (D), Rep. Scott Peters (D) and Rep. Juan Vargas (D)
GA advocates met in Atlanta with the offices of Rep. Hank Johnson (D), Rep. John Lewis (D) and Sen. David Perdue (R)
IL advocates met with the offices of Sen. Tammy Duckworth (D) and Sen. Richard Durbin (D)
MA advocates met with staffers of Rep. Joseph Kennedy III (D)
ME advocate wrote to Sen. Angus King, Jr. (I) and received a detailed reply about DoP
OH advocates met with Sen. Sherrod Brown (D) and Rep. Warren Davidson (R)
Read here to get a flavor (mostly apple, cherry, pecan and homemade strawberry) of the pie encounters!
Nancy Merritt, Department of Peacebuilding Lead
https://peacealliance.org/wp-content/uploads/2017/07/RepSusanDavisPieMtgB-5-5-17-SanDiegoimage1.jpg
253
400
Allison
Allison
2017-07-27 22:03:01
2017-07-27 22:03:01
Peacebuilding and Pie Go Together