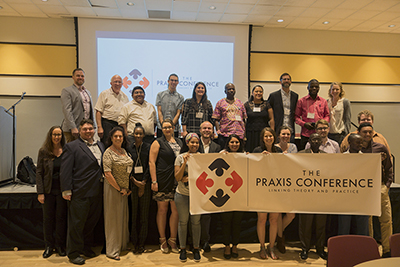 Peace Alliance September 2017 Newsletter
Welcome to our monthly e Newsletter with updates from The Peace Alliance's Leadership Council! Catch up on what is happening in each of our Peacebuilding Cornerstones and Advocacy efforts in September 2017!
Police & Youth Dialogues
This 2017-18 School Year, we will be celebrating Police & Youth Dialogues which occur in local communities across the U.S. These dialogues present the community with a chance to humanize both our citizens and our police officers. If your community hosts police & youth dialogues, we would love to hear from you and showcase your community in celebration of the many Police Officers that truly want us to understand that the are here to protect and serve.
The Police are offered opportunities to explain they experience when they are working, with the daily dangers that are present in every situation they walk into. The youth are also given an opportunity to share what they experience from their perspective when interacting with the police. Some of the at-risk youth leave these dialogues with new-found hopes to possibly serve in a police department in the future. The youth are refocused on establishing goals and following the rules. Both sides are humanized to one another – and these dialogues can have a profound healing effect on all involved.
May Peace be with all of us,
Shannon M. Betters, Community Peacebuilding Council Lead
---
Peacebuilding at The Praxis Conference
 It was inspiring to learn what is happening around the world in Conflict Resolution theory and practice at George Mason University, where approximately 150 people gathered for 2 days to hear keynote addresses and to give and attend the panel presentations, at the Praxis Conference DC this August 19 -20. I presented on Art and Peace; along with other practitioners, scholars and advocates of Peace Building, including Peace Alliance Lead in Schools, Jelena Popovic.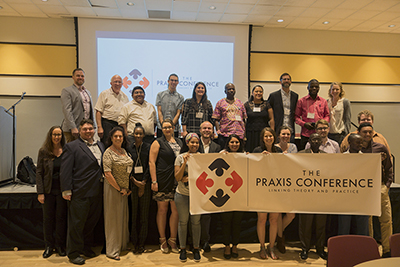 Co-organizer, Prof Patricia Maulder Director of the Dialogue and Difference Project at GMU, requested of participants; "to be perceptive when we look. To be open to See. To embody the notions of peace within ourselves." Charles Davidson, co-organizer and the founder of ForgottenSong shared that compassion and perseverance are making an impact to save the children in East Africa. Presenting on the Child Soldiers of DRC, David Bubasha Tangania and Thierry Basimise Shabani   earned the deepest respect for their ability to rise up against the harshest conditions. They credited Simon Kimbangu who has enabled them – through the AJDC Lubarika – to help eradicate children in armed forces. 
Thank you all for your insight and compassion. I am truly inspired!
Marla Mossman, Fostering International Peace Lead
---
U.N. International Day of Peace (September 21)
Are you a parent or an educator looking for ideas to celebrate U.N. International Day of Peace on September 21st? Here are few projects and activities to get you started:
How do you celebrate International Peace Day with children? Please e-mail your pictures and stories to Jelena Popovic at [email protected].
We can't wait to hear how you grow, teach and celebrate peace!
Jelena Popovic, Teaching Peace in Schools Lead
---
Lobby Days & International Day of Peace
International Day of Peace (September 21) is a time to recognize the importance of building peace for all and at every level of our society.  The time is now for a Department of Peacebuilding to make peace and violence prevention a national priority.  Mahatma Gandhi said, "The future depends on what you do today." 
On Oct. 4-6, we're walking the halls of Congress to advocate for a cabinet-level Dept. of Peacebuilding (DoP/ HR 1111) and for other peacebuilding policies and legislation. We need your help!
To register for Lobby Days: Click here or email [email protected]
If you cannot go to Washington with us, we ask you to AMPLIFY what we are doing by calling your member of Congress and other select members of Congress to ask them to cosponsor HR 1111. We ask you to call on October 4,5, and/or 6. The AMPLIFY list of Representatives will be posted on peacealliance.org
For more details about Lobby Days and the Million Youth Peace March, see: tinyurl.com/nationalpeacebuilding and www.peacealliance.org
The United Nations General Assembly has declared International Day of Peace as a day devoted to strengthen the ideals of peace within and among nations.  This year's theme is Together for Peace:  Respect, Safety and Dignity for All.
Shared by Nancy Merritt, Department of Peacebuilding Council Lead
---
Because Justice Doesn't Always Mean Punishment
Every day there are more tragic stories, videos, articles published – complete with social media shares of pleas for "common sense" justice and compassion in our broken & trauma-inducing justice system.
My response as the executive director of a Restorative Justice organization upon hearing of the atrocities and injustices committed "within the system" is initially one of shock and outrage – and then my desire to seek peace – and healing – for all those involved in conflicts reignites my passion for restorative, rather than retributive, justice. Restorative Justice (RJ) is a positive approach to addressing the harms caused by individuals, who then agree to be held accountable and to "make it right" to those impacted by the crime/harmful acts. The transformations that occur within a Restorative Circle are extraordinary; "Victims" have a voice and engage in safe, authentic dialogue with "Offenders" who express remorse and agree to take specific steps to repair the harm. As a long-time RJ Facilitator, I can attest to the healing (and hugs!) that happen nearly every time we turn to RJ to help humanize the justice system.
With Peace & Justice for All,
Patty LaTaille, Humanizing The Justice System Lead
---
Money Bail Reform
People who have been arrested for non-violent offenses and have NOT been convicted of a crime are being held in jail losing – along with other things – their jobs, home and custody of their children. This is an unjust criminal system that "Profits off of Poverty" and is in much need of reform.
Nancy & Jerilyn continue to work on the California Department of Peace (DoP) Democratic
Endorsement team and the National DoP team. The CA team promoted the Kamala Harris/ Rand
Paul bill, S.1539, AKA the "Pretrial Integrity and Safety Act of 2017" (and a similar CA bill) when
attending the CA Democratic Party (CDP) Executive Board meeting in August. At that meeting, the CDP endorsed S. 1539, as well as endorsing the Department of Peacebuilding Act of 2017. The National DoP team is featuring both pieces of legislation to be promoted during DC Lobby Days in October. The similar legislation is H. R. 1437 Money Bail Reform by Congressman Ted Leiu, CA,  It is the House version or companion bill to S. 1593.
Jerilyn Stapleton, Legislative Priorities Lead
---
Inner Work: Be Peace. Do Peace.
I'm looking forward to supporting and participating in activities celebrating International Day of Peace, on September 21, 2017, with the theme: "Together for Peace; Respect, Safety, and Dignity for All". Take a moment to contemplate living in a world with human beings who embody this year's theme as their life's purpose, guidance, and wisdom. I know I want to experience a world of peace, harmony, and unity, that natures and supports all human beings.
Lastly, I'm noticing that I seek peace out wherever I go. It's not always easy – yet it is extremely easy when I let go and trust that I'm going to be okay, no matter what I have to face. I choose to practice peace. I choose to hold compassion in my heart. I choose to understand and appreciate the moment to moment transformation and transcendence of the gift of choosing a life of peace, which begins with me.
I invite you to visit a blog "Peace on the Inside", which uses quotes and reflection-driven commentary to engage the reader to contemplate the message and encourages practical application of personal insights.
In peace and unity,
Ngozi Rasheda Akosia, Cultivating Personal Peace
---
Music Under the Stars Fundraiser
Board Member Terry Mason & husband Paul hosted a house concert and silent auction in Los Angeles on September 16 that was a magical evening. Attended by 60+ supporters, 13 fabulous silent auction offerings were available for donations — including awesome vacation deals, limited edition photos, dining-and-movie packages, and more! Musical artists Valerie Perri, Suzanne Buirgy, Jerry Sternbach and duo Standing Room Only performed to the appreciative crowd.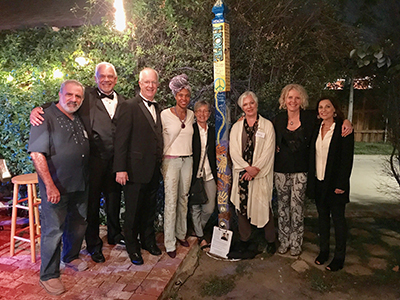 Pictured: Paul Chepikian, Paul DelVecchio, Wayne Smith, Fe Love, Jo Ann Gaines,
Terry Mason, Suzanne Buirgy,Valerie Perri (not pictured: Jerry Sternbach)
Decorated Post provided by
Compassionate California: Posts for Peace and Justice.
---
Promoting Peace By Phone
We have been blessed with some amazing special guests on this Summer's Monthly Field Calls (third Tuesday each month).  In June we visited with international diplomacy expert Srimal Fernando, in July we hosted the amazing J. Kim Wright – legal systems revolutionary pioneer, and in August we were joined by both Congresswoman Barbara Lee and spiritual teacher Sylvia Boorstein! 
We also took actions aimed at enhancing international peacebuilding tools, promoting the field of Integrative/Restorative Law, reducing the risks of a nuclear first-strike, and promoting a US Department of Peacebuilding.  You can listen to recordings of any or all of these calls – and also download monthly actions – by visiting our Deep Action page. Your actions make a difference, and together we are Mighty!!
Peace and Solidarity to All!
Dan Kahn, National Field Coordinator
https://peacealliance.org/wp-content/uploads/2017/09/Some-of-the-Praxis-Participants.jpg
267
400
Allison
Allison
2017-09-20 23:10:38
2018-07-03 12:36:49
Peace Alliance September 2017 Newsletter