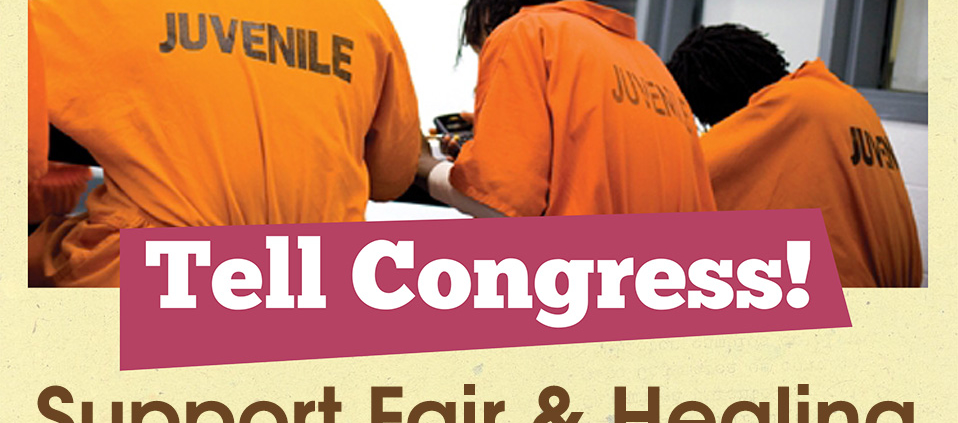 Juvenile Justice Reform Needs Our Support in Senate
ACT NOW before this Session of Congress Ends
The Juvenile Justice and Delinquency Prevention Reauthorization Act (JJDPA) of 2015, S. 1169, is ready for a vote in the Senate. It is the core of nearly everything the federal government does in Juvenile Justice, but it's past due for re-authorization.
This year, it includes provisions from our long-supported Youth PROMISE Act!
Thankfully, on September 22, 2016, the House passed HR 5963, which is a companion bill to S. 1169. Help continue this important progress!
ACTION YOU CAN TAKE NOW!
Contact your Senators today to urge them to move S. 1169 to a vote before this congressional session ends and the new Congress and President move into office.  
Action Option 1: Call your two Senators and urge them to support. Call the U.S. Capitol Switchboard at (202) 224-3121, they will connect you with the correct office.
"My name is _______, I am a constituent and am calling to urge the Senator to re-authorize and fully fund the Juvenile Justice and Delinquency Prevention Act, S. 1169."
Action Option 2: Use our quick online petition to Write your Senators
The JJDPA requires states to keep youth separated from adults prior to trial as well as in prison, it strengthens rules on disproportionate minority contact, invests in alternatives to incarceration, and provides youth support necessary for successful rehabilitation and re-entry into their communitiess — among many other important functions.
The legislation also includes language based on Congressman Scott's Youth PROMISE Act (H.R. 2197) that restructures JJDPA's Local Delinquency Prevention Grants to encourage communities to plan and implement evidence-based prevention and intervention programs specifically designed to reduce juvenile delinquency and gang involvement.
Specifically, Title III of H.R. 5963 includes Youth Promise Incentive Grants to enable local communities to address the unmet needs of youth who are involved in, or are at risk of involvement in, juvenile delinquency or gang activity, through a continuum of delinquency prevention programs for juveniles who have had contact with the juvenile justice system or who are likely to have contact with the juvenile justice system.
WE OWE THIS TO OUR YOUTH – CALL TODAY! (202) 224-3121
P.S. Sign up for the Monthly Action Call next Tuesday the 13th, where we will discuss how you can take even more action on this issue. 
https://peacealliance.org/wp-content/uploads/2015/12/JJDPA-re-auth-Dec-2015.jpg
1200
958
Matthew
Matthew
2016-12-07 13:15:19
2017-06-05 01:15:46
Juvenile Justice Reform Needs Our Support in Senate