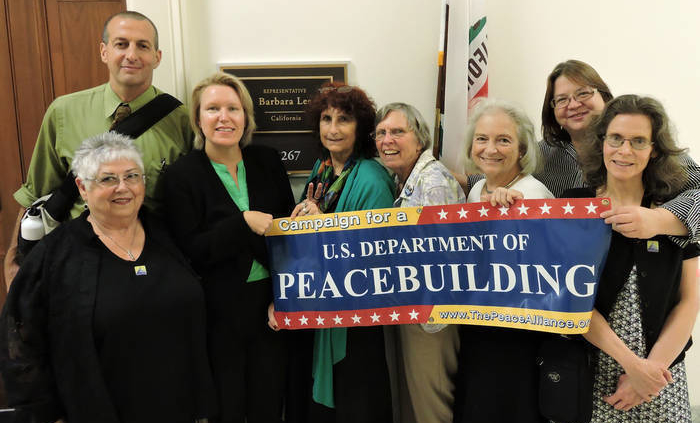 Reaching Across the Aisle: Building Peace into the National Conversation
"Creating a countrywide model of peace is possibly the most powerful means for inspiring humanity to put an end to violence."
– Rita Marie Johnson, Author, Educator, Innovator
In our national dialogue, peacebuilding often gets lost in the cacophony of divisiveness and diversion. During the week of International Day of Peace (IDoP) (September 21st), supporters of legislation to create a cabinet-level Department of Peacebuilding (DoP or HR 1111), commemorated IDoP by building peace into our conversations at the offices of nearly 90 members of Congress, including at least 73 Democrats and 15 Republicans.
Peacebuilding is analyzing the root causes of violence – both internationally and domestically – and supporting proven, cost-effective policies and programs that prevent and alleviate violence.  Peacebuilders widely acknowledge that peace begins by listening to each other, fostering relationships, and building upon commonalities.
With that in mind, the National Committee for a Department of Peacebuilding and supporters went to Capitol Hill for an extended International Day(s) of Peace to mainstream peacebuilding into the national conversation as we walked the halls of Congress.
Together we attended scheduled and impromptu meetings, and encountered many members of Congress. Among others, we met with the staffs of Rep. Eddie Bernice Johnson (D-TX-30), DoP Sponsor Rep. Barbara Lee (D-CA-13), House Speaker Paul Ryan (R-WI-1), and Senator Bernie Sanders (D-VT). We encountered many members of Congress, including Rep. John Conyers (D-MI-13), Rep. Janice Hahn (D-CA-44), Rep. Hank Johnson (D-GA-4), Rep. John Lewis (D-GA-5), and Rep. Maxine Waters (D-CA-43).
Jason Merritt and Myriah Pahl – who were new to lobbying – succeeded in getting their member of Congress, Rep. Nydia Velazquez (D-NY-7), to sign back on as a DoP cosponsor.  This increases the number of DoP cosponsors to 40. Others may sign on in 2016. Some committed to cosponsor the DoP 2017 legislation which will be introduced in early 2017 – and even to be original cosponsors.
While we were in Washington, gun violence and police violence permeated the atmosphere.  We – legislators, their staffers and Peace Alliance advocates – dialogued about violence prevention, divisiveness and gridlock. We asked about the thoughts of legislators on building a more peaceful society.
We talked about creating a U.S. Department of Peacebuilding to make peace a national priority by giving peacebuilding a prominent and ongoing voice in our government. We talked about other governance and peacebuilding initiatives and legislation supported by legislators we visited. We talked about poverty and its relationship to violence. We talked about the role of women in building peace.
We also presented "Peace Pioneer" pins to current DoP cosponsors and others for their courage in standing for a DoP and other peacebuilding initiatives.
We were joined in our advocacy by those who signed letters and petitions – particularly folks from CA, MA and NY – and by supporters who called from their home districts to AMPLIFIED our DC visits.
For more details about our September 2016 peacebuilding advocacy in Washington, DC, see the full article "Reaching Across the Aisle on Peace Day: Building Peace into the National Conversation." See also "Wonky Stuff: Peace-related Initiatives in the Works" and "Dennis Kucinich Speaks on Peace at the World Beyond War Conference in Washington, DC in September." All three articles are posted at www.peacealliance.org in the Movers and Shakers' section.
https://peacealliance.org/wp-content/uploads/2016/11/images_8919_b3a1eb42b30_original.jpg
477
700
Matthew
Matthew
2016-11-22 11:22:27
2016-11-22 11:26:12
Reaching Across the Aisle: Building Peace into the National Conversation