We are pleased to share that a new bill before Congress, HR 850, the Academic, Social, and Emotional Learning Act of 2015, is set to bring more Social and Emotional Learning (SEL) into our classrooms.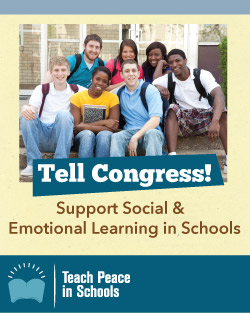 It's high time that we prioritized these life skills in our schools. SEL is one of the key areas we are calling for in our Teaching Peace in Schools Peacebuilding Cornerstones.
According to the CDC, students who feel more connected to school are more likely to have positive health and education outcomes. The report shows that a close relationship between the emotional welfare and health of the student can create a safer and more secure environment for learning. To accomplish this goal, the CDC recommends that schools "provide students with the academic, emotional, and social skills necessary to be actively engaged in school."
Students who exhibit these skills such as problem-solving, conflict resolution, responsible decision-making and relationship building, not only perform better academically, but are far less likely to engage in behavior like alcohol and drug use, violence, truancy, and bullying.
The Academic, Social, and Emotional Learning Act builds on this report and a large body of research proving that social and emotional programming has a positive impact on student learning. The act defines social and emotional learning  and amends the Elementary and Secondary Education Act (ESEA) to allow funding for teacher and principal training and professional development to be used for SEL programming.
HR 805 was introduced into the House of Representatives by Rep. Tim Ryan (D-OH), Rep. Susan Davis (D-CA), and Rep. Dave Loebsack (D-IA).
Help us pass it into law.  Let's make this happen!
Gratefully,

Sally Kaplan,
Student Peace Alliance Director & Program Associate
https://peacealliance.org/wp-content/uploads/2015/05/group_crop_1200.png
800
1200
Matthew
Matthew
2015-05-18 16:20:36
2017-05-22 00:11:41
Introducing the Social and Emotional Learning Act of 2015. Sign Petition to Congress Today!