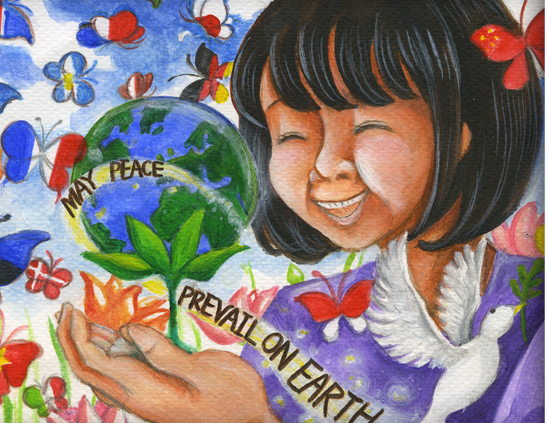 If you haven't been following us on Facebook and Twitter, you may have missed a lot of good information from the peace world.  Below are some informative, challenging, and inspiring items related to peace — from the political to the personal.
---
Restorative Justice & Practices in Schools: November Mini Series/Free Telecast

Restorative Justice on The Rise is now in its 3rd Season as a weekly telecast/radio webcast public dialogue forum. Co-sponsored by The Peace Alliance, the series features live dialogue and education with a wide array of leading peacebuilders in the field of Restorative Justice and beyond. The month of November partners with Living Justice Press and some of its authors and practitioners, including Carolyn Boyes-Watson and Nancy Riestenberg to bring specific dialogue and practical implementation tips surrounding RJP (Restorative Justice Practices) in schools. More Info & Sign Up Free Here.
.
---
Ben & Jerry's D.C. Capitol Peace Celebration Report
After months of planning and organizing, the Peace Alliance/Ben & Jerry's Celebration for Peace event took place on Oct. 2nd and was a total success! Congressman Bobby Scott and Congressman Walter Jones were delighted with the effectiveness of this event and the generosity of Ben & Jerry's. We've put together a report on the event:
---
She Has as Close to A Superpower as We Can Get
'Mama Hill' is a deeply moving and inspiring woman! This video shares the story that beautifully highlights what our communities and the world need, en masse. What she has done for her community takes tremendous love, patience, and selflessness.  It's a must-see video and story. Check it out!
Watch the inspiring video now!
---
Creating A Nonviolent Juvenile Justice System: Special Report
The International NGO Council on Violence against Children (formerly the NGO Advisory Council for follow-up to the UN Secretary-General's Study on Violence against Children) was established in 2006 to work with NGOs and other partners, including member states, to ensure that the recommendations from the UN Study on Violence against Children are effectively implemented. The International NGO Council includes representatives from nine international NGOs, including major human rights and humanitarian agencies, as well as nine representatives selected from their regions.
---
The Peace Education Resource Center: Online Repertory of Peace Education Resources

PERC: The Peace Education Resource Centre is a special project of the Culture of Peace Initiative (CPI) stewarded by Pathways To Peace, in close cooperation with the IDP-NGO Committee at the United Nations, the National Peace Academy USA and Circle of Peace / CCS Montreal.
---
America Has More Prisoners Than High School Teachers
Huffington Post article and infographic from Saki Knafo
If sitting in a prison cell was a job, it would be one of the most common jobs in the United States. In 2012, there were some 1,570,000 inmates in state and federal prisons in the U.S., according to data from the Justice Department.
---
Peace L.A. Event a Huge Success


A celebration to create and build a more peaceful world was held on the United Nations annual International Day of Peace, September 21, 2013, hosted by SGI-USA Culture of Peace Distinguished Speaker Series in partnership with The Peace Alliance. It was a multi-faceted event, including a forum to educate, inspire, and engage people towards action. The speakers shared information about proven effective programs for addressing bullying in our schools, and the prevention and intervention of youth violence. Also highlighted was a discussion of the positive effects of restorative justice, prison rehabilitation and the fiscal benefits of preventing violence as such programs not only greatly reduce crime, but save much more than they cost. Read full Report & Watch Video

---
By Steve Killelea
A completely peaceful world is indeed utopian. Yet we would add about $2.4 trillion in global economic activity if we made our world 25 percent less violent.
That amount would make a substantial difference. $2.4 trillion is enough to cover the cost of the Millennium Development Goals; eliminate the public debt of Greece, Portugal, and Ireland; help cover the costs of rebuilding after the most expensive natural disaster in history, the 2011 earthquake and tsunami in Japan—and still leave money for other forms of investment.
---
From a recent Action Team national call with Congressman Bobby Scott, Champion of the Youth Promise Act and Friend of The Peace Alliance. Learn more about the Youth Promise Act and how to ensure its passage here.
.
---
More:
Help sustain our work: Do you like the work we are doing at The Peace Alliance?  If so, consider becoming a Peace Partner.
INSPIRATION:

SHARE this image and quote on Facebook…
.
https://peacealliance.org/wp-content/uploads/2013/11/Screen-Shot-2013-11-08-at-10.05.54-AM.png
459
548
Matthew
Matthew
2013-11-08 11:24:39
2014-01-29 17:33:46
Fall eNewsletter