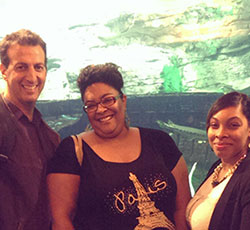 On the Road: Fall 2014 Extended Play (Dance Mix) Field Report
The last couple of months Dan Kahn, our National Field Director, has been all around the country drumming up support for peace!  He presented workshops on Peace Alliance philosophy and strategy – connecting in-person with our nationwide grassroots network – launching new Action Teams and nourishing existing ones.  Here is his report:
Since Mid-October, I've traveled to Ohio, Kansas, Arizona, Southern and Northern California, Washington State, Maryland (where I presented at a statewide Restorative Justice Conference), Rhode Island, Massachusetts, New York, New Jersey, and Pennsylvania – launching eight new Action Teams and connecting with four other existing ones.
October 10th through 18th was Phase One: an 8-day, 9-city Peace Alliance "Group Start Workshop" tour – leading workshops aimed to start new Action Teams and strengthen existing ones – and it was a distinctly inspiring pleasure. Here's a condensed travelogue:
Springfield Ohio – I met on a drizzly evening at Wittenberg University with seven members and six new recruits for the growing Action Team led by Peggy Hanna, in House Speaker John Boehner's Congressional District. This amazing team – in just the past year – has achieved two published Op-Ed pieces, two published letters to the editor and one full news article shining a light on both problems and solutions regarding youth violence and incarceration, and promoting a specific highly-effective legislative choice to ramp up these means of redress – the Youth PROMISE Act. Their ongoing relationship-building with Speaker Boehner's staff, as well as with the aides of their bi-partisan Senate delegation (Brown and Portman) continues to open doors for our D.C. staff to have powerfully promising conversations with their Legislative Associates here in the Capitol.
My next stop was Kansas City, Kansas, where brand new team leaders Kimberly and Karita, had managed to gather 21 people! – and new Leader Tim brought five other new folks who drove several hours from Manhattan, Kansas to start a team. The Kansas City folks included parents and children, people working in education and corrections (a Leavenworth prison guard!), and other concerned citizens. The Manhattan group, so far, consists entirely of graduate students in Kansas State U's Drama Therapy program – using the power of stories to address and heal challenging social issues. Two robust new teams were started during this heartland visit – and all their federal representatives are Republican, boding well for powerful and interesting future conversations and progress.
Surprise, Arizona was our next workshop (near Phoenix) – in a beautiful rustic room in a barn on The Orchards Ranch – surrounded by 12 wonderful folks – many of them parents and children, as well as horses, goats, sheep, and dogs!!! The proprietress of this ranch, Tamra, is co-leading this new team with her buddy Kate. Tamra teaches horse-riding, and is developing a therapeutic riding program for at-risk youth in the foster care system. And Kate is a professional writer, with experience in emergency services as a dispatcher, who shares Tamra's passion to connect local youth with healthy resources, and has kept the flame of this budding team alive for over a year until this moment, when it could blossom into a local powerhouse. The two of them, with their newly increased numbers and diversity, will continue to develop a constructive relationship with Senator Jeff Flake's staff. One new member, Kelly, leads a Girl Scout Troop – and she plans to engage them in visiting Senator Flake's office with an advocacy craft project!! Senator Flake is on the Senate Judiciary Committee – where the Youth PROMISE Act currently sits – and thanks to the efforts of these hardy folks in Surprise, our Legislative Associate Jeff Pudlo and I just yesterday had a very positive meeting with one of the Senator's D.C. Judiciary staff members.
Next stop was San Diego – where Ramon and Gia gathered eight people, some of whom are actively involved with area programs such as "Kids for Peace" – which empowers students, teachers, parents, and school administrators to embrace life-saving practices and policies at the local level. Co-leader Ramon, whose first languages were the Native American languages of his parents, is also strongly involved in indigenous peoples' issues both locally and worldwide, and his co-leader Gia is very involved with efforts at her own children's school to reduce bullying and alienation. Team member Mike has created numerous theatrical productions working with children to reduce violence locally, and team member Missy is eager to use her media skills to promote the group's agenda, via her long-time work with the local public radio station. This team also has constituents in the District of Congressman Duncan Hunter, a Republican M.O.C. who serves on the House Education and Workforce Committee – where the YPA is currently sitting. A letter-writing campaign from this team to Congressman Hunter is currently under way.
In San Bernardino I had the pleasure of meeting Bobbi Jo Chavarria – a long-time Peace Alliance California State Coordinator. Bobbi Jo had jumped at the chance to rally together some veteran local peace organizers, along with some new folks working on issues of race and violence in the youth context. My impressions: The robust new Action Team formed on that day promises mighty results – steeped as they are in a city with a troubling record regarding murder and other violence, and struggling with a recent economic depression, yet showing an undeniable vibrancy of ethnic diversity and combining steady, savvy, capable elders with energetic, youth-led efforts to address these issues with innovation and caring cooperation. A staff member of Congressman Mark Tarkano also attended this workshop. San Bernardino is another team-to-watch.
My next stop was Encino, in L.A. County – and the home of our beloved Board member Terry who hosted that evening's workshop. She and Team Leader (as well as L.A. area Coordinator) Jo Ann gathered a warm-hearted and multi-talented group – over a dozen people who strongly welcomed the connection and empowerment provided by the workshop. As with many of these events, there were still people schmoozing and planning and enjoying fellowship for a substantial time beyond the official end of the workshop. Los Angeles is home to one of our long-time core constituencies, and we fully envision the area hosting five or six Action Teams within a few years. Many thanks to Jo Ann and Terry, and all who attended, what was for me a nourishing, restorative and inspiring evening.
From there I had a brief visit to Pasadena, where I did some training and coaching with a budding leader named Treasure. Treasure has a deep and impressive background in conflict resolution, as well as inter-religious cooperation, and is working toward creation of another strong Southern California team. Our grassroots organizing coach, Sam Daley-Harris, also spoke in Pasadena a few days later, and Treasure was able to connect at that event with numerous potential new teammates.
Next on to Oakland, where highly accomplished peacebuilders like Team Leader Nancy, dear friend Laurie, champion networker Stephanie, and Board Member Judy joined forces with newer faces like those of the spunky and dedicated Joshua, Baljeet, and Elisabeth. We had a powerful and productive workshop session, while the Giants beat the Cardinals (I think?) to proceed to the World Series!
And our final workshop of "Phase One" was in Seattle, where co-leaders Mitch and Kim have been building up momentum toward a Team Launch for close to a year – and it was thoroughly inspiring. 12 people attended, and all-but-one committed to ongoing Action Team membership (and apparently there are several others who weren't able to attend, but plan on joining the team). Mitch and Kim have already been taking the Monthly Actions and meeting and corresponding with Congressional staff for many months, and with this new influx of camaraderie and creative energy, the sky is truly the limit. 90 minutes after the workshop ended there was still a strong core of team members discussing exciting plans for musical and film projects, woven together with long and short-term political visions for tangible and hopeful positive changes. Ah, yes, this is good for my heart.
Phase Two was an early November New England road trip (again, how lucky am I?), but before that, I had the privilege of presenting at two Restorative Justice Conferences – first the International Institute for Restorative Practices Conference in Bethlehem, Pennsylvania, and second the Maryland Circle of Restorative Initiatives Conference, in Columbia, Maryland. Thanks to our experiences of helping in the recent statewide legislative efforts to advance Restorative Justice Practices in Colorado and Massachusetts, and some budding efforts in Florida, we've gained some useful perspective on various aspects of the state legislative and coalition-building process – which I was more-than-pleased to share with enthusiastic audiences of RJ practitioners and advocates at both conferences.
Then up I went to my first Action Team stop in Rhode Island. Amber Kelly Collins gathered an impressive assortment of folks in the lovely comfy farmhouse that her husband Abel's father had built. There were activists and college professors, parents and teenagers. Over veggie stew and home-baked treats, a powerful new Rhode Island team was born.
Then onward to the Boston area, where Leslie Sampson's small-but-hardy crew shared some lively discussion and hospitality, and the seeds of a new team were planted.
Next across Massachusetts and much of New York to the burg of Rochester, where Shannon Casterline had done a tremendous job of outreach and preparation – so much so that every single person who attended that workshop also signed on to be part of the new Rochester team!
And finally back south to the Southern end of New Jersey – for a reconnection with dear Julie Gandy and Cassie MacDonald and the rest of the South Jersey/Philly team. We managed to grow that team by a few people that night, and to send me back home with warm feelings of connection, gratitude, and empowerment.
Every time I see those understandings increasing – of what practical peacebuilding looks like, and how policies can help it to spread, and how each person can be a tremendous catalyst for this spreading – through relationship-building with media and Congress – and then feel the groundswell as those understandings are merged with actions (writing letters, making phone calls, building political will), I am reminded of how very very lucky I am to be part of serving in this way. As our coach Sam has said, we strive to be an organization capable of empowering people at the level of their desire for change. Together, our might is growing, and there is no better time for a sea-change in the power of peace than right now. Many thanks to all of you, for joining us on this journey.
https://peacealliance.org/wp-content/uploads/2014/11/20141012_113650.jpg
230
250
Matthew
Matthew
2014-11-25 11:05:11
2014-12-02 12:52:49
On the Road: Fall 2014 Extended Play (Dance Mix) Field Report