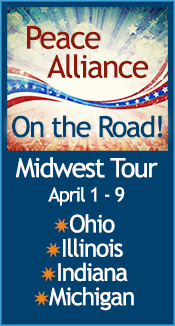 Exciting Peace Alliance Events Coming to the Midwest
April, SAVE THE DATE!
Ohio: Kent, Springfield, Dayton, Urbana, Oberlin
Illinois: Chicago
Michigan: Detroit, Kalamazoo, Livonia
Indiana: Bloomington, Gary
Peacebuilding & People Power: Invitation to Make Positive Change
Greetings Midwest Peacebuilding Allies!
Are you feeling thirsty to use the power of relationships and communication to promote practical tools for peace on Earth?  We are creating political will for peacebuilding breakthroughs, and we want all of you to join us as champions for this change.
National Field Director Dan Kahn and Student Peace Alliance Coordinator Sally Kaplan are coming to Midwest Heartland hotspots in the beginning of April — sharing solidarity, news of challenges and victories, and strategies for effective ways forward.  You will also learn how you can be a part of making this positive change. Join us!
We will have more specific details on these events soon, including contact info, locations, etc. Here is current schedule – please watch here for updates!
Kent, Ohio, Kent State University
Workshop with existing Student Action Team and prospective new members, Open to all students, faculty, and staff.
Contact: Corey James – [email protected]
Tuesday, April 1st, 8:30pm.
Springfield, Ohio, Wittenberg University – Three events
Lunchtime chat and campus tabling with Clark County Action Team Leader Peggy Hanna and friends – open to all.
Contact:  Peggy Hanna – [email protected]
Wednesday, April 2nd, 11:30am – 2pm.
Campus Chapter Organizing Session
Thursday, April 3rd, 6:30pm – Peacebuilding, Trans-partisan Politics, and People Power – Open to All – 10 Blair Hall
(Wittenberg and Ward, right on circle drive, first building on the right – just before Thomas Library)
Thursday, April 3rd, 8 pm Open to Students, Faculty, and Staff – Campus Organizing Plans for this coming Summer and Fall. 201 Blair Hall
Dayton, OH Peace Museum
Workshop – Peacebuilding, Trans-partisan Politics, and People-Power – geared for current Action Team members, general public, and any interested in forming a new Action Team.  All welcome.
Contact Bev Titus – [email protected]
Wednesday, April 2nd, 6:45pm
Urbana, Ohio, Urbana University – Workshop/Presentation for University students, staff, and faculty.
Thursday, April 3rd, 12:15pm in the president's Dining Hall in the Commons
Contact: Bev, [email protected]
Chicago Northeastern Illinois University – Sally speaking at a conference "Bolder Than Out," hosted by the Coalition for Justice and Respect, at Northeastern Illinois University.  Dan and Sally available for Q and A. All welcome.
Friday, April 4th, 1pm
More info: See the Conference Website

Chicago, Lewis University –  Workshop with current Action Team Members and local allies – Policy Advocacy, and Relationship building – Creating Political Will for Restorative Justice and other Peacebuilding Priorities.
Lewis University Academic Building Room AS156-A
Saturday, April 5th, 1-3pm
Contact: Cetta, [email protected]
Gary Indiana – Action Team Launch
Contact:  Toni, [email protected]
Sunday, April 6th, time tbd
Bloomington, Indiana – speaking with several classes at Indiana University, then evening workshop/presentation with the Political and Civic Engagement program (PACE).  Open to all Students, Faculty and Staff.
Contact: Joelene, [email protected]
Monday, April 7th, times tbd
Kalamazoo, MI – Meeting/Presentation with experienced and new Peace Alliance field organizers.
Contact – Bobbi Jo, [email protected]
Tuesday, April 8th, afternoon time tbd
Livonia, MI – brief presentation at monthly Citizens for Peace meeting.
Unity of Livonia 28660 Five Mile Road.
Main speaker will be Iraq veteran and kindness promoter Caleb Magnan.
Contact: Colleen, [email protected]
Tuesday, April 8th, 7pm
Detroit, MI – possible discussion at Wayne State University
Wednesday, April 9th – time tbd
Oberlin, Ohio, Oberlin College – Presentation/Workshop with student group
Wednesday, April 9th 7:30pm
https://peacealliance.org/wp-content/uploads/2014/03/On-the-Road_175.jpg
326
175
Matthew
Matthew
2014-03-25 15:22:57
2014-03-28 17:01:52
Exciting Peace Alliance Events Coming to the Midwest