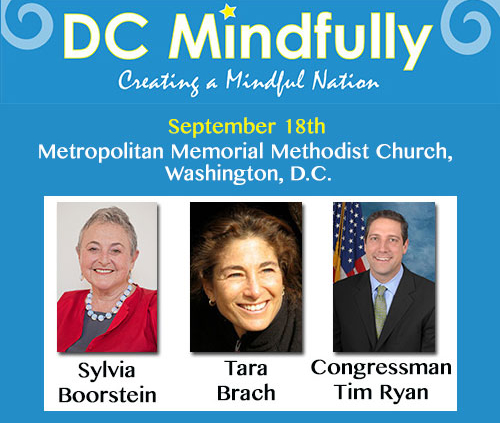 Registration not necessary, walk-ins welcome!
Join three renowned voices for achieving peace through mindfulness, in celebration of the Peace Alliance's 10th anniversary and the UN declared International Day of Peace (Sept. 21st). Exploring the questions: what is mindful activism? How do we stop the violence in our homes, our schools, our neighborhoods our nation and our world? Please join us as we explore and recommit to building peace. Download printable brochure.
6:00 – 7:15  Benefit Reception, with Sylvia, Tara & Congressman Ryan – $108
7:30 – 9:00  Main Panel Discussion – $20 suggested donation
(no one turned away – sliding scale)

ADDRESS:
Metropolitan Memorial Methodist Church,
3401 Nebraska Ave NW Washington DC 20016
Link to Google Map for Directions

PARKING:
Parking is available in the church parking lot (entrance on New Mexico Ave. at the corner with Nebraska Ave).    If the church parking lot should be full,  American University offers nearby free parking after 5 pm on weekdays in two garages:
1) The School of International Service Underground Garage directly across from the church on Nebraska Ave. (Entrance on west side of Nebraska Ave. on the opposite side from the  intersection with New Mexico Avenue)
2) The Katzen Arts Center Garage (4400 Massachusetts Ave. NW just west of Ward circle)
Registration not necessary, walk-ins welcome!
Sylvia Boorstein, Ph.D, LCSW, is a co-founding teacher of Spirit Rock meditation Center in Woodacre, CA, and teaches there regularly. She is also a psychotherapist. She credits her lifelong commitment to social advocacy as being a legacy from her mother whose own dedication to equality for all members of society made her and informed voice for democratic principles and an ardent political campaigner.
Sylvia is the author of five books on mindfulness meditation and Buddhism the most recent of which is Happiness Is An Inside Job: Practicing for a Joyful Life. In addition to teaching Buddhist principles to psychotherapists, Sylvia is widely known to be active in translating the theory and practice of mindfulness into other disciplines, especially in the Jewish community where she has been part of meditation training programs for Jewish professionals. She has often been a guest speaker at university Psychology departments nationally and was Scholar-in-Residence at the Smith College School of Social Work.  Sylvia has four adult children and seven nearly all adult grandchildren.
Congressman Tim Ryan was elected to the U.S. House of Representatives in 2002 and is currently serving in his sixth term representing Ohio's 13th Congressional District. He maintains a strong commitment to the economic and social well-being of his constituents in northeast Ohio. Congressman Ryan has a daily mindfulness meditation practice and has been an outspoken advocate for promoting mindfulness as an aid to dealing with the variety of complex problems facing the nation. He is the author of A Mindful Nation: How a Simple Practice Can Help Us Reduce Stress, Improve Performance, and Recapture the American Spirit.
Tara Brach's teachings blend Western psychology and Eastern spiritual practices, mindful attention to our inner life, and a full, compassionate engagement with our world. Tara earned a Ph.D. in Clinical Psychology from the Fielding Institute. Tara founded the Insight Meditation Community of Washington, DC (IMCW), which is now one of the largest and most dynamic non-residential meditation centers in the United States. She is the author of the book Radical Acceptance (2003) and True Refuge: Finding Peace & Freedom in Your Own Awakened Heart (Bantam, 2013).
Event Co-sponsored by:

---
Additional Event Supporters:
https://peacealliance.org/wp-content/uploads/2014/08/box-banner_crp.jpg
426
500
Matthew
Matthew
2014-08-12 18:00:43
2014-09-21 14:27:25
DC Mindfully