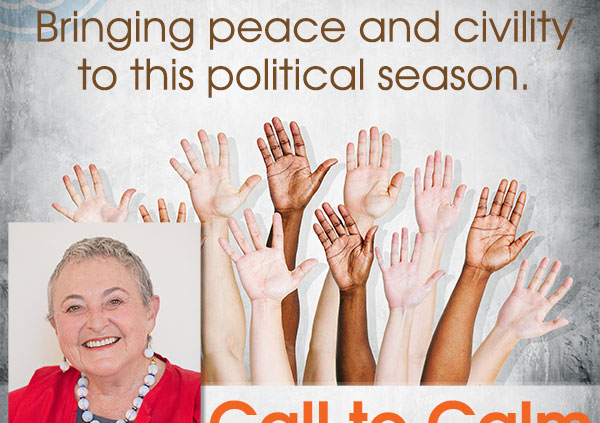 Call to Calm: A Conversation with Sylvia Boorstein – Audio Posted
Listen above to  a national conversation with Sylvia Boorstein on how we can nurture a more peaceful and respectful way of engaging each other, thriving in diversity, and collectively benefiting from this election season. We have this opportunity to unite in our intentions, navigating the months ahead and bringing about a greater peace in the midst of so much negativity. This is the essence of Peacebuilding at its most powerful.
Sylvia Boorstein Ph.D, LCSW, is a co-founding teacher of Spirit Rock meditation Center in Woodacre, CA, and teaches there regularly. She is also a psychotherapist. She credits her lifelong commitment to social advocacy as being a legacy from her mother whose own dedication to equality for all members of society made her and informed voice for democratic principles and an ardent political campaigner.
Sylvia is the author of five books on mindfulness meditation and Buddhism the most recent of which is Happiness Is An Inside Job: Practicing for a Joyful Life. In addition to teaching Buddhist principles to psychotherapists, Sylvia is widely known to be active in translating the theory and practice of mindfulness into other disciplines, especially in the Jewish community where she has been part of meditation training programs for Jewish professionals. She has often been a guest speaker at university Psychology departments nationally and was Scholar-in-Residence at the Smith College School of Social Work.  Sylvia has four adult children and seven nearly all adult grandchildren.
https://peacealliance.org/wp-content/uploads/2015/04/Call-to-Calm-hands-up-master-600new.jpg
600
600
Matthew
Matthew
2016-06-20 14:08:48
2017-05-20 14:22:33
Call to Calm: A Conversation with Sylvia Boorstein – Audio Posted