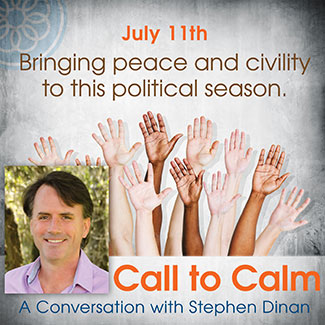 Listen to the audio!
Please join us on July 11th for part two of our Call to Calm election series dialogues with leading American thinkers. We will be joined by Stephen Dinan, a social entrepreneur and political strategist, and the CEO of The Shift Network. Stephen will be talking about how we can bring peace and civility to the Political season, as well as sharing about his new book, Sacred America, Sacred World: Fulfilling our Mission in Service to All. The book has only been out a week, and it's already a national best-seller.
Sacred America, Sacred World: Fulfilling our Mission in Service to All
The new book Sacred America, Sacred World, is a manifesto for our country's evolution that is both political and deeply spiritual. It offers profound hope that America can grow beyond our current challenges and manifest our noblest destiny, which the book shows is rooted in sacred principles that transcend left or right political views.
Filled with practical ideas and innovative strategies honed from the author's work with over 1000 luminaries via his company, The Shift Network, Sacred America, Sacred World rings with a can-do entrepreneurial spirit and explains how America can lead the world toward peace, sustainability, health, and prosperity. This vision of the future weaves the best of today's emergent spirituality with seasoned political wisdom, demonstrating ways America can grow beyond its current stagnation and political gridlock to become a world leader in peace and progress.
Learn more about Sacred America, Sacred World at: SacredAmerica.net
More about Stephen Dinan
Stephen Dinan, a noted social entrepreneur and visionary political strategist, is the founder and CEO of The Shift Network, a leading global provider of online transformational courses and trainings. He was previously a senior staffer for both the Institute of Noetic Sciences (IONS) and Esalen Institute. At IONS he was the driving force behind the Shift in Action program; and, at Esalen he directed and helped to create the Center for Theory and Research—a think tank for scholars, researchers, and teachers to explore human potential frontiers. Stephen is the author of Sacred America, Sacred World: Fulfilling our Mission in Service to All (Hampton Roads) and Radical Spirit: Spiritual Writings from the Voices of Tomorrow (New World Library). He is a graduate of Stanford University and holds a master's in East-West Psychology from the California Institute of Integral Studies. Dinan is also a member of the prestigious Transformational Leadership Council and Evolutionary Leaders groups. He resides in the San Francisco Bay Area with his family.
Matthew Albracht,
Peace Alliance
https://peacealliance.org/wp-content/uploads/2016/07/Call-to-Calm-hands-up-Dinan-325.jpg
325
325
Matthew
Matthew
2016-07-11 12:29:32
2017-05-20 14:21:37
Call to Calm Dialogue - Stephen Dinan - Audio Posted!