Call Congress: Youth PROMISE Act!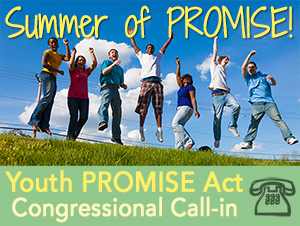 Join people across the nation this Summer who are calling their Members of Congress to urge support for Youth PROMISE Act (Prison Reduction through Opportunities, Mentoring, Intervention, Support, and Education act).  This bipartisan legislation will fund and implement an array of evidence-based, locally controlled youth and gang violence prevention and intervention practices, helping to save lives and money.  Our most vulnerable youth deserve nothing less!
Quick Action:
Please call your two U.S. Senators and your member of the House of Representatives.
Find all your Members of Congress and their phone numbers here (call DC offices). Or you can call the Capitol Switchboard at: (202) 224-3121. Most congressional office now allow you to leave messages if after hours.
Sample Script:
"My name is ______, I am a constituent from 'city_____' and am very much in favor of the Youth PROMISE Act – S.1307/HR.1318. I would like her/him to fully support to champion the passage of this important bill and become a co-sponsor if he/she is not already."
Want to do more?
Enroll friends and family to make calls!
Download printable flyer.  Hand them out to everyone you know.
Sign-up here to let us know you will be joining us!
You can also be creative: table at Farmer's markets or music festivals, set up a Facebook page and post pictures of people calling their Congressmembers, bring the flyer to your church or synagogue — spread the empowerment and use your imagination!
More about the Bill:
The Youth PROMISE Act's passage would create unprecedented investments in proven community-based violence prevention and intervention practices, such as mentoring, after school programs and other innovative diversion strategies, like: gang violence prevention, teachers doing conflict resolution and bullying cessation education in schools, restorative justice practices and many others.
The bill:
1) funds evidence-based violence prevention & intervention practices,
2) empowers local control and community oversight,
3) reduces crime and saves taxpayer money, and
4) creates accountability by linking funding to measurable success.
0
0
Matthew
Matthew
2014-06-10 20:21:00
2014-06-12 12:03:38
Call Congress: Youth PROMISE Act!