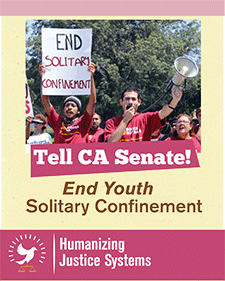 Californians: End Youth Solitary Confinement
California Friends,
I recently read this moving letter sent by the Ella Baker Center, from a young man named DeAngelo Cortijo. He shares a moving story and call to action about his experiences as an 11-year-old in solitary confinement (yes, you read it correctly). 
I hope you will read and take a quick and easy action on a bill before the California Senate, SB 124, that will stop this barbaric practice. Our tool will help you send a message to your California Senator. California can do better.  Please spread the word…
In support,
Matthew Albracht
Peace Alliance, Oakland, CA Office
—————————————
Letter from DeAngelo Cortijo:
The first time I experienced solitary confinement, I was 11 years old.
Now, 11 years later I'm fighting to end the widespread use of solitary confinement in California's youth prisons.
I'm writing today to ask you to join me in taking action.
As I would stare out of my cell window I could see the other kids outside and I remember feeling empty and afraid. On several occasions I contemplated suicide.
My own experiences in solitary are the reason I am supporting Senate Bill 124, a bill introduced by Senator Mark Leno (D-San Francisco) that would limit the solitary confinement of youth. SB 124 is about to come up for a vote in the Senate and we need you to let senators know that we will no longer stand for this torture of our youth.
Along with Youth Justice Coalition, Children's Defense Fund-California, and the California Public Defenders Association, the Ella Baker Center is a co-sponsor of this legislation, which would also provide a uniform definition of solitary confinement and require statewide reporting of its use.
If we unite and make our voices heard, we can end this cruel and inhumane practice.
I was most recently placed in solitary confinement last year for two months. I spent at least 21 hours per day alone in a tiny cell. I kept thinking, I could be in college right now, but instead I'm just wasting away in here.
Today, I am still affected by these experiences. I am afraid of being alone. I went into prison feeling angry and confused and I ended up coming out of the system feeling even worse than when I went in.
Now, I am an intern at the National Center for Youth Law, working to ensure that young people like me have a chance at a better life. This bill is an important first step toward that goal.
Kids in California's youth prisons and jails cannot wait—Will you stand with me and all of the other young people who have been victims of this abusive practice?
In solidarity,
DeAngelo Cortijo
Intern, National Center for Youth Law
https://peacealliance.org/wp-content/uploads/2015/05/solitary-confinement.png
281
225
Matthew
Matthew
2015-05-27 18:41:01
2015-05-27 18:41:01
Californians: End Youth Solitary Confinement