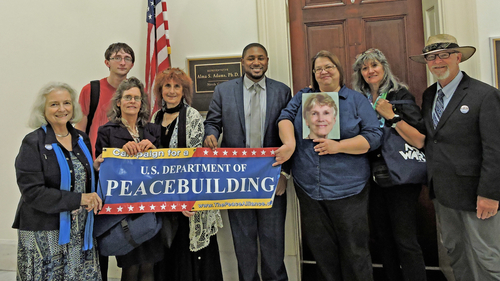 Advocating for Peacebuilding in DC and Beyond
One student wrote to Congress that she hopes for a world
where we don't have to fear and worry about how to hide students during a mass shooting.
Another said he hopes we can one day be a country
where no one is a victim of domestic violence.
From letters by San Diego students delivered to Congress during Advocacy Days 2018

During the week of International Day of Peace (9/21/18), Department of Peacebuilding (DoP/ HR 1111) advocates traveled to Washington, D.C. to make peacebuilding a national priority and to seek additional cosponsors for current DoP legislation.  We also urged support for the DoP Act of 2019, which will be introduced likely in February 2019.  We relayed messages of peacebuilding from students in CA and Washington, D.C.  (See Someday.  With Liberty & Justice for All – DC Advocacy Days, Part I and Then We Met Congress – DC Advocacy Days, Part II)
Against the backdrop of contentious hearings on the confirmation of Supreme Court nominee Brett Kavanaugh, DoP advocates visited legislators to promote multiple peace-related bills, delivered constituent letters, worked with others in the field to AMPLIFY requests for DoP cosponsors, followed up after Advocacy Days, and coordinated with other International Day of Peace actions:
Legislative Visits

Visited over 140 legislative offices, including at least 121 House visits and 19 Senate visits
Conducted 24 scheduled meetings, two of which included constituent participation via phone (Sen. Ed Markey (D-MA) and Rep. Jimmy Panetta (D-CA))
Met informally with the offices of numerous legislators
Visited the offices of 43 current DoP cospoonsors and sponsor Rep. Barbara Lee (D-CA) to thank them for current co-sponsorship and to urge them to sign on when the bill is introduced in 2019
Letters 
AMPLIFY Support
Spread the word about H.R. 1111 through distribution of AMPLIFY flyers in CA, NC, Toronto, Canada and online
Many made AMPLIFY contacts with legislators by participants in CA, MT, ND, NM and elsewhere
Peace Alliance's online petitions garnered additional contacts with members of Congress
Follow-up

Followed up after DC Advocacy Days legislative visits with phone calls and emails to almost all offices where we had meetings and with other 'drop-by' offices  
Ten Advocacy Days Bills
During Advocacy Days, we sought cosponsors for 10 peace-related bills: Department of Peacebuilding Act of 2017 (H.R. 1111); legislation relating to Assault Weapons Ban (H.R. 5077, S. 2095); Condemning Violence Against Children Globally (H.R. 5087); Establishing the  Select Committee on Gun Violence Prevention (H.Res. 367); No Money Bail Act of 2017 (H.R. 1437); Violence Against Women Requthorization Act of 2018 (H.R. 6545); Department of State, Foreign Operations, and Related Programs Appropriation Act (S. 1780); REUNITE Act (S. 3227); and Sentencing Reform and Corrections Act (S. 1917). 
From 09/01/18 — when we started publicizing Advocacy Days legislation recommendations — through 11/02/18 follow-up, 64 cosponsors added their names to our recommended bills, including at least 34 from our visit list.  Rep. Yvette Clarke (D-NY) and Rep. Marcia Fudge (D-OH) cospoonsored H.R. 1111 during this period.  The largest increase was in cosponsors of Condemning Violence Against Children Globally and the Violence Against Women Reauthorization Act.  Regarding several other bills, many on our visit list were already cosponsors.
International Day of Peace
In addition to congressional visits, we participated in: 
Local activities such as San Diego's International Day of Peace/ "Give Peace a Chance" gathering of middle and high school students at Millenial Tech Middle School
State activities such as CA Vision 2020 in Sacramento
National activities such as Pace e Bene's Nonviolence Convergence in Washington, D.C. (with affiliated activities throughout the nation), where we carried the DoP banner in a silent march from the Martin Luther King, Jr. Monument to the White House
International activities such as World Beyon War's conference 'Degigning a World Beyond War: Legalizing Peace,' where the US Department of Peacebuilding co-presented a panel with Canada's peace Initiative on 'Departments and Other Infrastructures for Peace — A Way Forward'.  (See 2018 'World Beyond War' Toronto Conference Included Departments & Infrastructures for Peace (I4P) Workshop.) Rep. Barbara Lee (D-CA) wrote a welcoming letter to attendees in which she said the culture of violence we live in is unacceptable.  (See Rep. Barbara Lee Urges Building Peace Together, Ending War & Violence As the Norm)
By taking peacebuilding to Congress, we AMPLIFIED the call for prioritizing peace and violence prevention in this nation.  Peace needs a stronger voice in DC and a permanent seat at the table of our government.
Peace-ing it together,
 
Nancy Merritt
On Behalf of the National Department of Peacebuilding Committee
and Department of Peacebuilding Advocates
To come together under the banner of peace
forces us to challenge all forms of injustice …
If advocating for peace, justice and humanity toward all human beings
is being radical, then I am proud to be called a radical …
– Congressman Ron Dellums (CA), 1935 – 2018
https://peacealliance.org/wp-content/uploads/2018/11/Webp.net-resizeimage-4.jpg
281
500
Terry Mason
Terry Mason
2018-11-18 14:04:09
2018-11-18 14:04:09
Advocating for Peacebuilding in DC and Beyond