Tell Congress: Diplomacy with Iran
Dear Friends,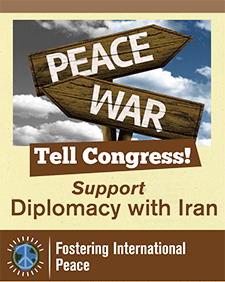 Please let your Members of Congress know that you support diplomacy with Iran. While not perfect nor yet complete, the framework we have so far is very strong and needs to be supported. Right now, there are a large number of Members of Congress who want to kill the deal, which would likely send us on a path to war.
The process of diplomacy is long and often involves difficult tradeoffs. The negotiators of this deal included scientific experts like Secretary of Energy Ernest Moniz, who insists that this deal would successfully prevent Iran from building a nuclear weapon, with the most comprehensive monitoring system ever implemented for nuclear inspections.
Despite a years-long drumbeat for war, diplomacy is working. There is still more to be done to finalize this deal, but we have to act now to make sure that those pushing for greater confrontation and escalation can't kill this opportunity at the last minute.
By diplomatically engaging those with whom we disagree, we can stop wars, even if it means making some compromises. As Yitzhak Rabin famously said, "You don't make peace with friends". We need to talk to those with whom we disagree the most. To paraphrase another great statesman, John Kennedy, we can never fear to negotiate. It is only through working with one another that we can build a better world.
This framework agreement is a major step towards a more peaceful world.  Don't let it fail.
Thank you,

Jeff Pudlo,
Legislative Associate
https://peacealliance.org/wp-content/uploads/2015/06/peace-war_1200.png
764
1200
Matthew
Matthew
2015-06-09 18:21:54
2015-06-09 18:25:04
Tell Congress: Diplomacy with Iran