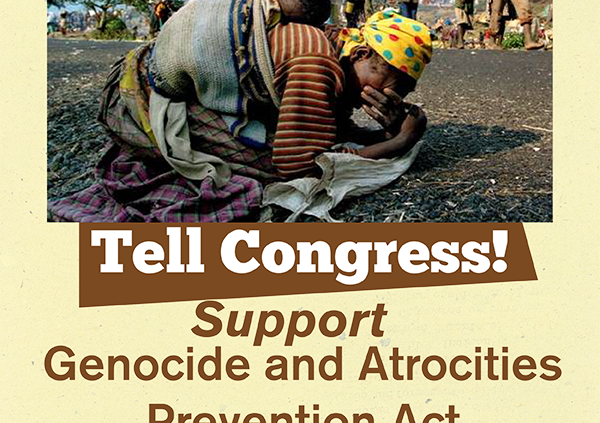 It can happen!
I have some great news for you today. Recently, the Senate unanimously passed S. 1635, the Department of State Authorization for 2016 containing a core part of the Genocide and Atrocities Prevention Act (GAP Act), S. 2551, which is one of our top peacebuilding legislative priorities.
The State Department Authorization contained an authorization of the Atrocities Prevention Board, an interagency working group that coordinates a whole government approach to preventing mass conflict and atrocities.
This is encouraging progress and helps build momentum for full passage of the GAP Act!!
The full Genocide and Atrocities Prevention Act will:
Provide a critical mechanism for nonviolent responses to rapidly emerging crises.
Make Atrocities Prevention the official policy of the United States.
Provide training in conflict prevention and response for all Foreign Service Officers, and much more.
Take a Quick Action to make this law:
The Senate is now back in session and we need you to call and write your Senators, urging them to go further by fully passing S. 2551, the GAP Act.
1. Sign our Petition, sending a message to your elected officials >>
2. Call your Senators: Call the US Capitol Switchboard at (202) 224-3121 and tell your two Senators offices that you want their full support. After hours is fine, you can leave a message. To find out who your Senators are, click here.
Sample Script:
"Hi, my name is ____.  I'm a constituent of the Senator. I'd like her/him to co-sponsor and fully support the Genocide and Atrocities Prevention Act, S. 2551. This is critical as it makes Atrocities Prevention the official policy of the United States."
It's as easy as that!
Please click this link to let us know you made a phone call.
Thank you for taking action, this is how we can make sure the GAP Act becomes law and how to support this non-partisan effort.
All our best,
Jeff Pudlo
Legislative Director
https://peacealliance.org/wp-content/uploads/2015/10/Genocide-bill-graphic_lg.png
752
600
Matthew
Matthew
2016-05-12 16:22:57
2017-05-20 14:26:58
Senate moves! Genocide prevention passage...