Reclaiming our Democracy Book Discussion Group Prep Details
Sign up to join the Book Group Discussion here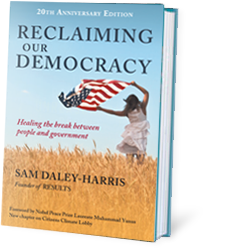 . You will receive dial-in number upon signing up.
This book group discussion of Reclaiming Our Democracy: Healing the Break between People and Government. Make sure you order the 20th anniversary edition. You will get value out of the sessions even if you read only some of the book, but definitely read these excerpts from the two new chapters in Tikkun and watch this interview from the PBS TV station in Salt Lake City.
Bring to each session the story that inspired you the most about a volunteer moving from hopelessness to action.
Suggested Reading:
Session I – June 12, 2014
Introduction to the first edition
Introduction to the 20th anniversary edition
Foreword by Muhammad Yunus
Chapter 29
Chapter 30
Chapters 1-8
Session II – June 19, 2014
Chapters 9-19
Session III – June 26, 2014
Chapters 20-28
0
0
Matthew
Matthew
2014-05-22 16:33:58
2014-05-22 16:46:33
Reclaiming our Democracy Book Discussion Group Prep Details