Quarterly eNews – Winter 2019
Welcome to our Quarterly eNews with updates from 
The Peace Alliance's Leadership Council! 
Catch up on the updates in each of our Peacebuilding 
Cornerstones and Advocacy efforts in Q4 2019! 
Have a Happy & Peaceful Holiday Season & 
ENJOY Celebrating the New Year 2020!
Upcoming Events
Second Monday of every month: December 9, 7:30pm PST, California Department of Peacebuilding call. All are welcome: 1-712-775-7031 ,, 719062520#
Second Tuesday of every month, December 10, 6pm PST / 9pm EDT,

National Monthly Action Call

. This month featuring Cheryl Dodwell and

Dave Trachtenberg

, Executive Director and Board Member for

"Peace of Mind."

Also joined by Dot Maver, to share about the 12/21

Global Silent Minute

initiative! Register here –

Join us, it's free! Invite a friend!

Third Wednesday of every month, December 18, 5pm PST / 8pm EST,

Campaign for a Department of Peacebuilding call

. All are welcome: 1-929-436-2866 ,, 464735321#
Join us for the

Global Silent Minute

on December 21, when peace builders from all over the world will

"join hands and hearts to unite in the power of silence."

9pm GMT / 1pm PST / 2pm MST / 3pm CST / 4pm EST and all times beyond.
Sign the Blueprint for Peace today, and share!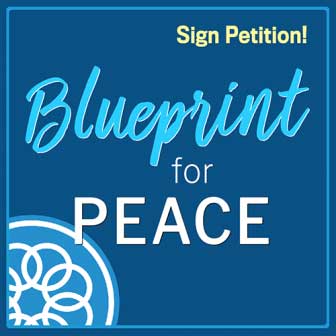 Teaching Peace in Schools:
A List of some Fantastic Resources and Programs
Starting from supports that help adults practice and model peace to the programs that teach peacebuilding to children, here is a list of resources we find inspirational. Much gratitude for all that you are and all that you do to affirm peace in the world!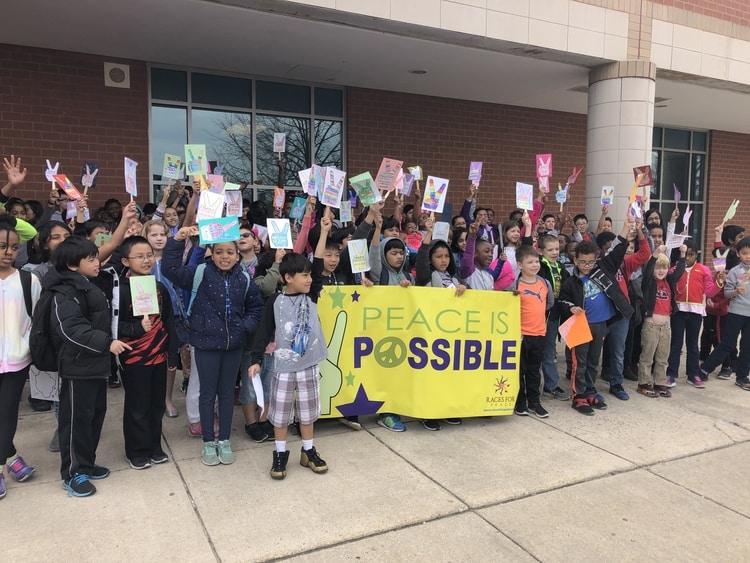 Click here: Kay Pranis shares how learning Circle process can give educators a powerful tool for promoting closer relationships in their school community. While there, check out some new amazing offerings by Mindful Schools!
Millenial.org's Forum is an intimate learning circle in which educators come together within a safe council of peers to learn and practice a critical set of applied developmental science skills that can positively impact teacher well-being, stress-reduction, and classroom quality, which are correlated with increased student engagement and academic performance.
Turnaround for Children connects the dots between science, adversity and school performance to catalyze healthy student development and academic achievement.
Peace of Mind is a teacher-created, evidence-based program that supports mindfulness-based social and emotional learning in PreK through Grade 6.  The Peace of Mind Program helps children develop life skills to notice and manage challenging emotions, build healthy relationships and solve conflicts peacefully.  Peace of Mind moves schools toward kindness and inclusion.
Shared by Jelena Popovic
Teaching Peace in Schools Lead 
Department of Peacebuilding Advocates Build Bridges at
2019 DC Advocacy Days
Department of Peacebuilding (DoP/ HR 1111) volunteers went to Washington, District of Columbia in September 2019 to advocate for a cabinet-level Department of Peacebuilding and other peace-related legislation and policies.  HR 1111 is sponsored by Rep. Barbara Lee (CA-13) and has 35 cosponsors as of December 1, 2019.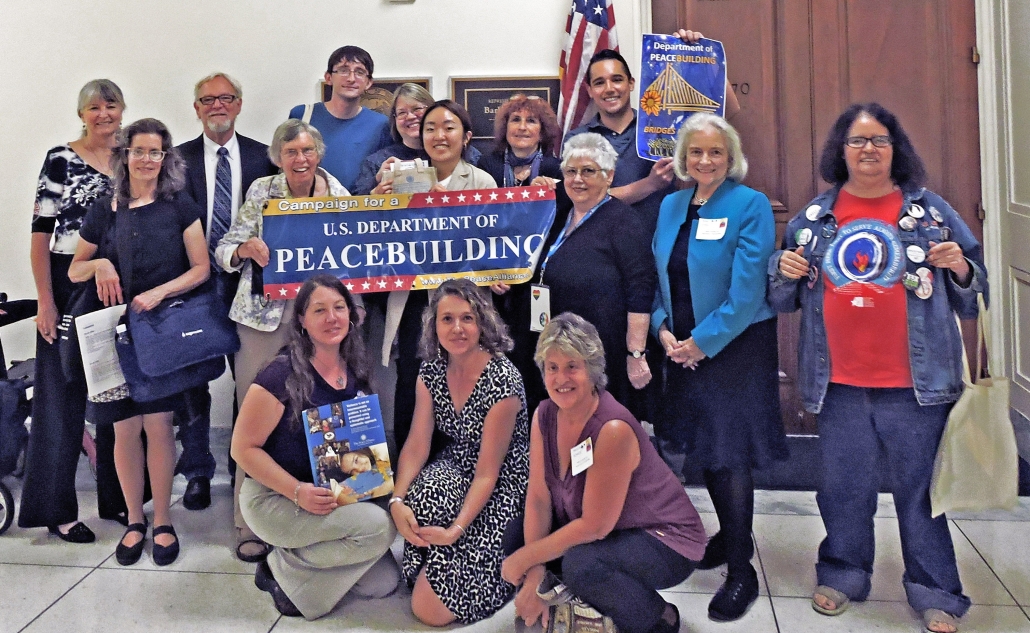 Advocates from 12 states met with and dropped by the offices of nearly 200 Representatives and Senators and met with staffers of the House Oversight and Government Reform Committee — which has jurisdiction over HR 1111 — and the Senate Judiciary Committee.  Rep. Andy Kim (NJ-3) and Rep. Nydia Velazquez (NY-7) cosponsored HR 1111 during Advocacy Days.  
Some meetings also included constituents via conference call. Our message of peacebuilding was AMPLIFIED by callers from multiple states and by letters from San Diego (CA) students, a county supervisor and others.  
We went to the offices of current and former DoP cosponsors, most newly-elected Democratic Congressmembers, Representatives for whom we are constituents, and others.

 

We met with the office of DoP sponsor Rep. Barbara Lee (D-CA-13).
We also met with many other offices including Rep. Alma Adams (D-NC-12), Rep. Donald Beyer (D-VA-8), Rep. Brendan Boyle (D-PA-2),

 

Rep. Mark DeSaulnier (D-CA-11),

 

Sen. Richard Durbin (IL), Rep. Bill Foster (IL-11), Rep. Chuy Garcia (D-IL-4), Rep. Morgan Griffith (R-VA-9), Kendra Horn (D-OK-5), Rep. Chrissy Houlahan (D-PA-6), ), Rep. Eddie Bernice Johnson (D-TX-30), Rep. Robin Kelly (D-IL-2), Rep. Ro Khanna (D-CA-17), ), Rep. Andy Kim (D- NJ-3), Rep. Ann Kirkpatrick (AZ-02), Rep. Conor Lamb (D-PA-17),

 

Rep. John Lewis (D-GA-5), Rep. Ben Ray Lujan (D-NM-3), Rep. Betty McCollum (D-MN-4), Rep. Lucy McBath (D-GA-6),

 

Rep. Debbie Mucarsel-Powell (D-FL-26), Rep. Joe Neguse (D-CO-2),

 

Rep. Donald Norcross (D-NJ-1),

 

Rep. Mary Scanlon (D-PA-5), Rep. Lori Trahan (D-MA-3), Rep. Xochitl Torres-Small (D-NM-2), Rep. Nydia Velazquez (D-NY-7) and others.
We visited offices representing most states.

 

We met with several members of Congress, including Susan Davis (CA), Rep. Al Green (TX), Eddie Bernice Johnson (TX), Ro Khanna (CA), and Rep. Mike Levin (CA).

 

Rep.Morgan Griffith (VA-9) met with our group.
In addition to visits to the offices of legislators and a week which resulted in the official commencement of presidential impeachment investigations, we participated in various D.C. events, including:  
A visit to D.C.'s Lafayette pre-K through 5th grade school, where nearly 900 students attend weekly peace classes
A personal tour of the Smithsonian exhibit "Illegal to Be You: Gay History Beyond Stonewall" commemorating the 50th anniversary of the Stonewall uprising

 

Participation in International Day of Peace/ We the People March

 

A lecture by Supreme Court Justice Sonia Sotomayor urging children to be themselves and to "Just Ask" when they have questions
Attending a rally to #endgunviolence
A visit to the National Museum of the American Indian
Attending a House committee meeting where members discussed possible violations of the

 

Constitutional Emoluments Clause which prohibits federal office holders from accepting any gift, payment or other thing of value from a foreign state or its representatives
As a follow-up, we ask you to call 11 former HR 1111 cosponsors who have not yet signed on to the current bill.  Please do this during 2019 and into 2020.  This is a way to honor veterans who are working to Reclaim Armistice Day (11/11) for peace, rather than for the glorification of war.  We need your help gaining cosponsors of HR 1111 — call your member of Congress and those listed here at Reclaim Armistice Day for Peace Action
For more information about Advocacy Days, see:
I. Advocacy Days 2019 Overview: Giving DoP a Voice
II. Advocacy Days: Building Bridges on the Hill
III. Advocacy Days: DC Happenin'
IV. Advocacy Days: Signs of the Times
Building Bridges for Peace,
Nancy Merritt
Department of Peacebuilding Council Lead
On behalf of the National Department of Peacebuilding Campaign
The Importance of a 60-Second Elevator Speech!
While attending the California Democratic Party Convention in Long Beach, CA, with the CA Peace Alliance Campaign for a Department of Peacebuildng, I ended up in the elevator face-to-face with Presidential candidate Bernie Sanders, his wife Jane, and campaign staff.  He had spoken at the Univision televised forum and was on his way to speak to the Caucuses.
I shook his hand and immediately started talking.  I reminded him that he was a co-sponsor of  H.R. 1111, the legislation to create a cabinet level US Department of Peacebuilding when he was in the House, and we needed him to do the same in the Senate or find another Senator to introduce a Senate companion bill. I also stated that we need him to put Peace in his platform while running for President.
I thanked him for all he has done to promote peace. When the elevator door opened – it was only one floor – it ended the conversation. Jane Sanders mentioned how impressed she was. You just never know who you're going to run into when or where.  I was so glad I was prepared to seize the moment.
Call Your Senators and Urge Them to
Support S. 2843, the Violence Against Women Reauthorization Act of 2019!
This is the advocate's bill, informed and inspired by the needs of victims and survivors of domestic violence, dating violence, sexual assault, and stalking. The Violence Against Women Reauthorization Act of 2019 reauthorizes VAWA grant programs and makes modest, yet vital, enhancements to existing law.
S. 2843:
Invests in prevention;
Ends impunity for non-Native perpetrators of sexual assault, child abuse co-occurring with domestic violence, stalking, sex trafficking, and assaults on tribal law enforcement officers on tribal lands;
Improves enforcement of court orders that require adjudicated domestic abusers to relinquish their firearms;
Improves access to housing for victims and survivors;
Protects victims of dating violence from firearm homicide;
Helps survivors gain and maintain economic independence;
Updates the federal definition of domestic violence for the purposes of VAWA grants only to acknowledge the full range of abuse victims suffer (does not impact the criminal definition of domestic violence);
Maintains existing protections for all survivors; and
Improves the healthcare system's response to domestic violence, sexual assault, dating violence, and stalking.
Shared by Jerilyn Stapleton, 
Legislative Lead
Rotary Peace Fellows Around the Globe
As a Rotary Peace Fellow, I can assure you that you will never feel alone in your efforts to build Peace, wherever you are in this world. Peacebuilding is happening 24/7 — somewhere with someone you were fortunate enough to spend 3 intensive months or 2 years  with, engaged in studying peace and learning across cultures to practice conflict resolution skills, in and out of the classroom.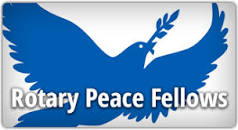 "The Rotary Foundation's mission to advance world understanding, goodwill, and peace, was proclaimed in 1917. Rotary's goal of worldwide peace and tolerance has been an unwavering pursuit: conducting global forums, hosting international peace symposiums, advancing peace through its 60-year collaboration with the UN, as well as grassroots initiatives such as the Rotarian Action Group for Peace.
…Rotary's most significant effort to wage peace is the Rotary Peace Centers program, established in 2002. Each year, the program trains some of the world's most dedicated and brightest professionals, preparing them to promote national and international cooperation and to resolve conflict. They include graduates of a two-year master's degree program and a three-month professional certificate program at Rotary's partner universities." (Rotary Peace Centers shape hundreds of careers in peace and conflict resolution)
My course of study in Peacebuilding was at the Rotary Center for Peace in Chulalongkorn University in Bangkok, Thailand from January through March 2015.  Twenty-two fellow Fellows from 14 different countries were selected for this Rotary-funded professional development course. As the Executive Director of a Full Circle Restorative Justice (FCRJ), a small non profit (NGO) located in Salida, Colorado, my career aspirations opened up to include international peacebuilding perspectives and opportunities, as well as networking globally.
Since my transformative time in Thailand, I have presented on Restorative Justice at the Women's Economic Forums (WEF) in India in 2016 and Portugal in 2019. One of my Peace Sisters, Wendy Coulson Catalan and I collaborated on a Nonviolent Communication Workshop in San Miguel de Allende, Mexico. In the spirit of "giving back" to Rotary, I've spoken at numerous clubs in the United States and Mexico, and most recently in October 2019, at the Rotary 5470 District Conference in Colorado. It was an honor to share with the assembled Rotarians on how the dollars they donated make a difference on the ground in peace work locally – and internationally.
Directly linked to Rotary was the writing of and recent publishing of my book Paws 4 Peace: Enhancing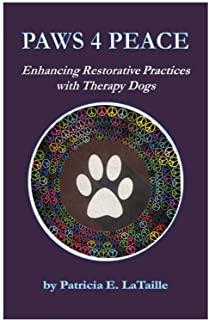 Restorative Practices with Therapy Dogs. It presents a pioneering approach to a cross collaboration of the species in restoring relationships and building peace. This missive details the beauty of the Human-Animal Bond in action – therapy dog teams working to hold offenders accountable and to provide a voice and healing to victims – within a Paws 4 Peace  restorative justice program. I had taken a six month sabbatical from FCRJ, and lived in San Miguel de Allende Mexico at my Peace Sister's home where I worked on the book, which was published in April 2019.
All that I learned during the Peace Fellowship was priceless: an understanding of the origins and practices of building peace in our global communities; validation for the work I (we) do; international camaraderie and connection; – and most of all — Do No Harm — something that we Americans need to practice, as well as preach.
I encourage Peace Professionals across the globe to explore what may be an incredible opportunity for both their professional and personal lives.
Click here to learn more about Rotary Peace Fellowships.
Shared by Patty LaTaille
Humanizing The Justice System Lead 
"Peace is a daily, a weekly, a monthly process, gradually changing opinions, slowly eroding old barriers,
quietly building new structures." 
—John F. Kennedy  
California Democratic Party Endorses
Two CA DoP Campaign Bills at June 2019 Convention
The CA Democratic Party (CDP) endorsed federal legislation to create a Department of Peacebuilding (HR 1111/ DoP) and CA legislation to create an Office of Healthy and Safe Communities (AB 656/ OHSC) at its statewide convention in San Francisco from 5/31 – 6/2/19.  In addition to endorsing these CA Peace Alliance/ Department of Peacebuilding supported bills, the CDP advanced peace-related resolutions and we connected with federal, state and local officials, organizations and individuals to promote peacebuilding.  The CDP also elected Rusty Hicks as its new chairperson.
For the fourth congressional session (2013, 2015, 2017, 2019), the CDP endorsed Representative Barbara Lee's DoP legislation.  This was one of only a handful federal legislation endorsements by the CDP.  The CDP also endorsed our request for support of a CA OHSC.  One day before the convention, the CA Assembly approved AB 656 and moved the legislation to the CA Senate.  Both bills emphasize violence prevention and building peace proactively via restorative practices, community participation and healing.
For more information, see 1) CDP Endorses 2 CA DoP Campaign Bills at 6/2019 Convention and 2) CDP June 2019 Convention – More Photos.
Shared by Nancy Merritt
On behalf of the CA Department of Peacebuilding Campaign
Promoting Peace By Phone and Podcasts
Our recent monthly action calls have been powerful, as always, and the one on December 10th promises to be another rich one!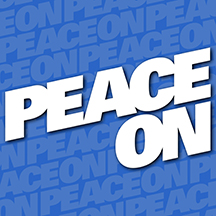 In spotlighting our recent monthly calls – now podcasts – Peace On podcast recordings of all calls can be found on our website here, or on Podbean or Apple podcasts.
Check it out, like and share our Podcasts with your personal network!
On September's call our special guest was Saul Arbess, National Director of the Canadian Peace Initiative, and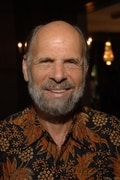 we deepened our understandings of global peacebuilding initiatives.

In October, we introduced our Blueprint for Peace – a powerful organizing and awareness-build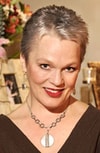 ing tool that has already produced hefty results.  On the call to introduce this innovation were our fabulous Peace Alliance's Board Chairs, Judy Kimmel and Terry Mason.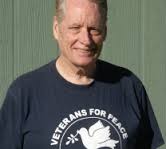 In November, we hosted Veterans For Peace President Gerry Condon,  and we continued our work toward creation of a comprehensive, Cabinet-Level US Department of Peacebuiding. 
On December 10, we will focus on children and families, and plan to have some holiday gifts for everyone.  Our special guests will be Cheryl Dodwell and Dave Trachtenberg, Executive Director and Board Member for "Peace of Mind". Please click here to register, and join us for this gathering!
Our current legislative slate can be found here.
Thanks for joining us on this peacebuilding journey!
Shared by Dan Kahn
National Field Coordinator 
An Update from TPA's Dedicated Board of Directors
As we enter the Holiday season, the Season of Giving, we find appreciation for all that our community is doing on a daily basis, to bring peace to our neighborhoods and our world. From taking an action like our Blueprint for Peace initiative to the smallest acts of kindness, every thought and action has a ripple effect on the atmosphere surrounding us, and reaching out further to make the world more peaceful. Give a hug. Hold the door open for a stranger. Smile at passersby. Hold compassion and empathy in your heart as you move through the day. Be gentle and patient, with yourself and with others. 
We invite you to do three things:
Do something kind

today — something intentionally and thoughtfully kind, over and above your normal, everyday behaviors.

Sign our

Blueprint for Peace, and invite your friends to do the same. A single act of signing will immediately email all of your elected officials inviting them to support peacebuilding in their policy priorities.
Consider making a donation during this Season of Giving to support the Peace Alliance. If you become a monthly donor – a Peace Partner — we will send you a Peace Alliance 

Ring

 Holder stand for your phone as our holiday gift!
We wish you the warmest of holiday seasons, filled with joy, love, kindness, and time shared with those about whom you care most deeply. Let's move into 2020 with the power of peace, together.
In peace,
Shared by Terry Mason
for the Board of Directors, The Peace Alliance
Mission:
The Peace Alliance empowers civic action toward a culture of peace.
Who We Are:
We are an alliance of organizers and advocates taking the work of
peacebuilding from the margins of society into the 
center of national discourse and policy priorities.
We champion a comprehensive, collaborative approach 
to peace and peacebuilding.
https://peacealliance.org/wp-content/uploads/2019/12/TPA-Pop-Socket.jpeg
698
890
Terry Mason
Terry Mason
2019-12-01 16:44:45
2019-12-01 20:11:34
Quarterly eNews – Winter 2019