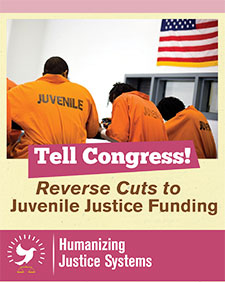 Petition: Juvenile Justice and Delinquency Prevention Act Vote Soon
Friends, the Senate Judiciary Committee is holding a hearing soon to mark up and vote on the Juvenile Justice and Delinquency Prevention Act, S. 1169.
The JJDPA is the core of nearly everything the federal government does in Juvenile Justice, but it's past due for re-authorization. It will require states to keep youth separated from adults prior to trial as well as in prison, strengthen rules on disproportionate minority contact, invest in alternatives to incarceration, and removes an exception that allowed states to put status offenders in prison.
A bipartisan group of Senators, led by Chuck Grassley (R-IA) and Sheldon Whitehouse (D-RI) are now trying to renew and strengthen it. This is a great bill, and it needs your help today.
Time is short, so please also make a quick call to your Senators today!
You can do this in less than two minutes. Let them know you are a constituent and "you want them to support the JJDPA and Youth Justice."
You can also call your Senator at the US Capitol Switchboard: (202) 224-3121.  Find your Senators here.

"My name is _______, I am a constituent and am calling to urge the Senator to re-authorize and fully fund the Juvenile Justice and Delinquency Prevention Act, S. 1169."
It's as simple as that. Your voice will help make important changes.
In Solidarity,
.
Jeff Pudlo,
Legislative Director
---
https://peacealliance.org/wp-content/uploads/2015/07/JJDPA-re-auth.jpg
282
225
Matthew
Matthew
2015-07-21 19:26:08
2017-05-22 00:11:21
Petition: Juvenile Justice and Delinquency Prevention Act Vote Soon