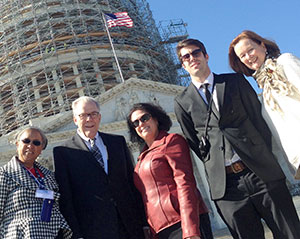 Peace Alliance National Monthly Action Call Tuesday, September 13th
Hear Legislative Updates from DC, and Grassroots Updates from Each Other!
Hi friends,
The Presidential Election is not the only news in Washington, D.C. these days – bills are moving on Capitol Hill, and we want to share our insights with you, to empower your advocacy!
We also cherish hearing from many of you around the country about what is happening in your "neck" of the peacebuilding "woods" – and we think it builds strength in our movement for you to hear from each other.
You are invited to participate by joining us Tuesday, September 13th, at 9pm eastern, 8pm central, 7pm mountain, 6pm pacific (and 5pm Alaskan), for our September National Action Call.
We will also hold a synergistic space to hear from many of you in the field, who are engaged in work and activism around the five cornerstones of peacebuilding.
Join us for connection, information, empowerment, and inspiration!
With Love and Great Hope,
Dan, Lori, and the rest of the Peace Alliance Staff
Dan Kahn
National Field Director
and Lori Draper
Assistant National Field Director
https://peacealliance.org/wp-content/uploads/2015/10/Capitol-people-drop.jpg
239
300
Matthew
Matthew
2016-05-09 18:36:47
2017-05-20 14:35:11
Peace Alliance National Monthly Action Call Tuesday, September 13th