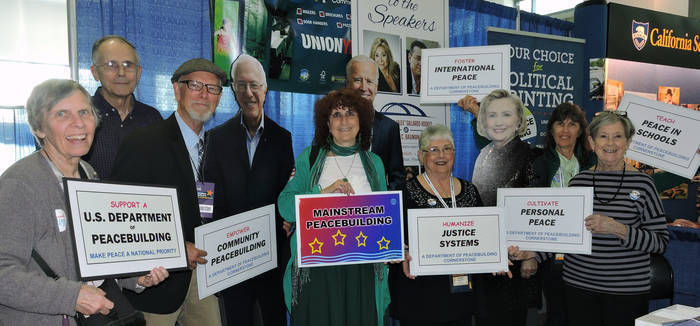 CA Peace Alliance Accomplishments & Adventures at the 2016 CA Democratic Party Convention
Imagine a world where people listen and talk with each other to break down barriers that contribute to conflict and seemingly separate us.  That is what peacebuilding is about.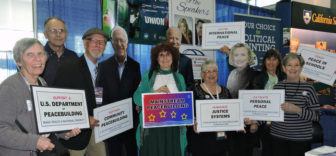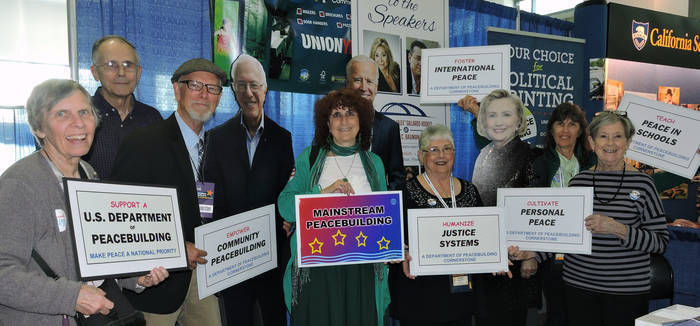 The CA Peace Alliance/ Department of Peacebuilding campaign took our message of peacebuilding to the CA Democratic Party (CDP) for its statewide convention in San Jose, CA from February 26 – 28, 2016.  At least 2,172 registered Democratic delegates and many others attended. The Party's focus was to hammer out the planks its 2016 Platform – its statement of values — and to endorse candidates running in the 2016 elections.  The CA Peace Alliance's focus was to infuse the platform and the elections with peacebuilding and to grow support for legislation to create a U.S. Department of Peacebuilding (DoP/ HR1111), which was introduced by Congresswoman Barbara Lee (CA-13) in February 2015, exactly a year before this convention.
That means the CA Peace Alliance:
submitted peacebuilding language for the 2016 CDP Platform during November 2015 and January 2016 and testified at the Platform Committee hearing during the convention
connected with hundreds of CDP delegates, attendees and candidates, both at our booth and at meetings, to promote DoP legislation, restorative justice/ restorative practices, criminal justice reform, Youth Prison Reduction through Opportunity Mentoring Intervention Support and Education (PROMISE) Act legislation
collected the letter signatures of over 250 individuals from throughout CA urging CA members of Congress to cosponsor DoP legislation
urging individuals to AMPLIFY our efforts by calling members of Congress during or after the convention
presented a certificate of appreciation to Darren Parker, Chair of the CDP African American Caucus, for his continuing support of DoP legislation, including testifying on our behalf at the 2013 CDP Legislation Committee hearing, which resulted in CDP endorsement of DoP legislation
built our volunteer base and grassroots support
Our journey to build peace in the 2016 Platform – plank by plank – began in 2011 when we drafted language for the CDP 2012 Platform.  It continued with submissions to the CDP 2014 Platform.  Our 2016 advocacy included working to preserve earlier peacebuilding language and to expand upon that.  To do this we looked at every plank and submitted/resubmitted language for almost half of the planks.  In particular, we focused upon restorative justice in the criminal justice arena and restorative practices in schools and families. 
https://peacealliance.org/wp-content/uploads/2016/05/CA-Dem-party.jpg
326
700
Matthew
Matthew
2016-05-06 14:28:36
2017-05-20 14:30:15
CA Peace Alliance Accomplishments & Adventures at the 2016 CA Democratic Party Convention