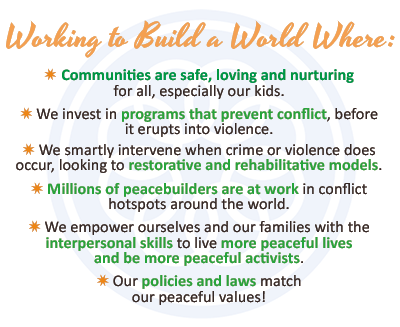 Manifesting Peace on Earth: Help us by Making a Donation
Dear Peace Alliance Friend,
This May will mark our 10th anniversary(!) as an organization.  We are proud of all we've accomplished and excited to move into this next chapter.  We are committed to building communities, a nation, and a world that honor peacebuilding as one of our top priorities.  From the personal to the political, powerful peacebuilding methods have been developed to deal with the enormity of the challenges we face on the planet, and it's past time we invest in them at the level they deserve.
► Prioritize peacebuilding as a national priority: make a YEAR-END DONATION
We are grateful for your continued support and involvement in this mission to create a positive, proactive peace movement.  This is a movement whose time has come!  Collectively, we must evolve our social and political systems to match the possibilities for cultivating peace that are at hand.
We are steadfastly working towards a real cultural evolution, pivoting from our traditional punitive and militaristic approaches, towards affirming, healing oriented peacebuilding methods. There are hundreds of thousands, if not millions, working in sophisticated and highly effective ways to make this a reality.  In fact they are turning the old models on their head, and showing far wider breadth of impact than anything we've ever seen.
If this burgeoning field of peacebuilding is to reach its full potential, we must help catalyze and galvanize a movement behind it and create much stronger systems and infrastructure to support it. We are committed to playing a strong leadership role in nourishing, expanding, and empowering that constituency!
And we need each of you, in whatever way you can, to step up and join us.  As you consider your year-end gifts, we hope you will also support us financially so we can continue to grow and help create an even stronger container for peace.
Together, we can and will make peace happen!
Highlighted 2013 Accomplishments:
✷ Grassroots Organizing: We have re-launched a robust new field program of Peace Alliance and Student Peace Alliance Action teams around the nation — working with the esteemed Sam Daley-Harris, founder of RESULTS.  We have hired a new National Field Director, Dan Kahn, and our leadership team is making grassroots trainings and actions our highest priority.
✷ Peacebuilding and Violence Prevention Advocacy: We helped generate thousands of messages to Congress and the President — as well as meetings in D.C. and around the nation — on key peacebuilding and violence prevention legislation, particularly the Youth PROMISE Act and legislation to establish a U.S. Department of Peacebuilding, among other key issues.
✷ Public Education and Media: With our increased visibility, we have achieved greater credibility to speak out on matters of the day and found platforms to express our views on various relevant peacebuilding approaches, from radio and TV interviews to Huffington Post articles to requests for speeches and to serve on panels.
✷ Ben & Jerry's at the Capitol: Despite taking place in the middle of the unfortunate Government Shutdown, our Fourth Annual Ben & Jerry's Capitol Hill "A Celebration for Peace" Ice Cream Scooping event had over 800 Congressmembers and staffers attend, learning about the Youth PROMISE Act.
✷ Clinton Global Initiative: This past Spring, our Student Peace Alliance was honored to present at the prestigious Clinton Global Initiative University in support of our Peace Jobs initiative.
✷ Restorative Justice: We've continued ramping up our engagement around the methodologies of Restorative Justice, a powerful, healing oriented alternative to punitive criminal justice.  We had an exciting victory in Colorado, where we helped pass legislation to enact juvenile RJ programs and funding throughout the state!
✷ Stay Tuned, there is so much more…
We hope you are proud of the work we continue to do together, all of us.  The staff and Boards of The Peace Alliance are excited about the abundance of opportunities for peacebuilding ahead. With your support, we can continue to help manifest the dream of peace on Earth into greater reality.
In deep gratitude,
Bob Baskin, President
And all of us at The Peace Alliance
https://peacealliance.org/wp-content/uploads/2013/12/coinbackground_with_bullets_redo.gif
327
400
Matthew
Matthew
2013-12-04 17:18:58
2014-03-03 20:32:16
Manifesting Peace on Earth: Help us by Making a Donation